Premier Business Profile
Nautical Pride
by Rebecca Nimerfroh
photos courtesy of 41 N 70 W Designs
It was this past fall that Stephen Theroux had his mind set on finding a pair of socks to give to a friend who had recently visited him. Not just any socks, he had in his mind a nice, quality pair that somehow paid homage to "island time," to the way of life 30 miles out to sea.
It was, however, after a fruitless search, in and out of the shops downtown that the co-owner of Nantucket Architecture Group took a seat in front of his own computer to design just what he had envisioned, a pair of socks that are not only quality made and comfortable, but ones that are also Nantucket themed, a wearable splash of nautical pride and nostalgia. It was then and there that Stephen's sock company, 41º N 70º W Designs was born.
Of Stephen's initial designs, the architectural designer by day developed three different styles, prototypes that highlight various elements of island life. The first design called "Live to Sail" features a sailing knot and the Nantucket famous Compass Rose, along with "Live to Sail" on the bottom of the foot. The second design, coral-colored with blue islands is called the "Island Lifestyle," and the third, a gray design with blue scallop shells is referred to as the "02554 Scallop." Each design is made on U. S. soil, an important factor for Stephen.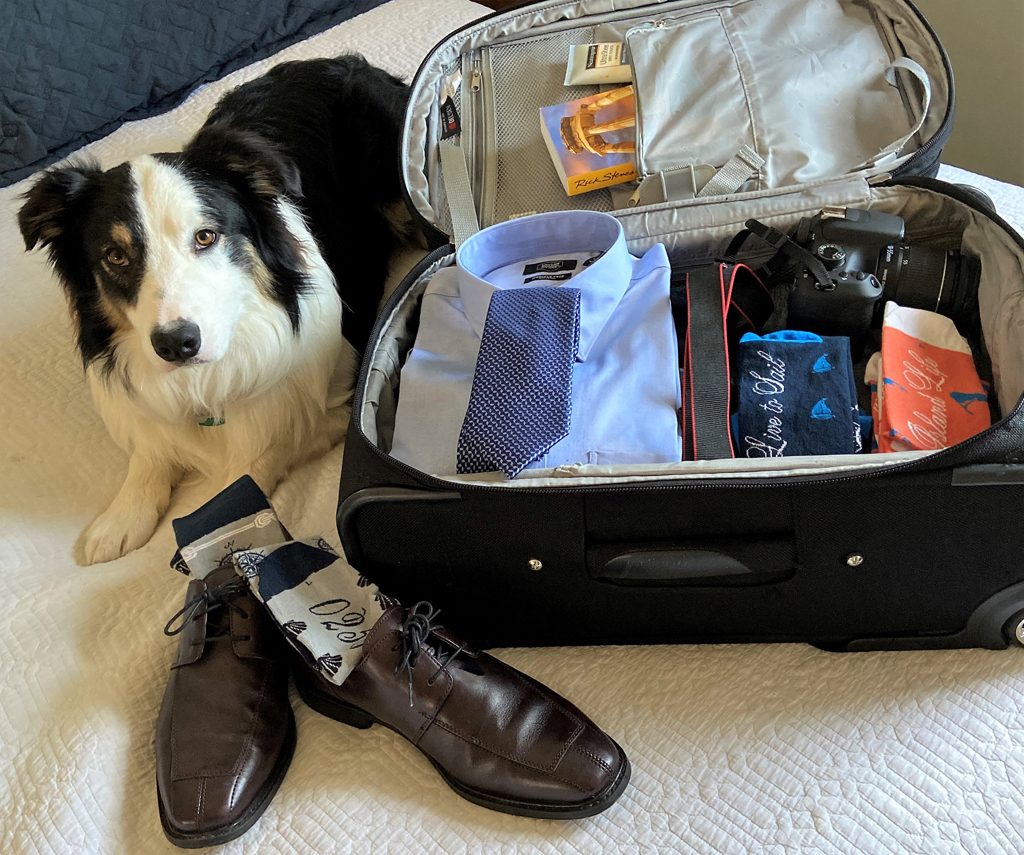 "I think they're an ideal gift for a person who comes here and develops a connection to the island," Stephen says. "They're fantastic for wedding parties and groomsmen . . . it just catches on." Never one to not be creative, Stephen has ideas for nearly five more prototypes in the near future. "The artist in me can never sit still, to be honest with you," he says with a laugh.
As a young man, Stephen originally ended up on Nantucket after hastily quitting his job at a design firm in Rhode Island. His girlfriend at the time (now Stephen's wife Karen) was not too happy about this decision, but felt some relief when the two combed the job section of the paper in search of new employment and saw one promising opportunity on the island of Nantucket. "I got the job," Stephen laughs, "and I moved in the middle of January, 31 years ago. Back then there were probably just two boats a day, one in the morning, one in the afternoon." Stephen worked for a local architecture firm for many years before meeting business partner Bill McGuire and starting Nantucket Architecture Group, an established, on island design firm that recently was awarded honors from the prestigious Massachusetts Preservation Trust for a property they renovated.
As a man of many talents, Stephen also enjoys getting in front of a stove after a busy day at work. "I absolutely love cooking," Stephen says. "My mom and dad taught me. They said if you can cook for yourself, you can do anything else. And so, I fell in love with cooking, it's another creative outlet I have."
When a friend inquired about Stephen cooking for a small graduation party of about 25 people, he quickly said yes to the challenge, creating his next endeavor, a local catering business called Isle Cook. Specialty dishes pan across the smorgasbord in terms of category, but seem to contain one delicious component, a seasonal or local ingredient on Nantucket that highlights each meal.
Staying true to his first love, architecture, Stephen says that his work here on the island is rewarding, in that he gets to bring to life a client's dreams. He says that like cooking, architecture and design are similar to following a recipe. "At the end, it comes out like you imagined it," he says.
As an active member of the community, Stephen volunteers his time at the Nantucket Ice Community rink, while also continuing to hone his skills in the kitchen. "It's funny that I live on an island but, the one thing that drives me crazy is sitting idle on the beach," Stephen laughs. "I can't sit still."
To purchase socks from 41º N 70º W, go to the Gift Shop.
Article edited. Full version available in ONLY NANTUCKET, Summer 2020.
Premier Business Profile
Inquire here