Tranquility Monomoy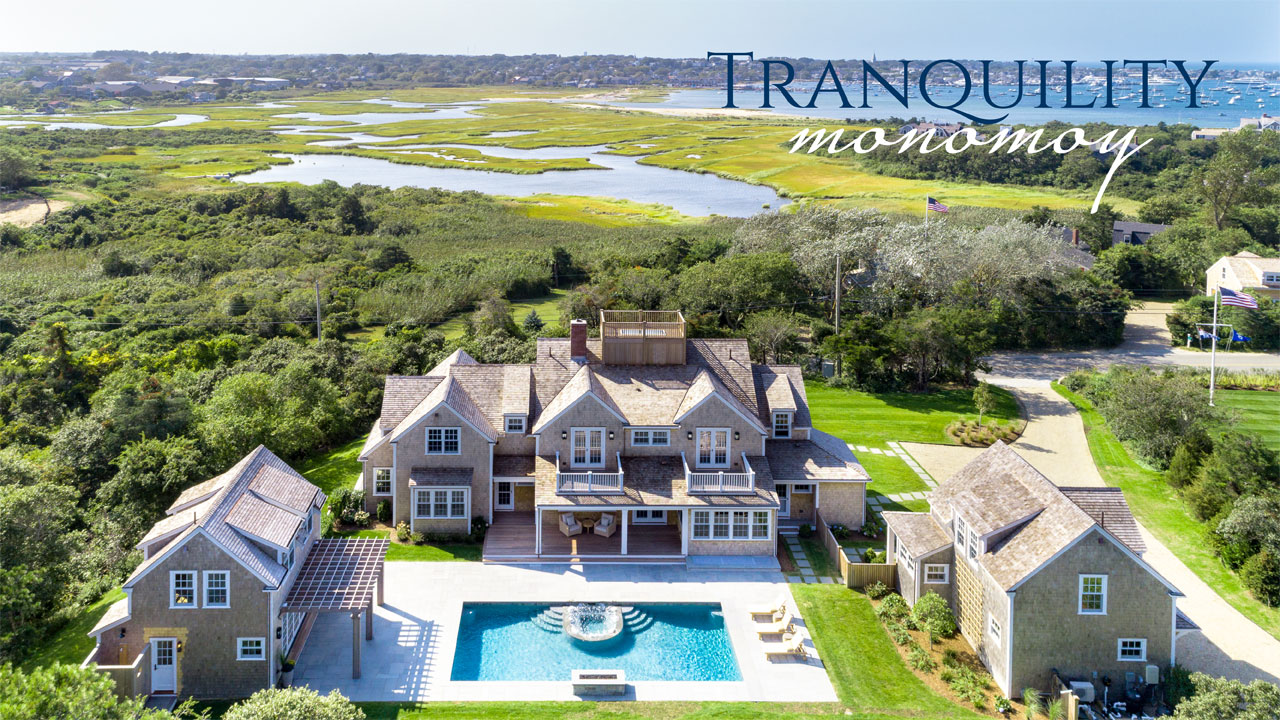 by Rebecca Nimerfroh
Stepping inside a home built by Nantucket's husband and wife design duo Chip and Karli Stahl is a lot like, well, stepping outside on this beautiful island they call home. Through their placement of naturally toned aesthetics, soft curvatures and clean sight lines, their thoughtfully designed interiors echo the serenity of a beautiful walk on the beach. One can almost feel the sand between their toes, or the salt on their skin as they tour through any home built by their firm KMS Designs, and thankfully, their latest project, located at 27 Monomoy Road is no different.
"Nantucket offers its own natural design feel," Karli says of the home, which sits across the street from tall, emerald-green grass, wandering, sky-blue, salt water creeks, and the gray cedar shingle of the Nantucket skyline. "Nature never goes out of style!"
Karli and Chip Stahl first saw the land on which this home sits in 2015, and could easily see the sizable lot and elevation had great potential. Working in collaboration with local vendors, including The Tile Room's Graham Burton and wife LuAnn Burton of The Nantucket Lightshop, Megan and Bert Turner of The Water Closet, along with Carolyn Durand, Licensed Broker at Lee Real Estate, they designed and built this three-structure, seven-bedroom, seven-bath masterpiece, a dream-home of sorts, the perfect backdrop for the classic American family.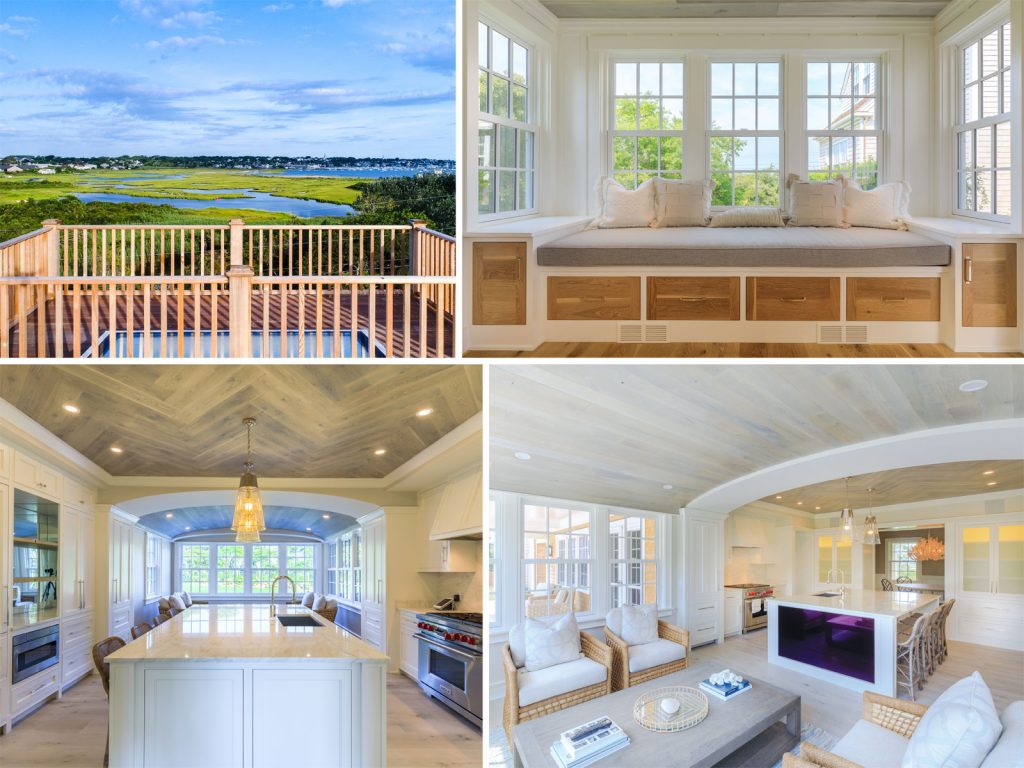 "People want a beautiful house," Carolyn says as we stand on the lawn. There is a soft breeze in the air, and being early spring, we enjoy the soft chorus of peepers singing from the creeks. "When people know how they like to live, they don't want to come to Nantucket and downshift." She then smiles, and as if she has a trick up her sleeve, leads the way up the flagstone path and into the home's mudroom. Here there is ample space to drop groceries (even a butler's pantry for refrigeration and food prep) along with space to store coats, bags and shoes. "People have begun to synthesize all the things someone wants in a home," Carolyn continues. "Chip and Karli are a great example – they understand that behind all of this design is lifestyle."
Carolyn points out that we have all experienced design flaws – homes where you can't open the dishwasher and the opposing cabinet at the same time, or closets with shelves too high to reach and too deep to use, and reminds me that homes Chip and Karli built are not just designed and blindly executed. In fact, Carolyn explains that because their design process is a collaborative one, "everyone is making their sights through the plans so that before everything is underway, changes can be made." Walking into the kitchen, Carolyn explains that even here in this gorgeously tiled, cleanly organized space careful consideration had been made for the sight lines both out onto the view of the creeks and harbor in front, as well as out onto the pool out back. Because of this, movement throughout the home feels natural and easy.
Off the main living area on the first floor is the first master suite. Carolyn explains that the American family is evolving, and typically large families all want to be together, but maintain a space of privacy as well. "This is where sociology influences design," Carolyn explains. "Because if you say, 'Let's meet on Nantucket,' everyone is all in." She smiles again.
Throughout the house I marvel at the statement lighting fixtures that vary in each room, prominently made from natural textiles, including one assembled with coco beads made from coconut. All of these pieces, sourced from Nantucket Lightshop add a fun flair to the already tranquil and unobtrusive design.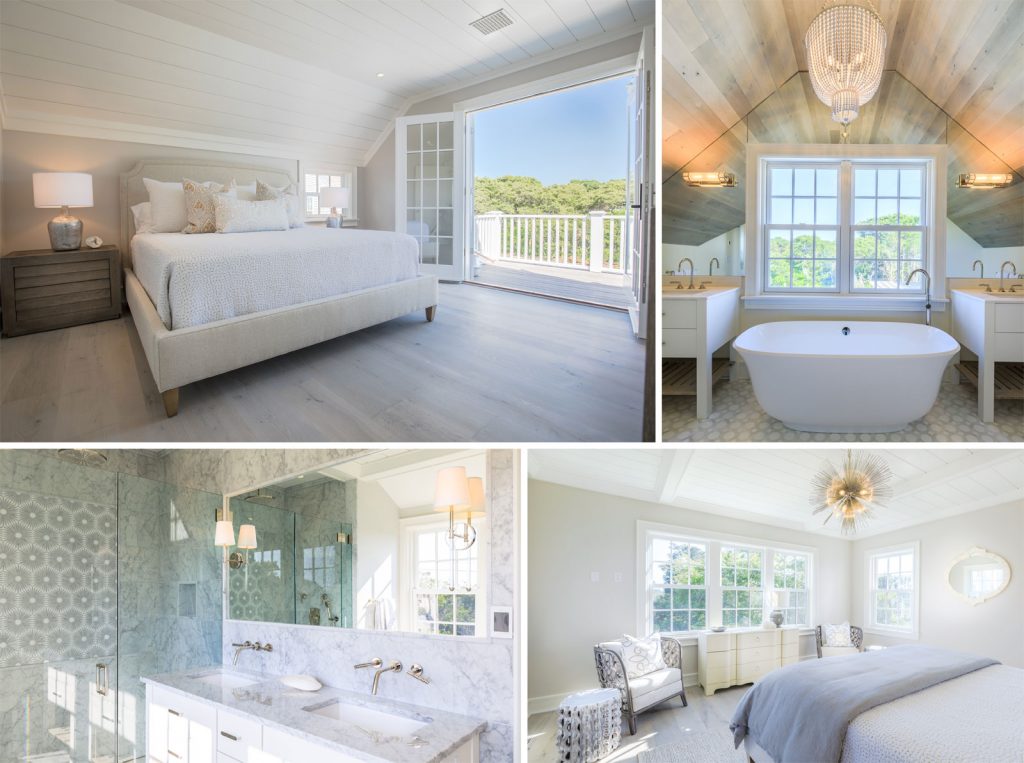 Says LuAnn, owner of the Nantucket Lightshop, "Karli isn't afraid to make a bold statement with a lighting fixture or take a chance on a new lighting style." Karli explains, "The majority of my projects on Nantucket are second homes, which means the client is more willing to try fun ideas. They tend to be more laid back with style." This does not mean, however, that Karli will impose her own. "Often my clients will ask what my personal style is which I then tell them shouldn't matter," Karli laughs. "I am not the one living there. The project needs to reflect their own personal style, and my job is to achieve that in the best possible form."
The second floor of the home offers even better views onto the creeks and harbor, and Carolyn stops to marvel at the windows, something not unusual, even for this island resident of over 25 years. "I love walking through this home and looking out onto Nantucket. That's a really big part of pride of ownership. Like, I'm here and I can see it." Leading me up to the button-operated widows walk on top of the house, we take in the 360-degree sweeping views of our surroundings.
Coming back down to ground level, we cross the deck and walk along the pool to the guest cottage. Here, a Nano bi-fold door has been folded wide open, so there is literally no wall separating a seating area of oversized chairs and an entertainer's dream, state-of-the-art kitchen. "It is so fun on a clear summer night to have the guest house fully open to the outdoors while entertaining!" Karli says, noting that this just might be her favorite features of the home. A full bedroom suite is upstairs, again complete with those stunning, Monomoy water views.
We then walk to the third structure on the property, a garage and studio space. Carolyn tells me that when she first came to the island, hardly anyone had a garage. "But now people want a place to organize their bikes, surfboards, paddle boards, and everything else that goes on the water. People want to arrive and not go looking for things." Carolyn pauses, and then says, "I've had all different people come through this house and what they say again and again is this has been done so well, with so much thoughtfulness."

As for Karli, she again credits her collaboration with her husband Chip, The Nantucket Lightshop and Tile Room for enabling this space to come to fruition. "I can easily go to Boston for all my plumbing, tile and lighting needs, but honestly, 9 Sparks Avenue had everything I needed and is always current on all the latest and greatest," Karli says. "Many times clients will ask if things are "cheaper" off island. However, beyond the cost of goods, by keeping it local you are given service that you otherwise wouldn't receive by buying goods off island. Good service has no price tag."
Taking in their completed project, Karli continues, saying, "I love the neutral, calming esthetic and the way it flows throughout. 27 Monomoy feels more than a vacation property. It feels like a home."
Archictect: JMS Architecture
Builder: Chip Stahl of KMS Designs
Interior Design: Karli Stahl of KMS Designs
Photography: Garrett Powers Photography