The Soft Side of Roofers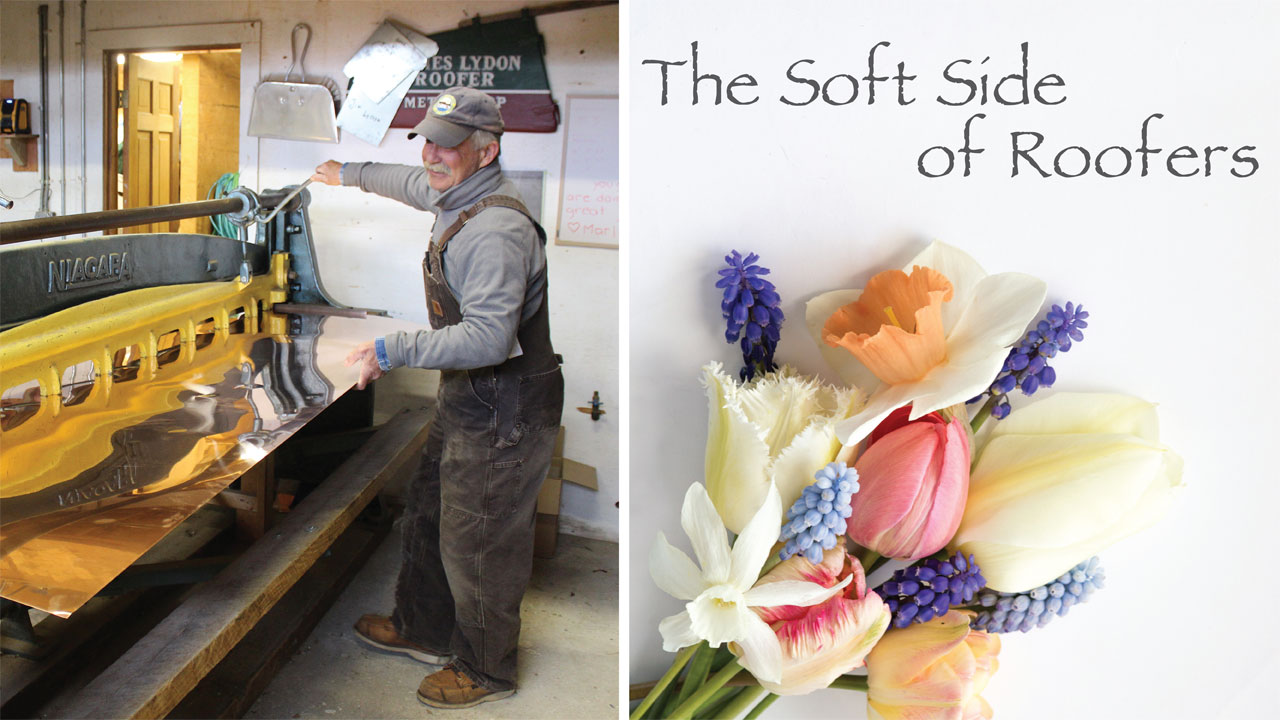 By Rebecca Nimerfroh
On the island of Nantucket, flower boxes are something of an extreme sport. Whatever the time of year may be, a casual walk around town will provide one with a front row seat to the meticulous and fabulous handiwork of our community's florists, whether it be with yellow daffodils for spring, layers of red, white and blue in the peak of the summer, or lush, heavy greens for the enchanting Christmas stroll. One thing is always for certain, however; for an island made up of gray-shingled homes, there certainly is plenty of color … and now because of Nantucket roofer James Lydon, there is soon to be even more.
Having worked as a roofer since he graduated high school, Lydon has established himself on Nantucket as a seasoned professional among the local building community. Specializing in roofs made of slate, copper or wood, the Scituate-born New Englander has been building roofs over Nantucketers' heads since he first came to the island in 1984. However, it was only fairly recently that Lydon took a look around his workshop, taking inventory of the many sheets of copper stacked on his shelves, and came up with an idea for an alternate use. Never the idle worker, he worked with his longtime friend Chris Cazeault (a fourth generation roofer in Hingham, MA) to learn how to create these copper flower boxes. James uses the same antique, industrial machines as he does for his copper roofs, gutters and flashing. Hence, Nantucket Flower Box Company was born.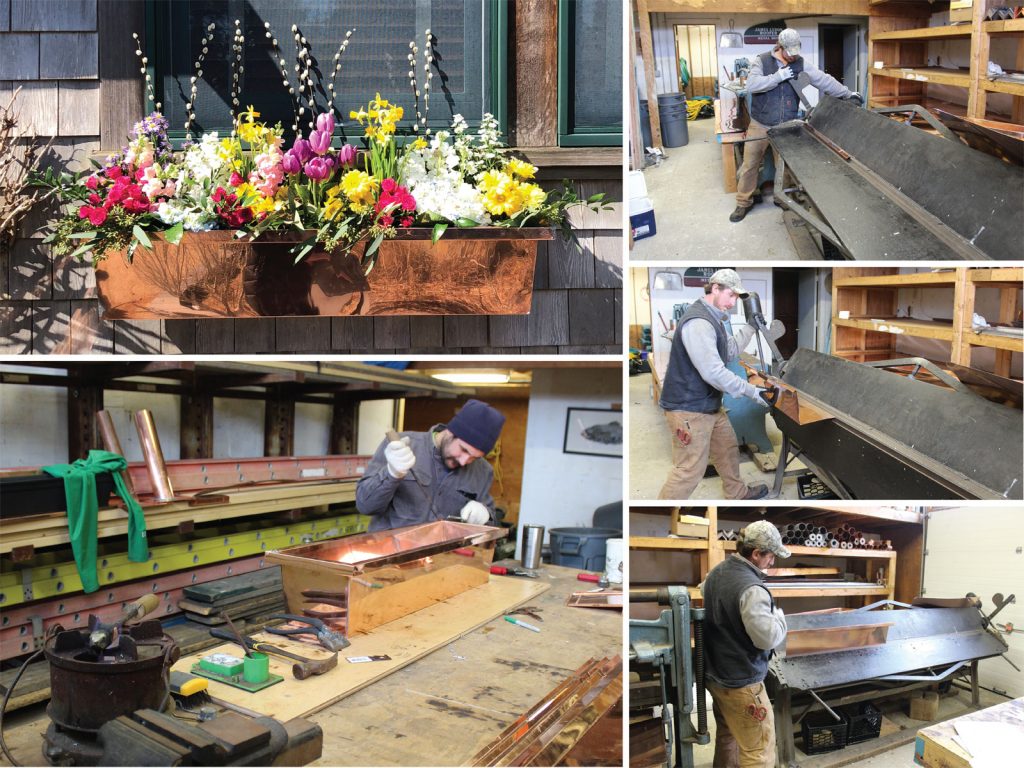 "Doing roofing, it's not often I step back and look at a roof and think to myself, 'That roof looks great and impressive,' because we've done so many of them. But these flower boxes are just a nice product." Lydon shows me a sample box he has constructed. "It would be nice to see them around town," he says with a smile. "They'll be around a long time."
Lydon explains that traditional flower boxes are wooden and prone to rot, but these copper boxes he has created will last indefinitely. Additionally, each box is constructed so that extra water can be stored in the bottom of the box, safely away from the plants, making ease of watering come those busy summer months. Additionally, unlike traditional flower boxes, Lydon says that his copper boxes can be left outside all year long; he simply stores his own in his yard, turned upside-down. Lydon also explains that a reconfiguration of how copper was made in the last 20 years means that these boxes will not turn green with patina – but they will get a rich shade of brown.
"On a snowy day when it's 10 degrees and windy, we come into the shop and make eight or nine flower boxes," Lydon smiles, standing before two huge, steel machines. Lydon shows how one cuts the copper and how the other bends it. Once all the pieces are cut, the box is formed by soldering the pieces together. Images of flying sparks come to mind, but again this process is antiquated as well, with Lydon using an old-fashioned soldering prong that gets heated by being placed on an open flame provided by a massive burner, the flame itself lit by a steel flint spark. Although Lydon doesn't mind the hands-on process (he admits he admires the $70,000 computerized machines that do the same thing with no margin of human error), it is clear he does not mind it one bit. In fact, it is a family affair.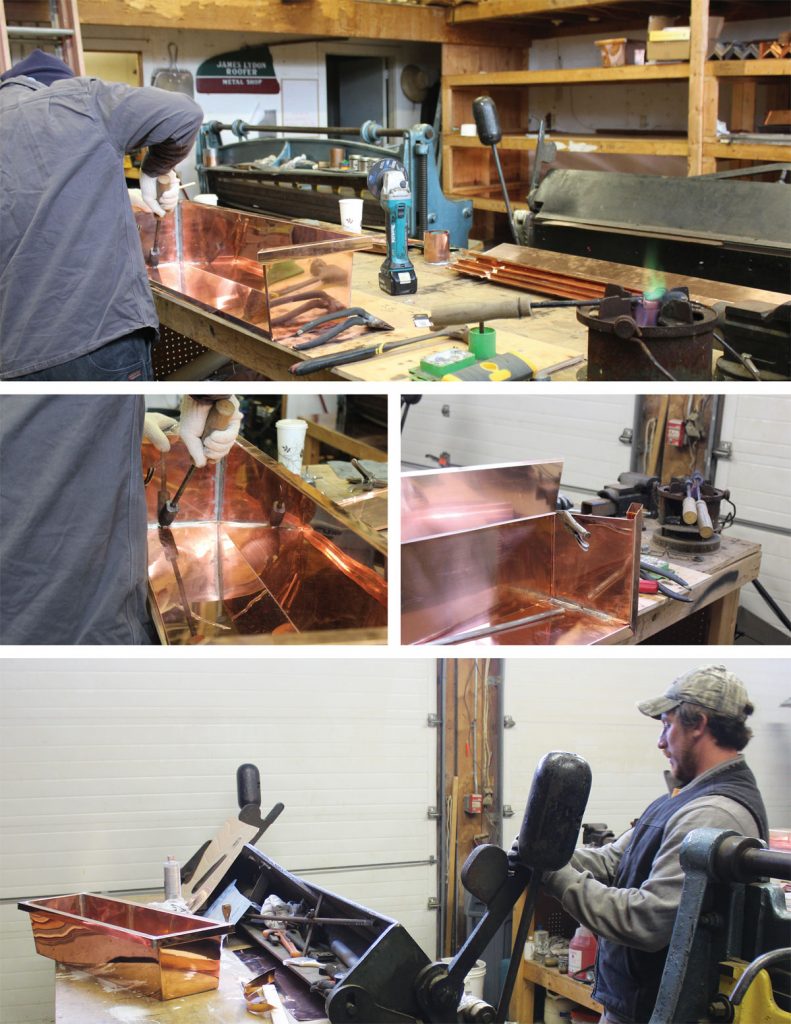 "My son Chris is just a whiz with the copper," Lydon says, referring to his 34-year old son who started working with him when he was just 12 years old. "And it gives us something to do on a rainy day!"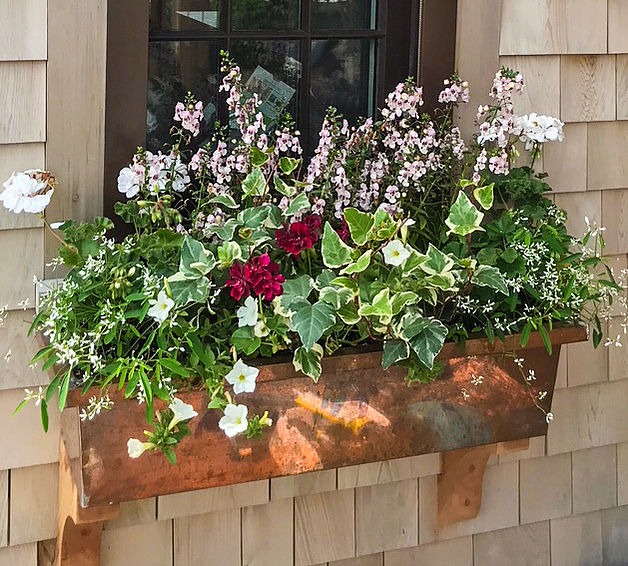 While Lydon's copper flower boxes can now be seen on display in the garden section of Bartlett's Farm or can be ordered by calling James Lydon, Sons & Daughters Roofing & Siding at 508-221-1333. Our standard-size flower boxes take a 36" insert and start at $275, but custom sizes are additionally available and can be made to fit any insert. Says Lydon, standing beside his shiny creation, "I think they just really make a house. I know I love having them at my home."