The Lure of the Sea: The Story of the Sailor's Valentine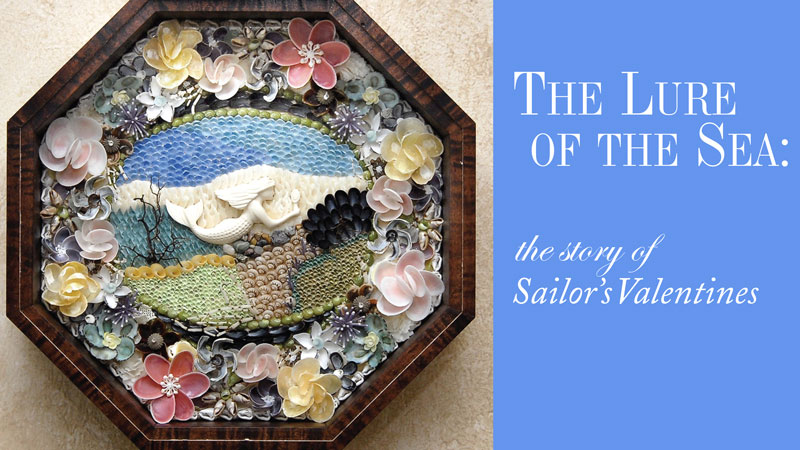 by Donna Fee
Sailor's Valentines pictured in this story by Sandy Moran
In this day and age, if we are separated from our beloved, we can stay connected via fiber optic wizardry and magical cell towers that transmit our passion through the air on invisible waves.
We can also write love letters the old fashioned way with pen and ink,
dropping our completed words of love into the nearest sapphire-blue mailbox made available by the United States Postal Service.
Imagine not having access to these modern modes of communication, coupled with a separation that would endure not just the length of the average business trip or even the time from Memorial Day to Labor Day, but span the course of three to four years. It was that 19th century world full of hard work, azure seas and rowdy ports of call that fostered the delicate shell mosaics we now call Sailor's Valentines.
Popular around 1830 until about 1900, these shell mosaics surely enticed many waiting women to welcome home their sailors newly returned from the sea. The shell mosaics were not known as sailors' valentines at the time. It is thought that collectors and antique dealers began to call them sailor's valentines when the mosaics became collectibles beginning in the 1930s. These valentines from the sea were mosaics of intricate symmetrical designs encased in wood, and were usually inscribed with sentimental messages such as "For My Pet," "Ever Thine," "Think of Me," "Home Sweet Home" and "Forget Me Not."
There are about 100,000 specimens of shells world-wide, but only about thirty-five specimens appear in antique sailor's valentines.
To be a true sailor's valentine, the shell mosaic must be in an octagonal box. Some dealers say that this shape comes from the compass boxes which served to protect one of the ship's most valuable assets: the compass. This is not to be confused with the compass rose, which is a drawing on a map. Portuguese map maker Pedro Reinel drew the first now-standard 32 point compass rose with a fleur-de-lis, indicating north and across indicating east (toward the Holy Land).
The other feature of a sailor's valentine is, of course, the shells. The shells went into the boxes, and still do, in designs that varied in style and manner befitting the individual who made the valentine. There are about 100,000 specimens of shells world-wide, but only about thirty-five specimens appear in antique sailor's valentines. Valentines of old usually contain shells that are found commonly in the West Indies. Contemporary valentines contain shells that are found all over the world. To get the bright colors evident in newer valentines, the shells must be harvested live. To see a valentine made recently, visit some local antique shops where they will show you valentines made by award-winning artist Sandy Moran.
Lynn Walsh, owner of the former Sailors Valentine Gallery on Nantucket, has been following the evolution of this maritime art form. "Go back before the time of sailors valentines and consider the China trade and the seafaring merchants of Europe who traveled around the world and brought home exotica. It was very fashionable among the wealthy to collect exotica, which included seashells. Ladies began collections, and from that came arranging the shells into designs. It was fashionable to have sewing boxes and other similar items decorated with shells. It was this ladies' parlor art that inspired the sailors to do their valentines."
There is some discussion among decorative arts scholars and collectors as to who really made these tokens of affection from the sea. Many valentines were not made by sailors at all; rather, they were purchased by sailors from the tourist trade in Barbados. Barbados, the easternmost island in the Caribbean, was often the last port of call for many sailors. It was also their last chance to get that special little something before returning home to those who waited with open arms and ready hearts. It was not unlike buying a last-minute gift from the airport for those waiting for you at home.
It is sometimes easy to determine the valentines that were made in Barbados. They consist of a variety of shells native to the West Indies. These include the limpet, crab's eyes (Abrus precatorius), and venus clam. The octagonal boxes are made from Spanish cedar or mahogany. Most sailors' valentines have at the base of the shell compartment crumpled newspaper. Oftentimes, it was an issue of "The Barbadian," the local newspaper. Still other valentines from this area tell of their origin with inscriptions that say, "A Present from Barbados," or simply, "Barbados." One valentine has a label still attached that says, "B.H. Belgrave, Dealer in Marine Specimens and Native Manufacturers in Fancy Work. Barbados, W.I." There is a trade card from the Barbados New Curiosity Shop. It states that they have "specimens of natural history in shells. Crabs, lobsters, fish, pink and white coral and mounted birds." They also announce that they have "fancy work in fish scales, rice shell, coral shell, green pea shell, aurora shell." The card ends with the following marketing request: "An Inspection Respectfully Solicited. One could wish that current marketing campaigns would be so gracious."
Another argument for the belief that sailors didn't make their own valentines is the sheer amount of materials needed to construct one. On the materials needed list are thousands of tiny shells, wood, nails, newspaper, cotton, glue, wax, cardboard, gold and colored paper, varnish, hinges, screws and hooks. It is indeed intricate work and it may have been difficult to do the tedious gluing of the tiny shells while sailing a rolling sea. Could you glue tiny shells onto a surface while on the Steamship Authority?"
The sea does have its moments of calm, and there were often times when ships remained in port for months at a time for repair and restocking. There were probably ample opportunities for the sailors to create their own valentines, and they would certainly have had the motivation to do so.
Sailor's valentines of old were inexpensive to make. The dividing walls were made of cardboard and covered with a variety of paper. The shellwork was glued to newspaper or cotton batting. Naturally, Elmer's glue was not available at the time, but you could make glue from any number of things in those days. "They could have made glue from fish scales by melting them down in a double-boiler situation. The sailors had access to hide glue and used paperboard," said Sam Sylvia of Sylvia Antiques, now owned by John Sylvia, Sam's son. "They weren't dumb."
While some valentines incorporated extensive artistry, the majority of them featured designs that were easy to achieve. They were most likely inexpensive to purchase, which made them easy for the working-class sailor to obtain. If a sailor wished for a valentine unlike any other, a center medallion or a photograph could easily replace the standardized center of a manufactured valentine.
"While the majority of the existing sailors' valentines were indeed made as souvenirs from Barbados, I contend that the art form itself originated among the sailors. Certainly the most beautiful ones are made from shells that come from all over the world and have boxes made from different types of wood," said Walsh. "The controversy of who really made them has become the focal point of everything that's being written, as opposed to the fascination with the evolution of the art form itself. If you parallel it to patchwork quilts or other folk arts that evolved over time, you'll understand that we don't concern ourselves with who originated the quilt; rather, we are fascinated with how a utilitarian object became fanciful and embellished as a token of the giver's esteem."
Indeed, the most rare and most beautiful valentines are those that possess secret letters of love hidden within them or special daguerreotypes (an early form of photography). Additionally, crafting with shells was enormously popular in the 19th century, so materials would have been readily available to those who wanted them. The October 4, 1867, issue of the New Bedford "Mercury" printed an article that announced that Captain Leonard Bronson of New Bedford won a $1.50 prize at the Bristol Country Agricultural Society Fair and Cattle Show for "shell work and corrals." We don't know if the award was for a sailor's valentine, but clearly the idea that men at sea created their own shell crafts. Nantucket whaling captain Jared Wentworth Tracy returned from one of his voyages with a valentine for his wife, Mary Hussey Tracy. The Tracy shell mosaic, as it is known, is a prized item in the Nantucket Historical Association's collection. Jared himself made this valentine.
If you would like to see more valentines, the Strong Museum in Rochester, New York, houses an extensive collection. With approximately fifty sailor's valentines, it is one of the largest collections in the world.
Shell collecting was an elevated art form in the 19th century. It was part of a larger cultural element that sought to follow in the Darwinian tradition of scientific understanding of the natural world. Shells were studied, catalogued and displayed carefully in cabinets. Typically, the shells were arranged in order of specimen type. These cabinets were sometimes embellished with inlaid designs varying in color and wood type. Some even incorporated mother-of-pearl or other decorative elements. The drawers in the cabinets were often divided into geometric compartments in order to display several different shell types. When viewed from above, these drawers resembled the designs we see in sailor's valentines. It's easy to see how there may be some disagreement as to who may have created the art form of sailor's valentines, but, as with many art forms, inspiration comes from many sources. Luckily for us, the art form exists and we reap the beautiful benefits, regardless of its origin.
If you prefer a piece of jewelry, Jewelers' Gallery offers gold sailor's valentines designed by Lillian Waine. Whichever sailor's valentine speaks to your heart or appetite, forget not those sailors of the 19th century who first brought home these special valentines for the lovers they had left behind.
Contemporary artists still create sailor's valentines fashioned after the originals made both by sailors and the tourist industry in Barbados.
Inspired by tradition, crafted with artistry, Sandy Moran has a well deserved reputation for fashioning spectacular sailor's valentines. Her pieces are inspired by the original items, yet surpass them in beauty and complexity. Her valentines are heirloom quality pieces of art. View her work at: www.sailorsvalentinestudio.com.
Article edited. Original can be found in ONLY Nantucket, Fall/Winter 2019.