50 Years Woven to Perfection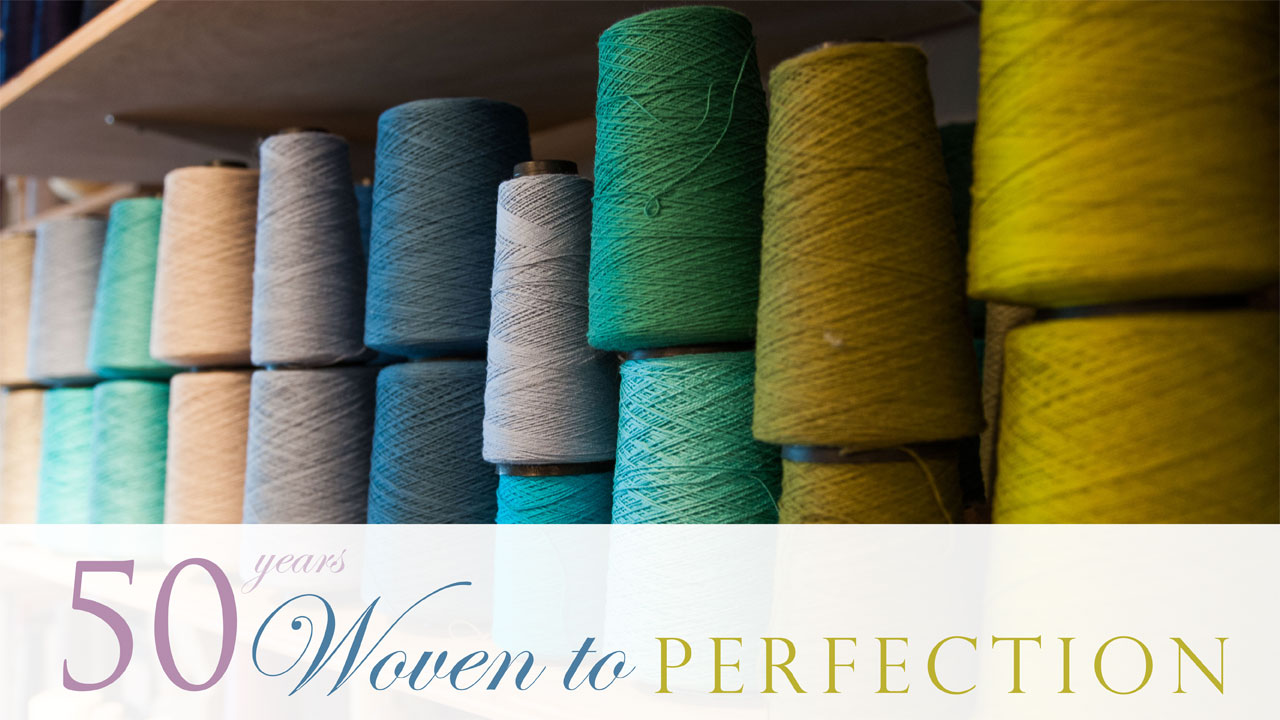 by Suzanne Keating
Photo courtesy of Nantucket Looms
Nantucket Looms has a long history of supporting the arts and artisans of its namesake island. This legacy began fifty years ago, in 1968, when Andy Oates and Bill Euler, partners in life and business, took ownership of the former Cloth Company of Nantucket, renaming it Nantucket Looms. Between Andy's silk-screening and weaving experience and Bill's business acumen, a new era of artisanship blossomed in downtown Nantucket. They soon put the word out for local artists to bring in their baskets, carvings, paintings, prints and other folk art, offering a cottage style of living to visitors and locals alike.
In 1974, Liz Winship went to work for Andy and Bill for what she thought would be the end of the season and ended up staying for more than forty years! Liz had a natural talent for the cottage style of interior design being promoted with the eclectic collection of home furnishings at the Looms. When Andy and Bill retired in 1993, they left the business to Liz, their now longtime employee. In 2004, Liz oversaw the Looms' move to Federal St. and again in 2011 when the business found a permanent home at 51 Main Street, now housing an interior design business along with the store and on-site weaving studio.
WEAVING STUDIO
Rebecca Jusko Peraner apprenticed with Andy beginning in 1991, and continues to train today's on-site weavers, ensuring that the art of textile design and hand weaving is been passed on. In 1996, Stephanie Hall joined the Looms helping Liz set up the interior design department that flourishes under Stephanie's artistic direction today. Liz's daughter, Bess Clarke, joined the business in 2013, completing a compelling foursome of businesswomen ensuring that the legacy of the Looms will carry on for years to come.
In the beginning, there was a big demand for hand-woven fabrics, crewelwork and needlepoint that grew out of Andy's work with the Nantucket Historic Trust's restoration of the Jared Coffin House in the early 1960s. Andy trained and mentored a new generation of weavers.
Despite the beautiful throws, wraps and gorgeous tableware, the Looms isn't just about textiles. Since 1971, master fine-oil painter Ken Layman's paintings of big skies filled with billowing clouds over inviting paths leading to the ocean, and roads ending in perfect perspective, have graced the walls of the Looms. Recognized both on and off the island for her many beautiful books of home furnishings and crafts, Leslie Linsley has been making traditional decoupage boxes with recognizable floral designs, like the ever-popular hydrangea flowers, exclusively for the Looms since the 1970s.
Basket weaving, sculpture and woodworking were also among the early crafts supplied to the store. Locally famous author and basket maker, Mara Cary was a favorite island basket weaver and teacher of creative and functional baskets sold at the Looms during the 1970s and 80s. Sought after for his unusual sculpture, Piero Fenci's beautiful Raku work was considered "edgy" at the time.
Gwen Gaillard, perhaps better known as the owner of the Opera House and founder of the Opera House Cup race, kept the Looms supplied with her fabulous knit sweaters and hats for many years. Local photographer Terry Pommett has been providing masterful black and white photos of stunning sailboats under full sail in the waters around Nantucket for more than a quarter of a century. Printmaker Eric Holch is another long-time contributor to the Looms, whose colorful prints and nostalgic oil paintings continue to bring smiles to the faces of many buyers.
INTERIOR DESIGN
There are nearly 80, mostly local, artists' work on consignment at the Looms, and it would be hard to mention them all here. The best thing to do is wander through the store and see the changing display of finely crafted art available on-island. With an open-door policy of artists having the option to switch out their work once a week, they get to decide what to show, while the inventory gets freshened up. Each artist represented is unique in offering an eclectic selection of cottage-style furnishings for the Looms customers.
Open all year, the Looms is not just supporting artists and their work; they are providing year-round employment for 20 people in the community. Five of the full-time employees are on-site weavers, like Cara DeHeart who trained under the watchful eye of Becky Peraner when she was still a teenager. As long as the natural beauty of the island continues to inspire local artists, the Looms will continue to support their creative vision.
Article edited. Full version available in ONLY NANTUCKET SUMMER 2018.