Dare to Dream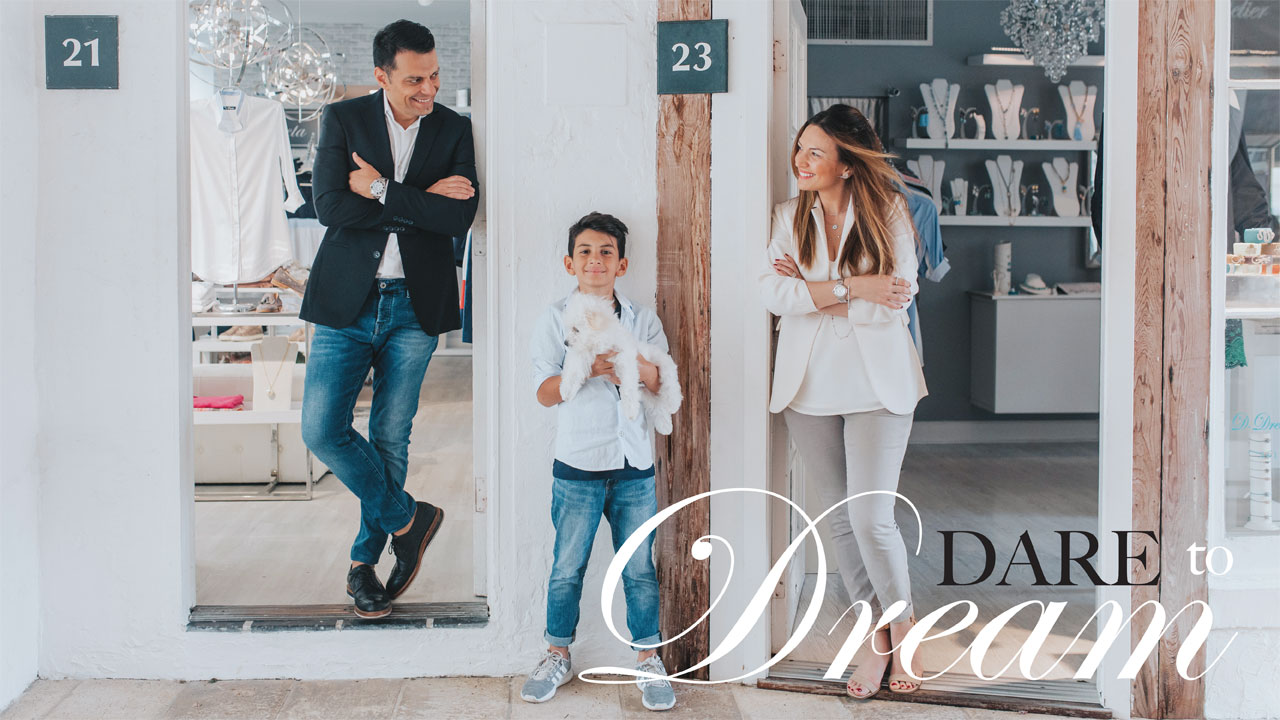 By Constance Helstosky
Ozan and Duygu ("Dee") Ozdemir, with their son, Kuzey holding his dog, Lucky. Their two shops in Palm Beach are side by side – on the left is Poeta at 21 Via Mizner, which sells their clothing line and on the right is D. Dream Atelier at 23 Via Mizner, which carries their line of jewelry.
From Nantucket whaling days through today products sold and produced on island have a reputation of unmatched quality. For hundreds of years people and materials from across the world have passed through and settled among the cobblestoned streets of downtown. The combination of global influence and the Quaker ideals of handmade perfection are alive and well in the Nantucket boutique D. Dream Atelier. Shopping downtown is one of the most cherished summer activities of visitors and islanders alike, and no visit to Centre Street would be complete without stepping inside the walls of D. Dream Atelier.
D. Dream Atelier is owned by Ozan and Duygu or "Dee" Ozdemir. Both began their careers in the hospitality business in their native Turkey. They settled in Palm Beach where Dee continued to pursue her true passion of designing jewelry. The jewelry she sold in boutiques in Greece, Istanbul, and Spain were selling so well the couple began thinking they might be able to successfully open their own shop. In 2009, they did just that, with their first D. Dream Shop in Palm Beach.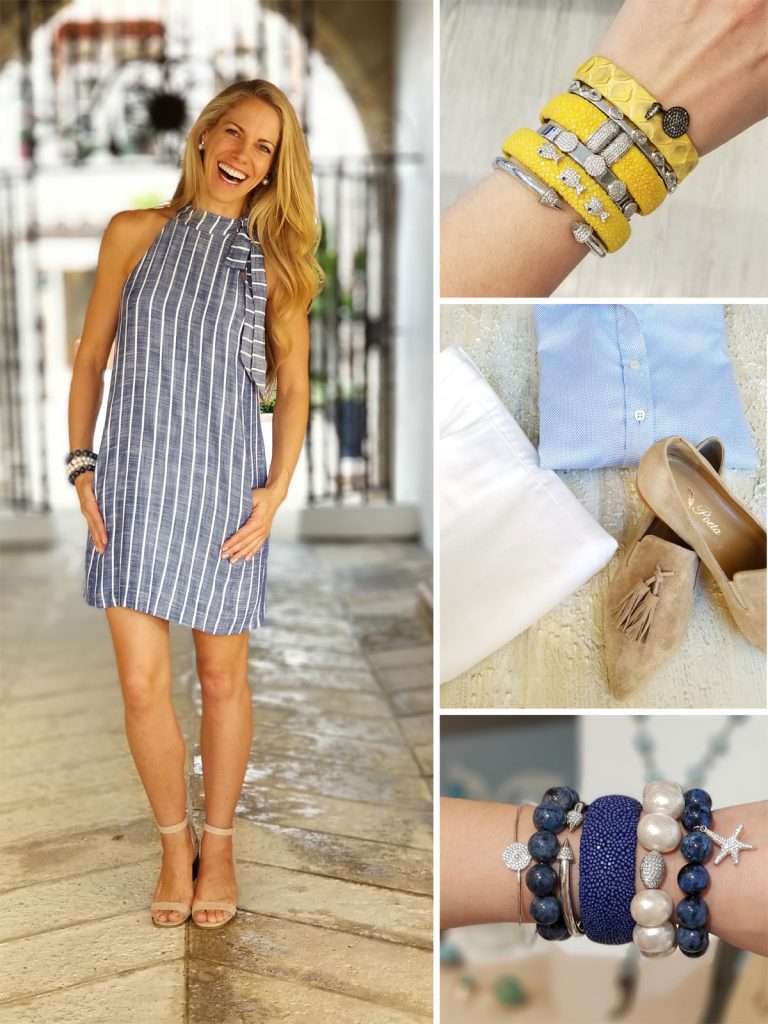 With the success of their jewelry, Ozan and Dee decided to expand into designing and manufacturing their own clothing line. Beginning with shirt dresses and silk dupioni tunics, they found they had struck a chord with their customers. Their clients loved the new clothing line, and due to all the positive feedback, the Ozdemirs created another business – Poeta. Poeta encompasses the line of clothing and shoes Ozan and Dee create, and in 2014, they opened Poeta's doors right next to their jewelry store D. Dream Atelier in Palm Beach, Florida.
Due to many of their clients in Palm Beach desiring a northern summer location, Ozan and Dee decided to expand to the northeast. Ozan arrived on Nantucket during a blustery, snowy winter day and instead of being deterred by the weather, he saw the magic in it. Like many of us, Ozan describes simply falling in love with the island. Ozan, Dee, and their son spend their winters in Florida and return to Nantucket Island in June and remain until September.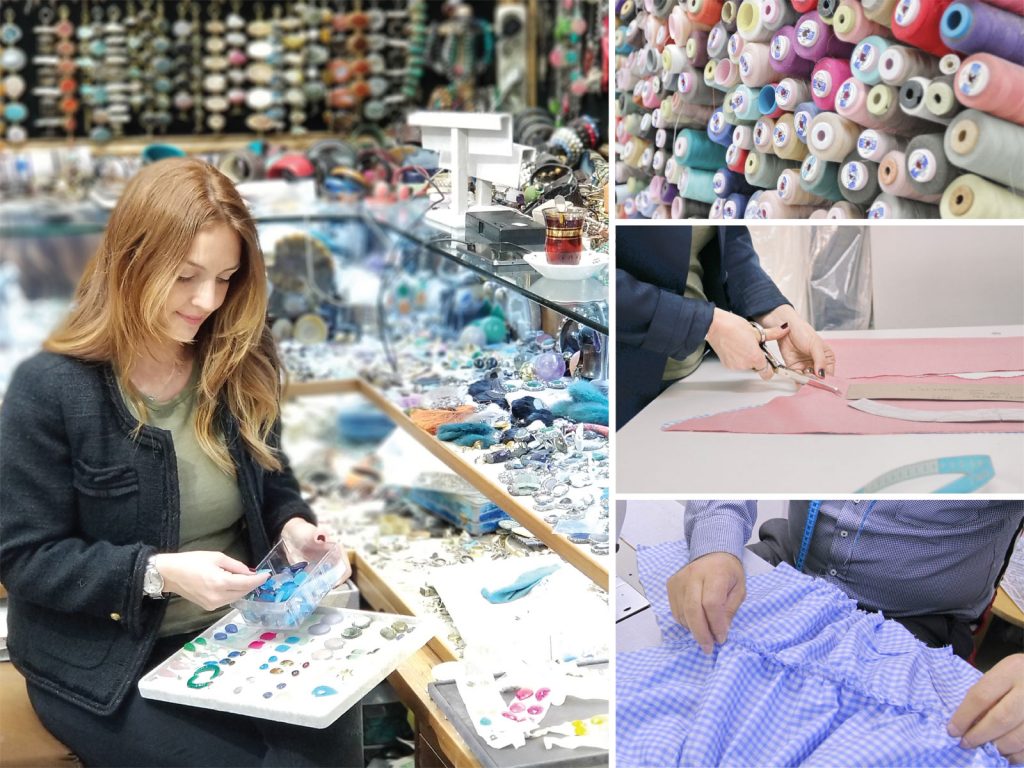 As you enter D. Dream Atelier, the natural hues of the jewelry and clothing perfectly offset the clean white tones that dominate the store's backdrop. Shirts, dresses, and tunics align the racks and stands. All of these are designed and created by Ozan and Dee.
Designing for the Ozdemirs begins with choosing the best fabrics. Hailing from a part of the world where the finest cotton is produced, the couple directly sources the fiber that defines their classic pieces. Many of their products are 100% cotton and linen. Blending in cashmere as well, all the fabrics used in their clothing are natural and of the highest quality. Ozan explains that the journey for their business began with the fabrics, and it is still the beginning for each article they create.
The design process for the Ozdemirs is defined by their attention to the smallest details in order to produce products that they truly love.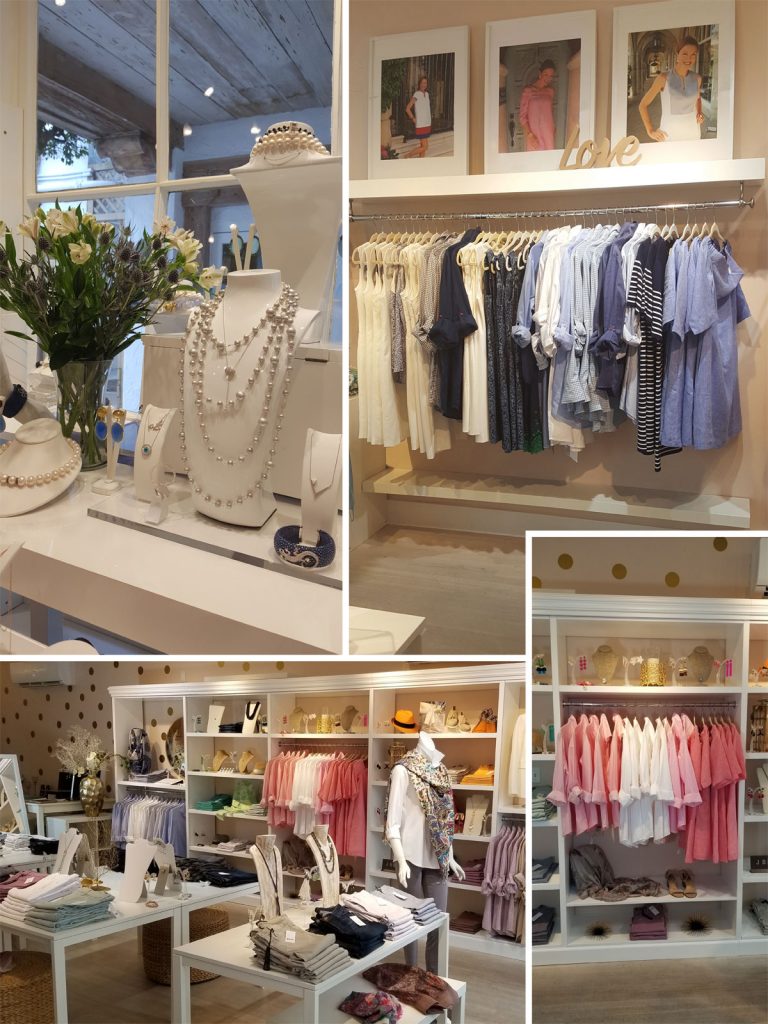 D. Dream Atelier has a loyal clientele who simply love what the couple creates and it is easy to understand why with their dedication to quality and their commitment to serving their customers well. The love for what they do is tangible through speaking with Ozan and Dee, and it is equally apparent in the care they take with their designs. As you stroll the streets of downtown this season be sure to stop in D. Dream Atelier and take a browse around. In a world filled with overdesigned synthetic clothing, the simple, natural textures and hues available in D. Dream Atelier will bring you a unique experience; to delight in wearing a one-of-a-kind dress and necklace that looks just as beautiful on you as it does on the hanger.
Article edited. Full version available in ONLY NANTUCKET SUMMER 2018.