The Anatomy of a Cheese Board and the Wines That Pair With It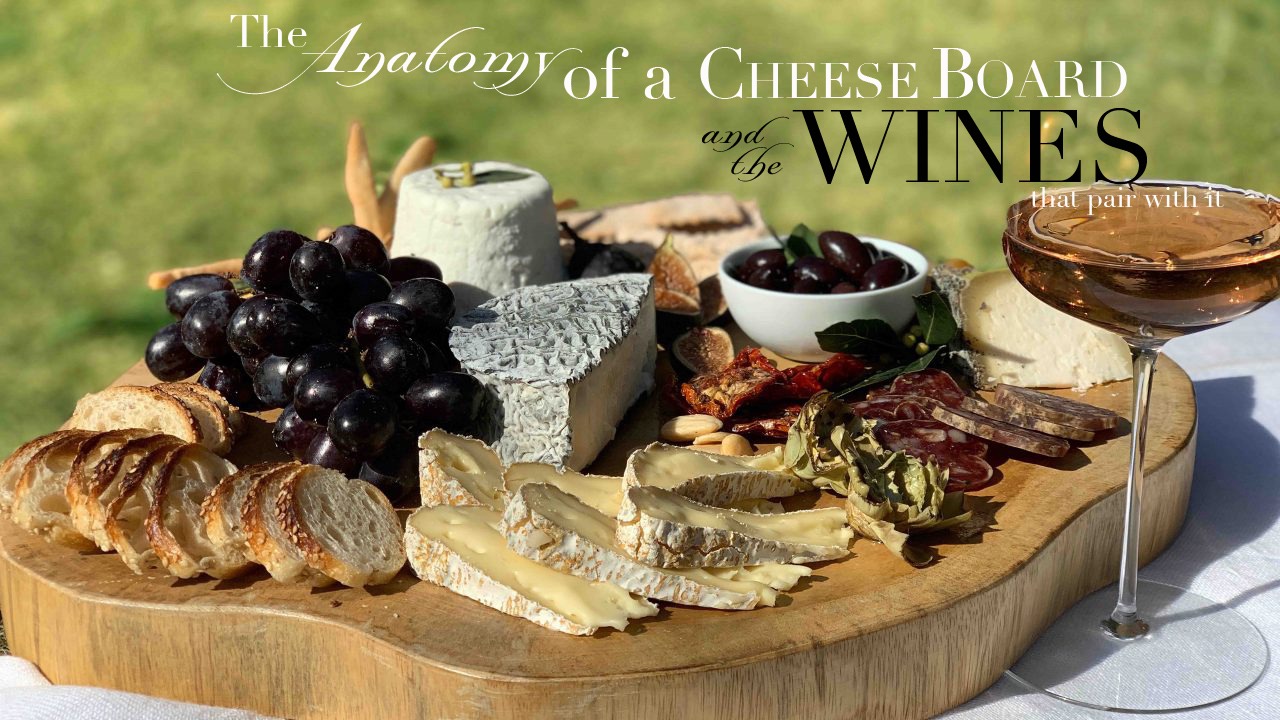 by Carri Wroblewski  
Photography by Klaudia Mally – owners of BRIX Wine Shop
My mother always taught me, "Garnish, garnish, garnish," and when it comes to a cheese board, she was right. Every decadent morsel of cheese deserves an equally tantalizing partner—on the board and in your glass. But knowing which combination of cheeses to select, what accompaniments to garnish with, and which wine to drink can be daunting. But it doesn't have to be. Here are some tasty tips on how to break down the anatomy of a cheese board and what to sip with it.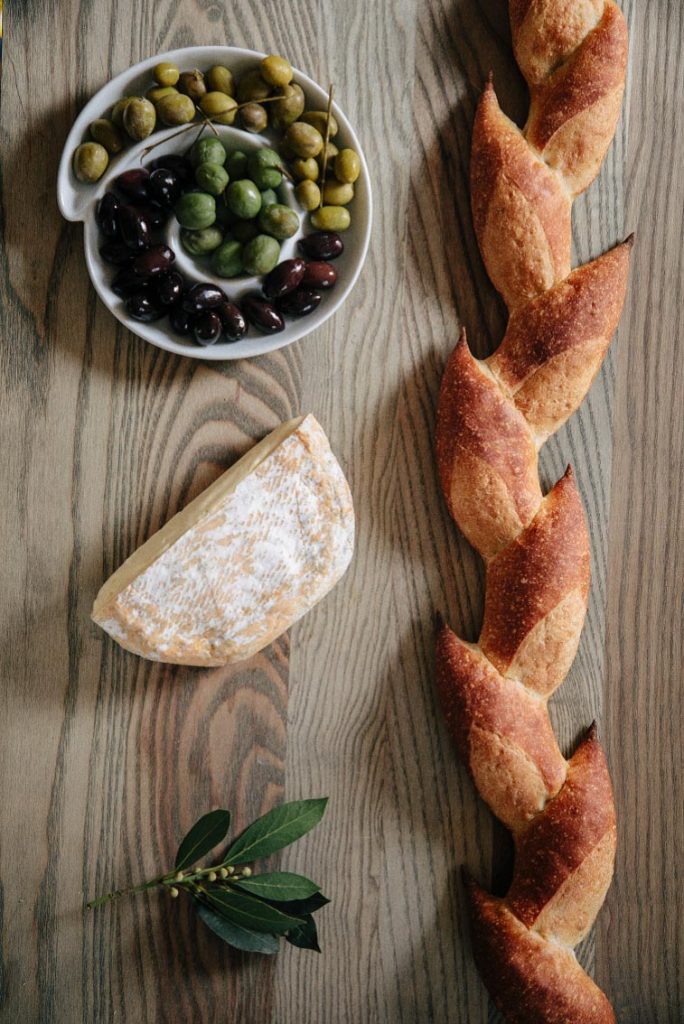 Location
If you think about the regionality of food and wine, it's no surprise that things that grow together, go together. The Loire Valley, known as the "Garden of France," is famous for its signature style of goat cheeses, chèvre. Paired with a Loire Valley Sancerre or a Pouilly Fumé, the bright acidity, minerality, and grassy notes of a Sauvignon Blanc are the perfect companion to tangy goat milk cheeses. One of my favorites from this region is Valençay, the famous pyramid shaped cheese that had its top chopped off. Legend has it that although once shaped as a pyramid, when Napoleon returned from a failed battle in Egypt, he was reminded of his defeat there. He then demanded the cheese to be molded incomplete. It remains that way today. The Spanish on the other hand, love their Tempranillo, and nothing tempts it more than a sliver of aged Manchego. Born of the same place, the lively red fruit gives lift and a backdrop to the savory and strong flavors of the cheese.
Compare vs. Contrast
As you start to build your cheese board and think about the wines you'd like to pair with it, remember two things—opposites attract and likes go with likes. Putting together a pairing where the flavor profiles are similar can produce a mouth-watering match, just as contrasting flavors can awaken the palate. Pop the cork on a bottle of Champagne and pair it with Brillat-Savarin, a triple crème cheese named after the 18th Century epicure who once said, "Tell me what you eat, and I'll tell you who you are." Made from 75% butterfat this rich, creamy cheese is a natural with a glass of bubbles to help cut through the fat. No Brillat? Grab a Brie or Camembert—both are great alternatives.
Or, go for opposites. Blue cheese typically strikes a love it or leave it chord with most people. I for one am in the love it league. If you're lucky enough to score a hunk of Italian Blu al Vin Santo from your local wine and cheese shop, run, don't walk to a bottle of Madeira, sherry, or tawny port—the most likely pairings. If sipping port on a cool Nantucket night isn't your taste, try a bottle of Alsatian Gewürztraminer. The salty, sharp, and pungent notes of the blue cheese will magically marry with the hint of sweetness in both the wine and the cheese. If you cannot find Blu al Vin Santo, don't worry. Stilton, Roquefort, and Gorgonzola Dolce are all good stand-ins.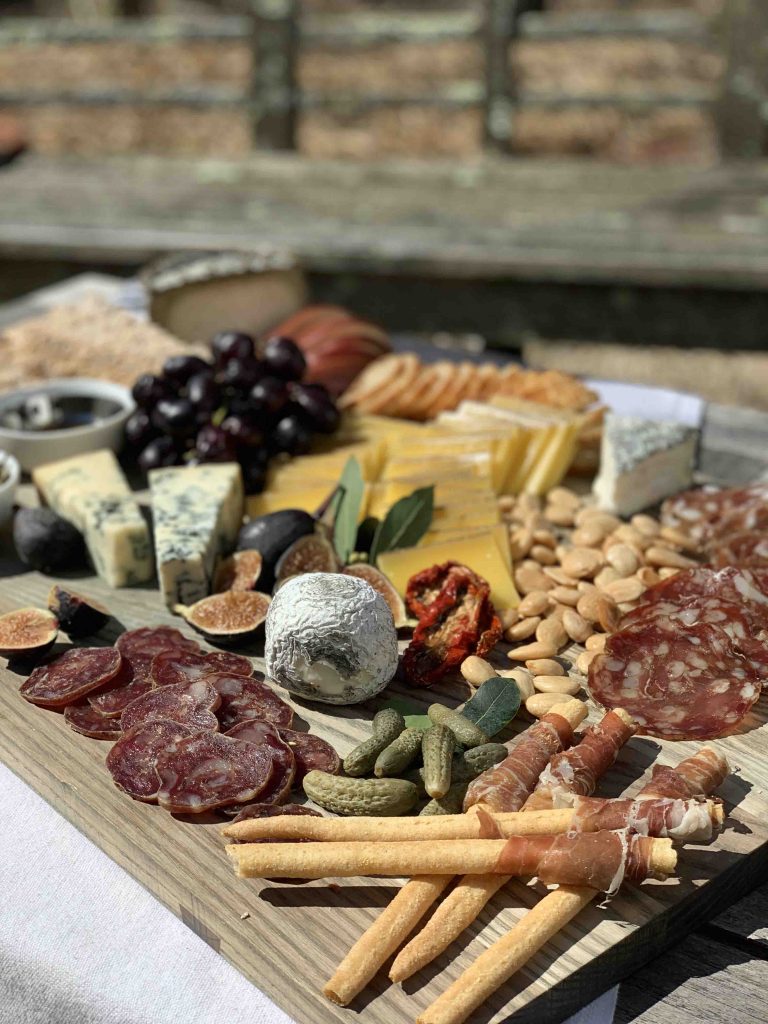 Building The Board
Now that you have a few cheese pairings under your belt, it's time to build your board.
But, first things first. Take your cheeses out of the refrigerator at least an hour before you plan on serving them. Cold cheese, just like too cold wine, doesn't taste like much. Cheese is comprosed of mostly fat, and when the fat molecules in cheese are too cold, they contract, shut down, and take the flavor with them. That's the best part. So, remember to bring your cheese to room temperature before you assemble your board.
The balance of your cheese board is the most important component, and not surprisingly, it's anchored by your cheese selection. I like to think of my board as a blank canvas waiting to be painted with flavor. And with texture, comes flavor. There are three main types of milk that are used to make cheese—cow, sheep, and goat. The different milks make different styles of cheese all with varying consistencies. If you're entertaining a larger group this summer, aim for three to five cheeses in different categories, including a soft cheese, a semi-soft/ripened cheese, a hard cheese, and a blue cheese. Having various flavor profiles and textures, you will start to create the "skeleton" of your board.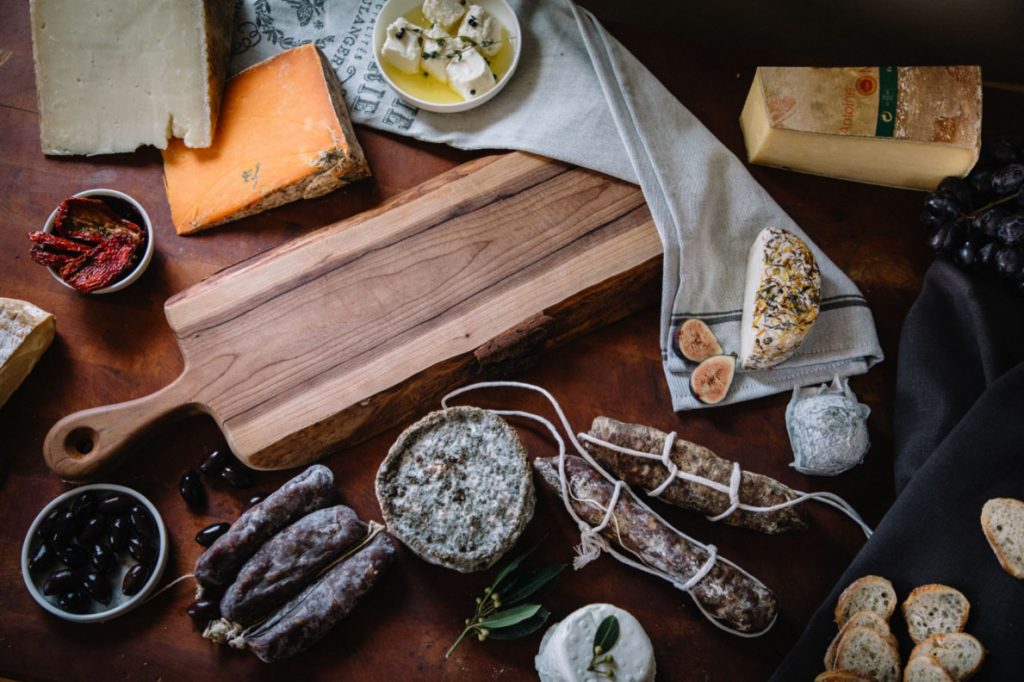 Garnish, Garnish, Garnish
It's time to add your accompaniments, which will add color, crunch, and freshness. They're essential to cut through the richness of the cheeses. You will want to find things that are sweet, salty, tangy, crunchy and fresh. Naturals next to your cheese are dried or preserved fruits such as apricots, honey, olives and cornichons (or any pickled veggie), nuts, fresh figs, pears, and grapes. If you want to take your board to the next level, incorporate different types of charcuterie. Favorites are Prosciutto di Parma, Finocchiona salami, speck, and kabanosy (a long, thin, slightly smoky dried Polish sausage). You can also include a pâté or terrine. Charcuterie shines when paired with a chilled glass of Nantucket's favorite pink pour, dry rosé. Look for wines from Provence, Corsica, or Greece.
So, now your board is ready, you're just missing one thing—the vessel to carry all of this deliciousness. Go for a crusty French baguette or an array of different crackers, flatbreads, or breadsticks. You don't want your cracker to compete with the other flavors, so go with plain. The cheese is the star.
If you were never very good at anatomy, the science kind, by now you will have the cheese board mastered. Why? Because these are all the tips, and there are no rules. So just have fun and uncork your first bottle.