Summer Side Dishes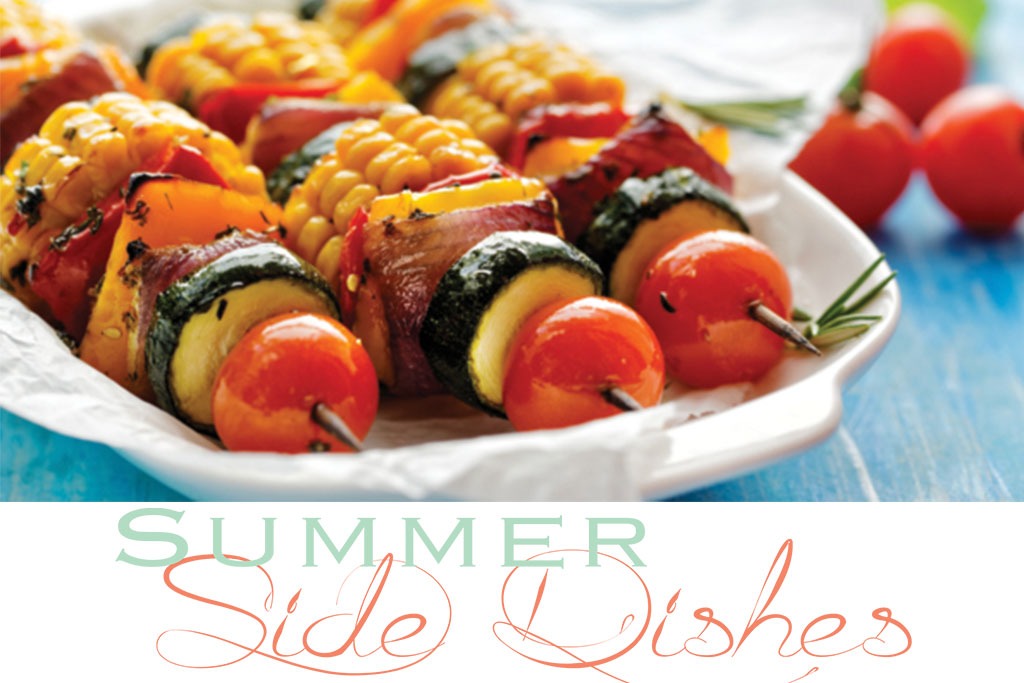 Getting dinner out for family or company in the summer can be easy with these recipes. When you grill out – EASY – you just need some great sides, drinks and dessert. Dessert can be as simple as sorbet accompanied by a sweet treat from a local bakery. No need to turn on the oven.
Bounty from the garden is a sure sign of summer. The local Farmer's Market in-Town on Saturday morning (located on the streets surrounding the post office and St. Mary's Catholic church) is another source of local fresh produce. Support Nantucket farmers!
Check out our list of currently open grocers, farms, bakeries, and more for gathering all the necessities for summers meals done right!
HEIRLOOM CHERRY TOMATO SALAD
Select different varieties of heirloom tomatoes or cherry tomatoes. The different colors look striking on a plate. Marinate them for a little while before dinner with a generous helping of balsamic dressing.
Just before serving add freshly cut mozzarella or tiny mozzarella balls (very convenient), some Calamata olives and top with fresh basil just before serving. Be sure to serve with some nice bread to dredge up the balsamic and tomato juice.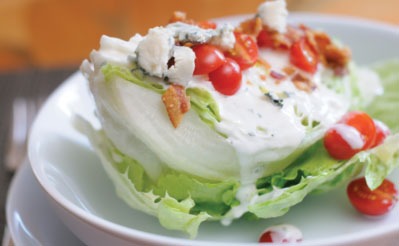 ICEBERG WEDGE WITH BLUE CHEESE DRESSING
Cut iceberg lettuce into wedges. Drizzle with blue cheese dressing and any of the following: Chopped pecans, cherry tomatoes, crisp fried onion rings, crumbled bacon, sunflower seeds, chopped olives or for a refreshing taste, mandarin oranges. Garnish with crumbled blue cheese.
To Make the Dressing:
1 tablespoon Dijon mustard
3 tablespoons champagne or white wine vinegar
1/2 cup olive oil
4 ounces of blue cheese, crumbled with a fork
Salt and fresh ground pepper to taste
Combine mustard vinegar and half of the blue cheese in a bowl.
Whisk as you slowly drizzle in oil.
Season with salt and pepper.
ROASTED CORN
What can be better than sweet summer corn? Not much! Try either of these two easy ways to serve the best summer corn possible. Wrap it in aluminum foil and place on grill for 30 minutes. If you want to cook it in the oven, brush with butter for a simple approach and wrap in foil. Place seam side up directly on rack (not on a cookie sheet) at 350 degrees for 30 minutes. When done, cool for 15 minutes, unwrap and serve. Or, you can make corn with a little more pizzazz. Brush the following mixture on the corn before wrapping in foil.
For 6-8 ears of corn
Mix together with a fork:
1 cup of softened unsalted butter
3 tablespoons of lemon or lime zest
2 tablespoons of marjoram
1 1/2 tablespoons of chopped shallots
1 1/2teaspoons of kosher salt
1 1/2 teaspoons of pepper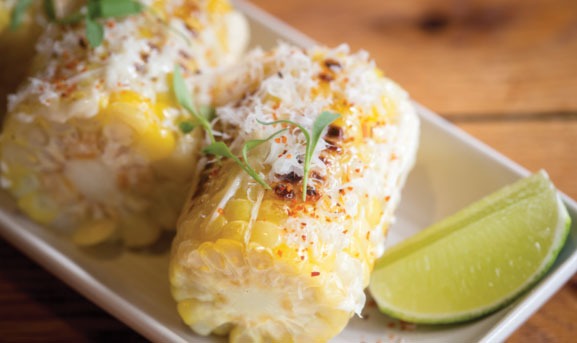 MEXICAN STREET CORN
A new twist on a summer staple is Mexican Street Corn. Make the Mexican Crema sauce to roll the corn in ahead of time. Grill your husked corn on a hot grill. Just as it begins to char, the kernels should be cooked. Take off of grill and spread the corn with a thin layer of crema then sprinkle with Parmesan cheese. Serve with lime wedges.
TO MAKE THE MEXICAN CREMA
3/4 cup Mexican crema, sour cream or mayonnaise or cashew yogurt for a vegan option!
1/2 lb. queso cotija, shredded or if not available use feta, crumbled
Minced garlic
Cilantro
Sprinkle with powdered chili or cayenne.
BEEF KEBABS
For the meat lover, this is quick and easy.
Marinate cut up chunks of beef (any type) for one hour in the following marinade:
Chopped rosemary
Minced garlic
Pinch of salt
Few tablespoons of sugar
1 cup of olive oil
1/4 cup of red wine vinegar
Soak wooden skewers in water and then put meat on.
Can be paired with vegetables. Grill until done.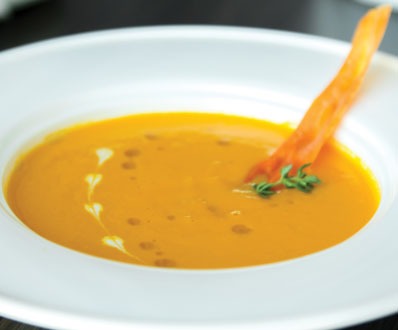 CHILLED YELLOW SQUASH SOUP
This recipe makes 4 to 6 servings
You will need:
2 pound yellow squash
1 medium minced onion
1 teaspoon minced ginger
1 teaspoon turmeric powder
1 teaspoon Madras curry powder
2 teaspoon lemon grass paste
1 cup coconut milk
2 cup water
2 Kaffir lime leafs (optional)
1 tablespoon of vegetable oil
salt and pepper to taste
TO MAKE THE SOUP
In a large sauté pan, heat oil and then add in onion, ginger, turmeric powder, curry powder, Kaffir lime leafs, and a pinch of salt, then sauté them until tender. Add squash, lemon grass paste, coconut milk, water and bring to a boil. Turn off heat and cool down until it stops steaming.
Mix cooked mixture in a blender and put through a fine strainer.
Add pepper to taste. Chill soup for a couple of hours in refrigerator or over night. Serve with garnish of toasted nuts.
Article edited. Full version available in ONLY NANTUCKET SUMMER 2016.