Seth Raynor from The Boarding House – Chef Profile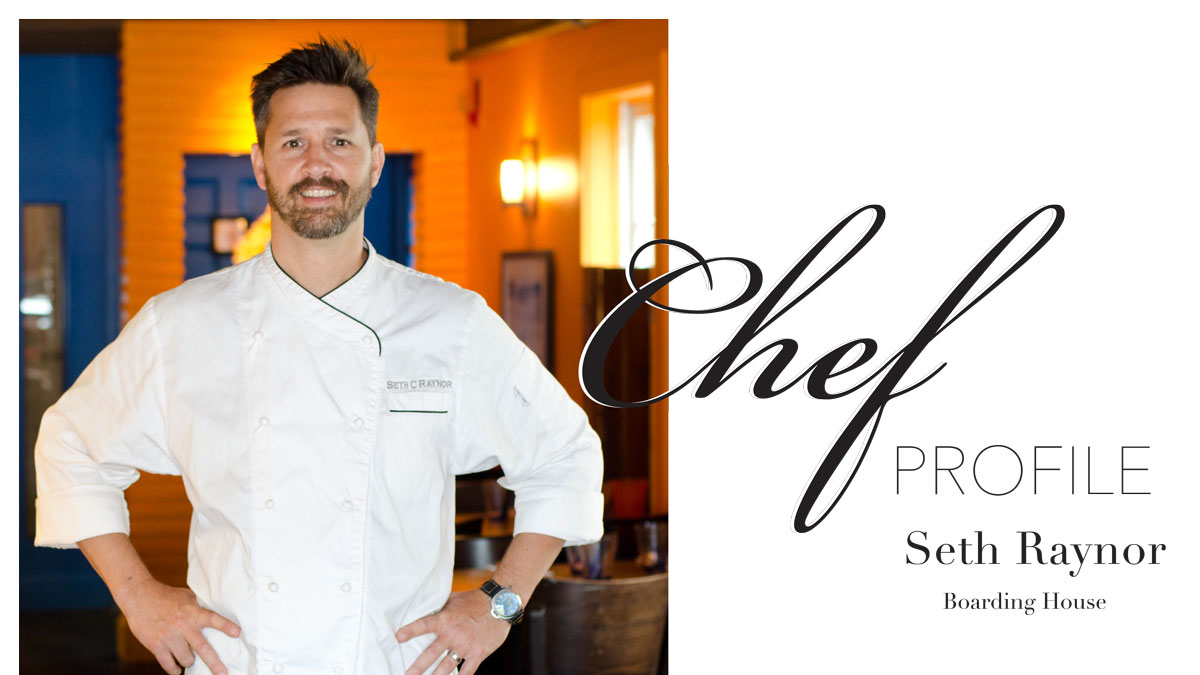 Ample passion is a key ingredient to a successful restaurant. Most chefs enter the food world with plenty of enthusiasm, but making it in the industry is difficult at best. Turning a lifelong culinary journey into two successful Nantucket restaurants has not been simple for husband and wife team Seth and Angela Raynor. Their combined experience, love for good food, and willingness to take risks has resulted in 26 years of owning and operating a Nantucket dining destination; The Boarding House. For over a quarter of a century Seth and Angela have been welcoming regulars and newcomers alike to enjoy delicious dishes created with love and served as if you were family.
Seth grew up in a Long Island bay neighborhood where his extended family all lived close. His grandfather and father both had sizeable gardens, and family meals were the norm. Food and family were prioritized from an early age, so his decision to attend culinary school at The New England Culinary Institute in Montpelier, VT was a natural progression for following his heart. While there, he met Angela, who was completing the exact same program. They became friends, which led to falling in love, and eventually getting married. Seth interned at the Chanticleer while in school. Seth says he focused on mastering the basics from which to build a culinary career on.
Angela had spent one of her internships in Chicago and after graduation they both lived there for a time, before Seth's desire to return to Nantucket led them to their future. Angela transitioned to the front of the house at the Chanticleer mastering guest relations with having the added benefit of being a trained chef herself. This allows her to fully understand the kitchen, timing and challenges on both sides. Seth and Angela host many dinner parties during the off-season, a true testament to their love of cooking and entertaining. Seth credits Angela with having the ability to bring the same warmth and hospitality to The Boarding House.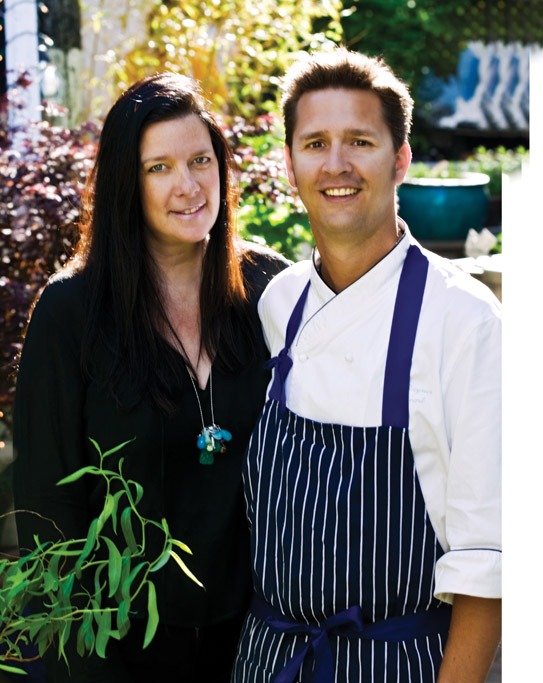 The Boarding House's exceptional service is complimented by the atmosphere and cuisine it provides. The rustic dining room lends itself well to allowing the food to speak for itself. It is a home-style feeling that simultaneously is reminiscent of California, France, Spain or Italy. As you dine, the choices selected will be filled with nutritious but light, approachable dishes that will cement your desire to dine with Seth and Angela again. In fact, they have some customers that spend over 20 nights a year with them. This season many menu favorites will remain, but there will also be some new additions.
The couple's early trips to California 25 years ago provided Seth with a head start in the farm to table movement. He witnessed many chefs whether they were cooking Asian or Italian, having intimate relationships with the farms that supplied their ingredients. When he was building his restaurants he knew the importance of working with local farms, and seafood providers in order to develop meaningful relationships that continue to this day. In fact, you can find Seth at Pumpkin Pond farm weekly on Sundays throughout the off-season spending a couple hours with the farmer planning for the next season.
Another component of The Boarding House that sets it apart is its willingness to create healthy, pleasing meals for all. Gluten free, or various food allergies are not something that the team shies away from, in fact they are always looking to accommodate. Also, with a focus on more recent food and health trends, Seth understands the importance of highlighting vegetables, even as entrees. The American tradition of protein-centered dishes will be offered, but he hopes fresh, local vegetables may be able to satisfy and stand alone as well.
As the seasons pass, Seth and Angela are beginning to view their roles in the restaurant as more editors, instead of managers. In fact, they have broadened their expectations from their employees- they want their team to arrive each season with their own ideas. The Boarding House, and The Pearl are places where young chefs can truly craft their art under the guidance of seasoned veterans in a difficult industry. Seth sees those employees that have opened restaurants of their own not as competition, but as a beautiful genesis of what he and Angela are trying to manifest. For this unique couple it is all about passion, from their thirty year marriage to two successful long-standing restaurants, to guiding the next generation – they truly personify what it means to be passionate in this world.
The Boarding House is located at 12 Federal Street, Nantucket MA 02554.
Reservations can be made by calling 508-228-9622
www.boardinghousenantucket.com