Making Plans!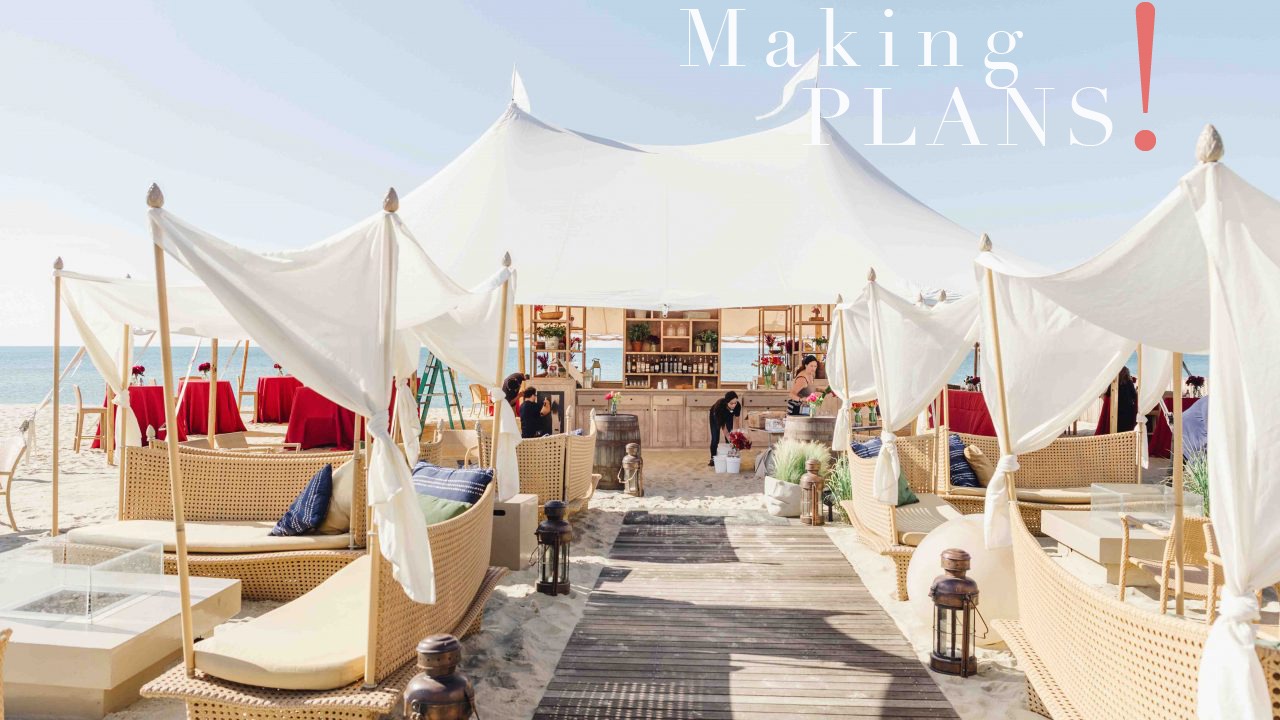 by Rebecca Nimerfroh
photos by Zofia & Co.
Perhaps it is the very place you first met, introduced through friends over a cookout on the beach, the stars shining above you. Or maybe it's the place where he proposed, down on bended knee on the docks in the harbor. No matter what this island means to you and your fiancé, Nantucket, with its glorious beaches and stunning views is truly an unrivaled wedding destination, and if you have decided to also make this home to where you say "I do," follow along for an easy guide of what not to miss while planning your big day on the rock.
Location, Location, Location

Finding a location to be married on Nantucket can be made simple when you ask yourself what kind of wedding you are looking to have. Are you the type of couple who can't be peeled off the dance floor? There are some excellent choices with oversized spaces for dancing allowing plenty of space to cut a rug. Looking for something classic, chic and refined? Choose a location with a large room. Some of the private clubs rent to the public or museums do the same. Or you can use the grounds, where a tent can be set up to take advantage of the breathtaking views of Nantucket Sound and the ocean breeze. Are you the type of couple who wants something small, personal, and heartfelt? Perhaps a reception in a small restaurant room or a friends garden is more your speed, surrounded by a small group of friends and lush, summer blooms. The options for ceremony locations on Nantucket are truly as vast as your imagination, but a word to the wise, depending upon the popularity of the space, venues can be booked out at least a year in advance.
Photos

As we all know, photos are one of the most important parts of the "big day," and along with popular venues booking at least a year in advance, the same can be said for on-island photographers. A great way to shop for these professionals is to explore social media applications like Instagram, or ask your venue for preferred vendors. Tip: After hiring your favorite photographer, book an engagement session where not only will you score pics of the two of you in front of the stunning island locations, but you will eventually feel more comfortable in front of the camera itself, making for better pics on your wedding day.
Hairdresser and Makeup

Leave it to the professionals to doll you up so that you can enjoy time with loved ones and family. There are several salons to choose from on island, or you can even bring someone in from another location. If getting a manicure for the big day is in your cards, make an appointment for that as well, and perhaps make it a group activity. Bring a bottle of champagne or two to clink while you allow others to pamper you and it's officially a party.
Zofia & Co.

Zofia & Co.

Zofia & Co.
Where to Stay and Where to Put Up Your Guests

Just like the location of your ceremony, the location of where to stay for both you and your guests is numerous and plenty, and again, all depends on what kind of experience you are looking for. Feel like spending the long week in the lap of luxury? Perhaps an ocean-side suite at The Wauwinet is for you, a five-star resort located on the protective inside of Nantucket Harbor. Or maybe you want a whole house for friends and family to gather under one roof, and so working with a local real estate agent or checking out Airbnb would be your best option.
Cake… or Donuts!

How to cap off your special day is all up to you! Always envisioned cutting that towering beauty of a cake in front of a throng of guests? A visit with any of the bakeries on island will get you the perfect specimen you've always dreamed. Want to try something unexpected? A tower of donuts from local favorite The Downy Flake will not only delight your wedding guests but also allow them to taste an island staple.
Zofia & Co.

Zofia & Co.
Wedding Party Gifts

As for wedding party gifts, the key here is to have it be both functional and personal. Getting married somewhere given the nickname "Gray Lady" makes for an interesting opportunity; why not gift your guests umbrellas in a matching color, monogrammed with their initials or imprinted with your
wedding date? Or, what about a return ferry ticket or two, something for them to use to come back and reminisce on the fun times they had while celebrating your love?
And Most Importantly, Don't Forget to Have Some Fun!
Meeting up with your guests at local eateries and coffee shops is a nice respite from the duties of the bride and groom, so treat yourself! After all, your guests are here to see you and celebrate with you. Steal some time from your schedule and enjoy a coffee or cocktail, and take joy in the small town feel of having your loved ones all around you because if that's not what a Nantucket wedding is truly all about, we don't know what is.
Zofia & Co.

Zofia & Co.

Zofia & Co.