Lynx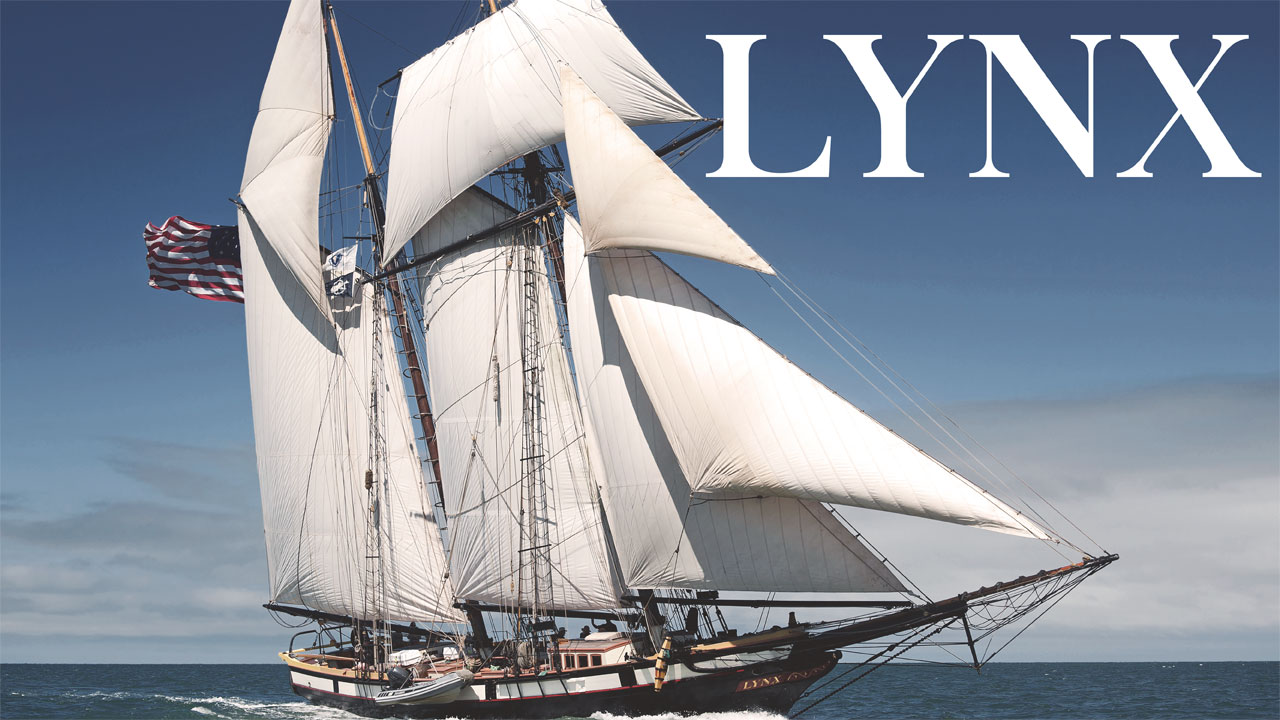 by Constance Helstosky
photos courtesy of Lynx
Be excellent to each other and to your ship
The northern lynx stealthily stalks the forests of the world, at night, using its extremely developed eyes and ears to discover the tiniest movement of prey. This large wildcat is the namesake for the tall ship Lynx, and the characteristic of sleek speed is not their only connection. In order to survive in a demanding environment the feral feline must be excellent at survival, so it is no wonder that the motto aboard Lynx is "Be excellent to each other and to your ship." Lynx demands much from her crew, and she gets what she requests. Even more remarkable than what the crew gives to the ship, is what Lynx provides. For anyone lucky enough to climb aboard, she will give an experience that will last a lifetime. Be prepared to be wowed and exhilarated when you set sail and connect to the magic of this Tall Ship.
Lynx is an interpretation of the 1812 original privateering ship of the same name. Launched July 28, 2001, she was built in Rockport, Maine at Rockport Marine. The design of the ship, by Melbourne Smith, took two years to complete.
The original Lynx built in 1812 by Thomas Kemp hailed from Fell's Point, Maryland. She was a typical privateering square-top schooner that set out to wreak havoc on the British Navy.
Even though most ships built in the early 1800s by American shipbuilders had no documented plans or prints, the unique history of the original Lynx provided the designer with 19th century British-made blueprints. When the original Lynx was captured by the British she was taken apart, then drawn, and finally reassembled. Fortunately, for modern designers looking to recreate tall ships from that era, de-fabrication and drawn records of that process was the only way the British could begin to understand or hope to build American designs. These drawings from the 1800s were located in Canada and aided during the design process of the modern Lynx.
Lynx took a year and a half to build, and required both an understanding of traditional wooden ships and modern yachts to create the unique ship sailed today. Her deck followed a traditional 1812 replication replete with cast iron ball-firing carronades. Below deck, however, the ship is equipped with many modern conveniences that include a luxurious saloon, great-cabin and staterooms. In addition, there is a modern engine room, water maker and two generators. These contemporary installations were incorporated in order to be eligible for Coast Guard certification.
The modern Lynx is a purpose-built educational vessel for the teachings of early American history, American exceptionalism, and maritime and ocean sciences. Lynx offers programs to schools and private individuals. The educational programs Lynx runs is all based on STEM curriculum. This means there is a focus on an integrated approach to teaching science, technology, engineering, and mathematics that is extremely hands-on. On Lynx, the crew complement consists of seven to 11 individuals including a ship's cook. All of the crew from the Captain to deckhands are an integral part of the ship. No matter what brings a person to Lynx, they will surely not be disappointed with their experience.
Donald Peacock is the president of the educational foundation Lynx, and through speaking with him it is impossible not to get excited about this ship. He comes from a long line of sailors, and his son is the current captain of Lynx. Donald got involved with Lynx as a crew member parent when his son first joined the team. Due to Donald's enthusiasm and energy, he was selected to take the helm of the project when the original owner, Woodson Woods, sold the ship. Lucky for Nantucket, Donald has the same level of commitment and love that he has for Lynx and for the island he grew up summering on. Therefore, when he took over leadership of the program, he pushed and worked diligently to bring Lynx to Nantucket. With aid from the American Home Foundation, the Lynx now calls Nantucket its homeport and has the ability to connect with Nantucket islanders and visitors alike in immeasurable ways for years to come.
Nantucket has a long maritime history, which is most recognized for its whaling past. Without whaling, Nantucket's story would be vastly different from the one we know today.
Lynx will be stationed in Nantucket harbor and open to public programs from July – October. Lynx provides many programs that will please the whole family. A one-day adventure sail gives the full experience of what life was like as a 19th century privateer sailor. The kids can experience steering the boat, as older generations listen to crew members tell historical stories, all the while Lynx will be sailing around the beautiful sea surrounding Nantucket. Sunset sails are also available, as well as charters, and receptions for special events. Lynx also gives back in innumerable ways to the local Nantucket community. Donald Peacock explains, "We provide opportunities for other nonprofits where we donate the ship and host receptions, and fundraising opportunities." In addition, a portion of every ticket sale goes back to Lynx's Nantucket educational partner, Egan Maritime's Sea of Opportunity program. Therefore, money spent on Nantucket, remains on Nantucket and improves the lives of local children.
Lynx and Egan Maritime have joined forces through the Sea of Opportunity program to provide children in the 5 – 8th grades, as well as rising Juniors and Seniors in both private, and public schools a way to learn in a setting like no other. Nantucket students in the month of June, and again in September, have the opportunity to board Lynx, and go through some on-board educational curriculum. All of these programs are STEM based. In the hopes of reconnecting Nantucket children to the maritime heritage of the island, Sea of Opportunities looks to expose young Nantucketers to the skill sets and knowledge necessary for jobs connected with the sea and maritime science.
For more information please visit tallshiplynx.com and to speak with Donald Peacock email him at: peacock@tallshiplynx.com or call 978-479-2197
Article edited. Full version available in ONLY NANTUCKET SUMMER 2017.