Life and a Lense
by Constance Helstosky
photos courtesy of Dan Driscoll
The gray lady does not expect the faint of heart to live year round on her shores. The summer sunshine and warm breezes are reminiscent of paradise, but a Nor'easter reminds all who remain in winter who is truly in charge – Mother Nature. Those souls at the grocery in February are the faces you come to recognize and eventually know well, they help create the heart of the island. Dan Driscoll and his wife are among those that remain on this far-away island the year through. Dan is humble and kind, and identifies himself as a visual artist. He has spent his lifetime documenting stories through a lens, and in turn has lived and continues an incredible story of his own.
Dan grew up in Kittery Point Maine; it is a lot like Nantucket, a small fishing village where many homes date from the 1700s. His mother was a painter, and he credits her for opening his eyes to the world of photography. She had a camera she used to document the land and seascapes she painted, and when Dan was 10, she lent it to him. He was hooked. At the age of 16, he picked up his first movie camera – an 8mm. He began filming some friends pioneering surfing on the coast of Maine. Next, Dan connected the images reel to reel and added some music, creating his first films. These early surf films opened Dan's eyes and heart to his calling – to entertain.
Dan's first job in the media business began, he was a part of a company that produced multimedia productions. This was in the late 60s to early 70s and ancient punch tape computers were involved in combining aspects of slides, projections, motion picture elements and even live theatre to create a cohesive show for corporations like IBM and Black and Decker. Beginning to hone his skills, Dan says he learned a great deal about production in the five years he spent at the company. From this first job he landed a position directing for another company. Despite never having any real experience making films, within three weeks he was producing and directing a film crew with six cameramen filming for the Michelin Tire Company. Working for a few more companies in and around Boston Dan eventually was asked to film his first commercial.
Whereas the films he was doing previously might take six or more months from concept to filming to completion, the commercial took only a couple of weeks. Dan says he thought that commercials were really great and wanted to do more of them. However, the owner of the company he was filming for disagreed. This resulted in Dan's entrepreneurial entrance into creating his own company. In 1978, Dan founded his company – September Productions.
As September Productions grew, the costs of running a larger company also grew. After 20 years of filming all over the world and spending too much time totally wrapped up in the business, Dan had a desire to cut back and the decision was made to close the Boston office in the 90s. By the turn of the century, Dan focused primarily on one client. Dan became one of the primary directors for Mattel Toys. By cutting his overhead, finding a balance, and always improving on his storytelling, Dan enjoyed a lengthy career in a business where dynamic change leads too few directors lasting past their late-30s. From Barbie to Disney's Cars, Dan worked on creating commercials for Mattel for the past 18 years. Last year was his final year working in the corporate commercial capacity and since that time he has continued to make films, many with more of a local focus.
In 1971 Dan and his wife, Connie visited Nantucket for the first time, and it felt like coming home. Similar to where he grew up on the Maine coast, Dan felt an instant connection and fell in love with the island. This led to family vacations, which eventually transitioned to their dream of living on island full-time. The Nantucket landscape and lighting continue to be an inspiration to Dan, his photography illuminates the magic of the island. In addition, he continues to create a dozen or more films each year for various clients on island as well as his own personal projects and began the Nantucket Shorts Film festival six years ago with four other film enthusiasts.
Dan did not attend any formal art or film school, but he explains back when he was young, there were few film schools and he got most of his education from on the job training and trial and error. Some key ideas and advice Dan graciously explained are truly universal for all artists. Dan referenced the famous photographer Ansel Adam's famous quote "You don't take a good photograph, you make it." Extensive preparation for every film and photograph is necessary for success. A good suggestion for any student of photography who desires to create their dream photographs should be to carefully plan and prepare before ever taking out their camera.
Another piece of advice for burgeoning new artists is to constantly work to improve your art and your skills. Dan credits, in part, his lengthy career in the commercial world to his constant desire to tell a story better than he had before. He is always trying new techniques and looking at other artists work to gain new insights. One example of Dan pushing the limits of his craft is the experimental photograph Midnight Swans (above) where he utilized a process called light painting. In this photograph, a long exposure combined with the use of flashlights as his paintbrushes to illuminate elements of the photograph, resulted in an image that exceeded Dan's expectations, and is simply a delight to the eye.
Currently, September Productions offers its skills and expertise for various Nantucket-based businesses. Working with nonprofits such as the Dreamland Foundation and Housing, Dan hopes to showcase local challenges through his craft. He explains that if by creating these films in partnership with local agencies he can help bring light to issues, like the housing crisis on Nantucket, he is thrilled.
In addition, to the films for non-profits, Dan also creates wedding videos. Dan began making wedding videos in the early 2000s at a time where it was not as accepted in the film industry as it is today. The wedding films are truly a personal documentary that will cause even the hardest hearts to soften. The glimpses of these individualized films on the September Productions website bring out all that is wonderful about a wedding. Dan says these films are always a lot of hard work, but ultimately to capture that moment where the story evokes so much emotion that it is impossible not to shed a tear that is what he always searches for. The ultimate audience is his wife, and if she loves it then he knows it is complete.
"Midnight Swans"

"Chair"
Like many of his projects, the wedding films often become a family affair. Dan's son Zachary will fly in from California where he is a director of photography on many popular TV shows, when possible, to help shoot. Dan describes working with his son, as a "real treat." With pride in his voice he says he does not have to tell him what to do, he simply knows and often does it better than dad. Although Dan's son may call for advice, or ask about a technique used in the 60s or 70s, it is apparent that Dan views his son as a fellow artist or colleague to admire. In addition, Dan has two daughters both who live on the Massachusetts mainland. One is the model in his beautiful photo series named The 1900s Project. These contemporary photos are reminders of Nantucket's past as well as its value today as a place where pockets of the island have not changed in over two centuries. Dan's love of his family is ever-present when he tells his story, and his fondest moments are those when everyone is able to gather together.
A life well lived is the greatest thanks an individual can give for the gifts of life. Dan Driscoll has and continues to live in such a manner. Dan's awareness of his blessings from the universe makes it all the more valuable, and this appreciation shines through his creative work. It is said a picture is worth a thousand words. The landscapes of Nantucket are breathtaking firsthand, and such emotion is difficult to capture secondhand through a form of media. However, with the camera in Dan's masterful hands not only are his images reflective of the true nature of Nantucket, they will make you feel all the wonders of the real thing.
It is said a picture is worth a thousand words, and I urge you to spend a moment contemplating some of Dan's work.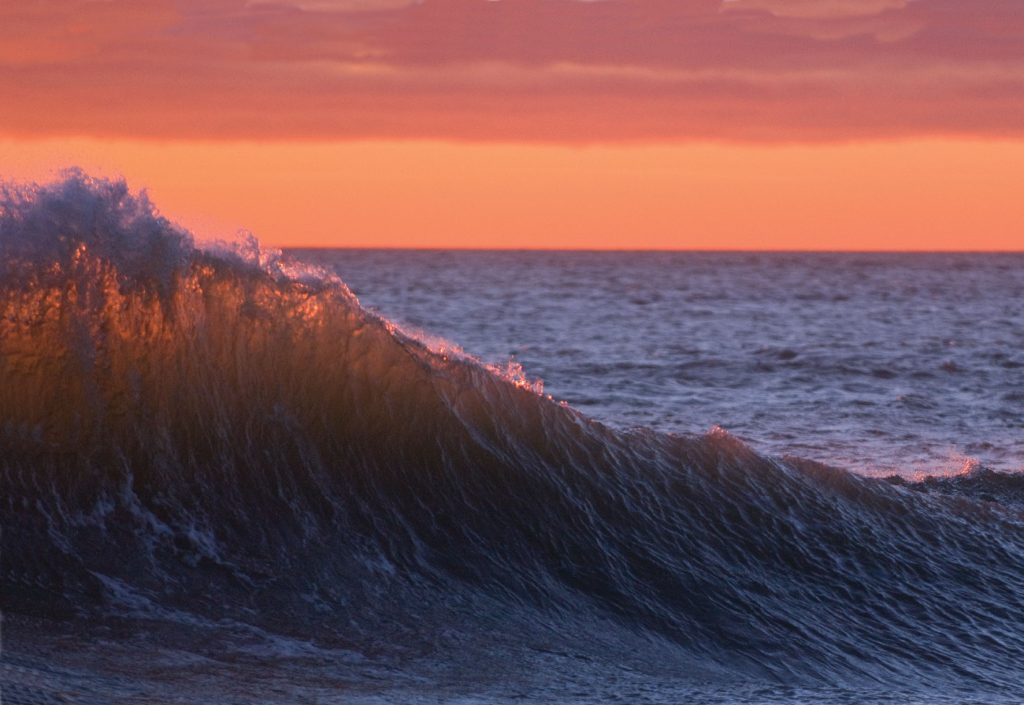 Article edited. Full version available in ONLY NANTUCKET SUMMER 2018.