Sweet Sandpiper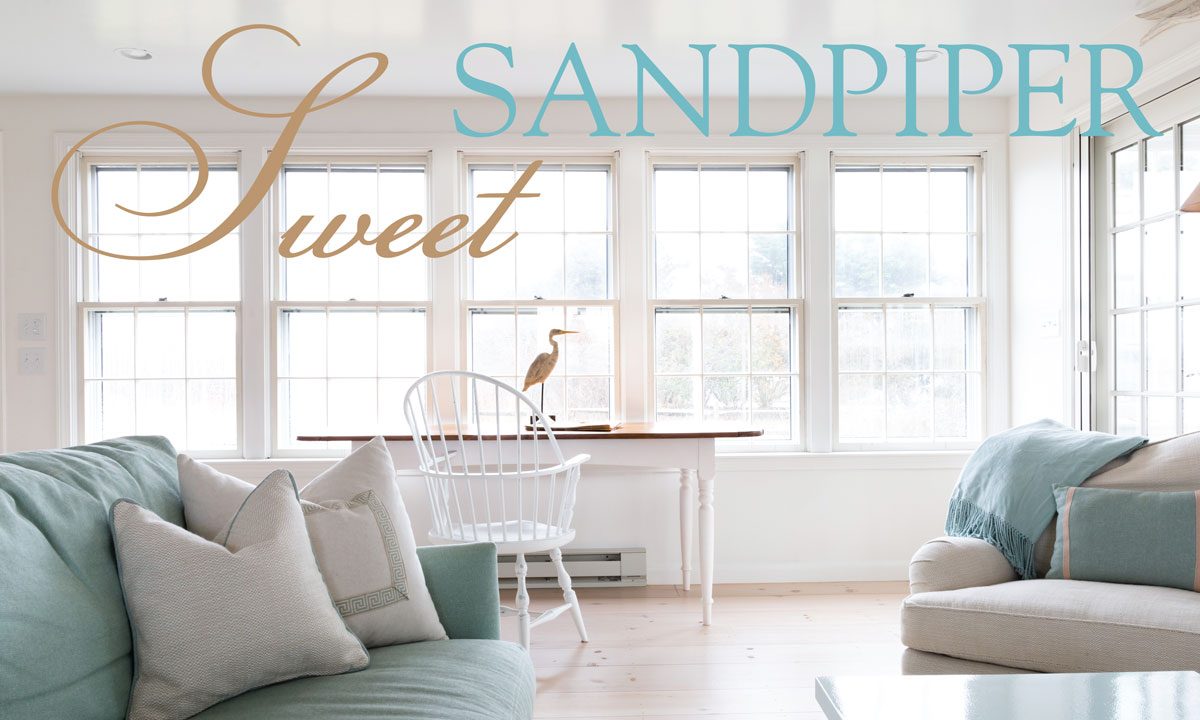 by Constance Helsky
design by Melanie Gowen
Nestled at the end of Beach Road lies a light-filled modern oasis in 'Sconset camouflaged as a traditional Nantucket cottage.
Entering Sandpiper Cottage is like releasing a breath as the clean, crisp color scheme punctuated with natural light draws your mind to the beaches and shoreline that surround this lovely home. As you move throughout the house a sense of tradition and chicness are achieved by combining unique
antiques alongside modern accents. This extremely contemporary and livable home was designed by Melanie Gowen. She seamlessly took the conventional feeling of a Siasconset cottage and added contemporary designs that provide the homeowners with a versatile, dynamic home to enjoy for years to come.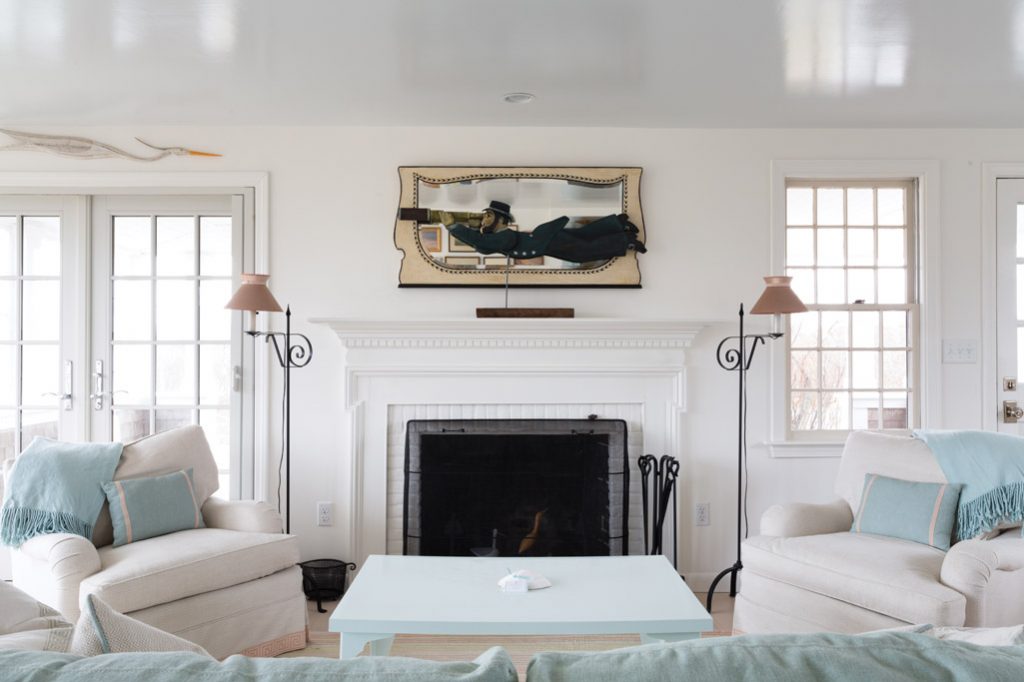 A Unique Opportunity
Due to pipes bursting two winters ago and the resulting damage done, the homeowners hired Melanie to reimagine Sandpiper Cottage. The cottage was built in 1974 and had a very modest footprint, and the homeowners were extremely conscientious of maintaining the theme and general size of the previous cottage. Therefore, a conservative remodel was designed that included a slight kitchen expansion, transformation of a bedroom into an office, and the creation of a new master bedroom with a covered walkout porch. Melanie was given the unique opportunity of designing a home for a space that already had a history of being lived in. The clients had clear, memorable experiences they wanted to continue and Melanie was tasked with facilitating a design that was true to their desires.
Light and Airy Living Spaces
The kitchen and living room has a light and airy feel characterized by gentle whites and blues peppered with subtle pinks, perfect for a light-filled modern oasis in 'Sconset. An overall impression is experienced of an open, livable area that begs to be enjoyed. The butcher block table is an antique heirloom that was nearly ruined in the previous flood. With help from Melanie's brother, Gary Justin Gowen, the table was expertly refinished and incorporated into the new kitchen. An extremely tight kitchen, space was conserved by custom built-in cabinets and storage. Due to the clean, white design extreme care was taken in incorporating high quality accents. This included a Circa pendant light above the sink, polished nickel hardware, and white and plain Minuet Viatera quartz countertops. Throughout the kitchen and living room, chic accents add complexity and style to the simple cottage feel of the home.
Entering the redesigned office one is reminded of a stroll through mid-summer Siasconset where flowers flourish in the rich colors of pink, green, and blue. The homeowner spends a fair amount of time on Nantucket in the winter, and the office is a primary room used. Therefore, in the dull, gray days of February this space is a joy with its bright and smart array of prints and colors. Many of these textiles express the owner's unique style and were chosen in high performance Perennial fabrics that are highly resistant to everyday wear, tear, and stains. In this light-filled modern oasis in 'Sconset custom-built white cabinets were designed by Melanie to maximize storage in a small space and continue the theme of the home. The owner's sandpiper collection, dances along a shelf connecting bookshelves and completing the harmony within the room and home.
The bedroom exemplifies the balance of white tones with splashes of vibrant color seen throughout the home. The addition of chartreuse green is highlighted by the custom-reupholstered, Swedish antique headboard, and the very sculptural lamp that provides an easy flow from one corner of the room to the next. Another key piece was a hand-designed Elizabeth Eakin rug, a New England based, high-quality artisan that the homeowners highly favored. The bathroom's Californian Fireclay tile in a deep blue hue and scallop shape provides the experience of entering a relaxing waterfall.
Details were designed functionally and elegantly, highlighted by recessed lighting and electricity within cabinets, and a custom-built vanity with double sinks. Throughout the house Melanie's attention to detail as well as her preservation of the traditional Swedish antique cottage tone fashion an extremely exquisite yet livable home.
For more information, please email Melanie Gowen at inquiries@melaniegowen.com or call her at 202-365-0240.