Brimming with Style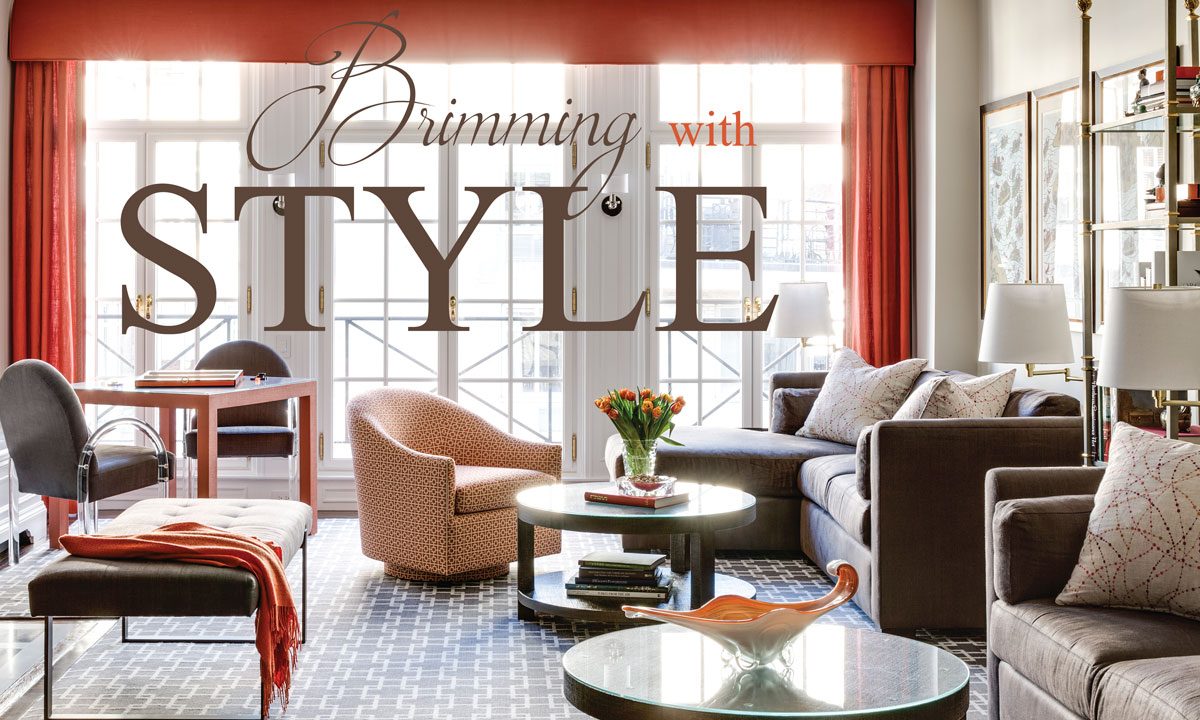 by Lisa Clair
photos by Marco Ricca
design by Dujardin Design Associates, Inc.
Trudy Dujardin's projects are homes that are simply brimming with style. She has the happy circumstance of many clients who bring her along when they change addresses or add a new one. They say they want more of Trudy's signature style: a clean, uncluttered aesthetic that leaves room to breathe, a reliance on family heirlooms and treasures that emphasize classic style, a vision influenced by her first career as an artist that embraces color and light.
Dujardin Design Associates, Inc. has been recognized with multiple awards for interiors brimming with style, beauty and tranquility. But there's an intangible at work, too. Trudy describes it this way: "Every person has something that makes them special that's reflected in what they love. What colors lift them? What inspires them?" She knows that her clients trust her to create another sanctuary that is uniquely their own.
Trudy has always relied on a sense of place to guide her work, which is why no matter how many homes she designs for a single client, each is different and relates not only to its owners, but also to its surroundings. For clients who engaged her first to create their beach house on Nantucket, and later a Park Avenue apartment in Manhattan, they trusted Trudy to design widely disparate spaces, yet make them deeply familiar.
A Colorful Cottage Between Nantucket Town and Sea
The first project for the young, active family was creating a colorful cottage between Nantucket Town and the sea. Trudy and Senior Designer Price Connors were given the task of customizing the six-bedroom, shingle-style cottage from the foundation up. Throughout the home, Trudy and Price selected a crisp and clean palette, with most walls painted white or ivory with bright white trim. The wife's love for Hermes orange and blue made splashes of color a key part of the design. The neutral background allowed for brilliant pops of cobalt, light blue or turquoise and lavender, celebrating the island setting.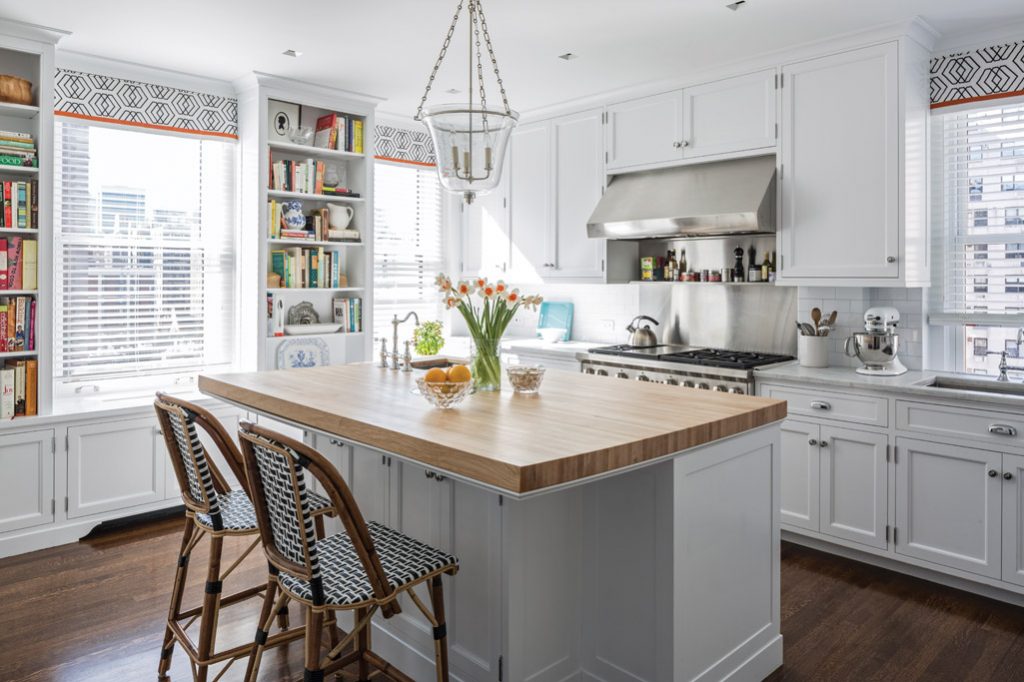 In keeping with the client's extensive family history but youthful age, the firm selected both modern furnishings and antiques, some of which were family heirlooms. Everything is spill proof. For example, woven natural sea grass was used on club chairs in the living room, which were then covered in indoor-outdoor fabric, and hand printed in orange and blue in a striking
contemporary pattern. A light and airy ambiance prevails. This Dujardin-designed home sparkles with sunlight and offers a comfortable place for the family after a sunny day at the beach.
Sophisticated Park Avenue Apartment
Three hundred miles from Nantucket, a very different island bustles with commuters instead of tourists. Skyscrapers take the place of seagulls; car horns sound in lieu of foghorns. When the family steps through the door of their home on Park Avenue, their overnight bags may have sand on their bottoms, but everything else proclaims them back to business or school. A world away from the Grey Lady of the Sea, they settle into life in the Big Apple.
Opulent moldings and detailed millwork recalling high society life from a century ago welcome them into their 10-room, 3,500 square foot apartment. Here, Dujardin Design Associates updated the elegant, early 20th century space for the lives of a young family in the 21st century, creating a comfortable, livable home while providing room for their collection of inherited antiques.
Located in a landmark Park Avenue building built by early 20th century architects George and Edward Blum, a feeling of grace pervades an enfilade of over 52 feet. With the south living room as a charming first view of the apartment, it extends into an adjoining north living room, both with original working fireplaces, paneling and floors, with original walnut inlaid borders. Trudy's love for historical renovation and protection of its provenance meant that preserving the beautiful architectural details quickly became a labor of love.
Dujardin Design worked closely with Mitchell Studios, the architects for the project. The north living room has a painstakingly restored plaster crown molding with an elaborate floral motif. The living room ceiling is one of the few originals remaining in the building. The original staircase in the south living room has also been restored.
The kitchen, a maze of small maids' rooms and a bath, were gutted to create a more contemporary family home, with the renovation in keeping with the classic style. A powder room and windowed laundry were carved out of the existing space for more graceful living. All modern HVAC has been seamlessly fitted in, meeting the goal of keeping the air clean, quiet and cool, with up-to-the-minute technology to refresh each room.
Two adjoining living rooms, linked with a common rug, provide ample room for the parents and a separate-but-equal space for their teenage daughters when desired. In true Dujardin fashion, there are colorful accents here, with the familiar orange softened from bright and sunny to warm and welcoming. This time, however, the wife's favorite orange is placed against a soothing taupe and white backdrop, with the addition of earth tones to subtly offset the richer citrus hues on chairs and nearby walls. Geometric designs in carpet and fabrics add another touch of modernity.
The dining room has been cleverly adapted to multi-use with two tables, one for proper dining and one used by the family as a computer station. A built-in window seat, an addition along with new bookcases, provides another area for family activities as well as a sun-filled workspace for the parents. Dujardin chose contemporary high-gloss lacquered walls to
contrast with the original floors, molding, wainscoting and paneling. City sunlight fills the kitchen from two exposures, making this room a favorite gathering place for family and friends.
Upstairs a large master suite was created, along with two en-suite bedrooms. One large bath was cleverly divided to provide a separate bathroom for each daughter. Each is updated in thoroughly modern comfort, but with a nod to the past. The upstairs color palette is a mix of sky-toned blues, greys and creams.
When designing homes that are simply brimming with style like this one, the furnishings were selected for simplicity and comfort, combining vintage pieces and family-inherited antiques to create a look reflecting their unique family history. Antiques from the wife's family are woven in with their extensive Asian art collection, inspired by time spent in Japan and the husband's business interests.
Together, these two homes offer a glimpse into Trudy Dujardin's belief in beauty, her insistence on abundant comfort and her ability to create homes that nurture her clients and their families. Whether inspired by windows that look out onto sandy beaches or busy city streets, every home she designs becomes a world of its own. Layer upon layer, every item selected with meticulous care, she creates not only interiors, but places where her clients can richly experience life, no matter where they live.
Discover more inspiring stories of design and interior style.
Trudy has spent a lifetime building her skills and credentials. A Fine Arts major in college who became an artist and an art teacher, she brings her eye for beauty and balance to her work as an interior designer. She is a LEED Accredited Professional with a specialty in Interior Design and Construction, and has been recognized as a Fellow with the American
Society of Interior Designers, an honor extended to only one percent of its members.