Squam Haven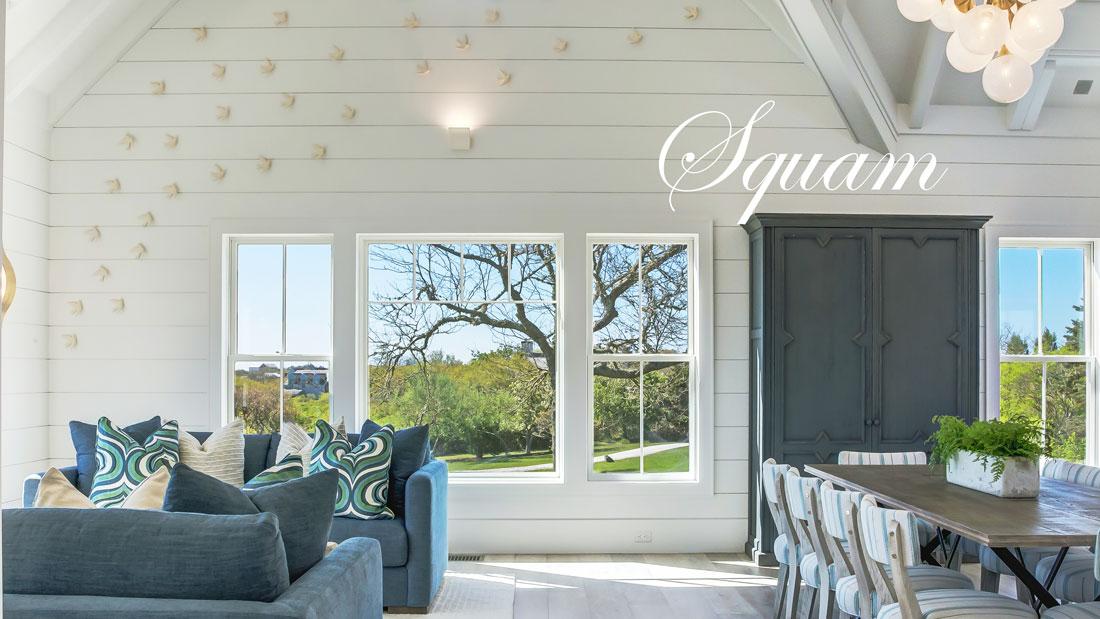 by Andrew Spencer
Photography: Yellow Productions
Architect: Steven Roethke
Interior Design: Elisa H. Allen Design
Builder: Clean Lines, Inc.
For many of us, Nantucket is an escape. It's an escape from the daily grind of life in "America," an escape from the big city, an escape from all the hustle and bustle. In short, for a lot of us, coming to Nantucket is an escape from (if we're being honest with ourselves here) reality. We come to the island to "get away from it all" and to indulge our desires to relax in something resembling isolation.
Of course, there's an irony in the fact that we're all cramming ourselves onto an island that occupies just over 100 square miles so that we can be more isolated. To put it in perspective, Washington, D.C. is about 68 square miles, and anybody who's spent time there can tell you how hard it is to get away from, well, anything.
But for those solitude-loving folks out there who are still searching for their little slice of nobody-else-is-around here on Nantucket, you're in luck. Builder Steven Boukus of Clean Lines, Inc., and designer Elisa H. Allen of Elisa H. Allen Design have teamed up to create a stunning home in the Squam area.
At 5500 square feet, the home at 56 Squam Road is large enough to accommodate just about any family, but the team labored endlessly to ensure that it didn't overpower the surrounding landscape. "We didn't want it to be a huge eyesore," Steven explained. "We really wanted it to fit into the landscape." Elisa echoed the builder's comments, adding, "You know you've created a great design when the neighbors are complimenting the house and telling you it doesn't intrude on them."
Those compliments were not accidental. The team considered every conceivable element of the home's design before they started, and that consideration extended to the placement of the house itself on the 1.1 acre lot. "We spent time in the woods," Steven explained, "trying to determine the best place for the house. We had a GPS out there for days. We agonized over it, trying to make sure that it was the perfect site to maximize the views and privacy."
As to the views Steven mentioned, the main house features sweeping panoramic views of the Atlantic. Something not often found in Nantucket homes is a two-story home with first-floor water views. In this case, though, the first floor of the home features massive picture windows that provide spectacular water views. "It's rare to have windows of this size in this setting," Elisa explained. "You just don't see it very often. But from the first floor, you have full water views."
As nice as water views can be, what about that privacy he talked about? Solitude seekers can rejoice in the fact that this home is privately situated. In addition to being on a lot, just over an acre, it abuts approximately 300 acres of conservation land to the west – certainly a quiet area. So in addition to having only the occasional deer as a western neighbor, the home also offers amazing sunsets with nothing to block the view. The exterior also features several hundred feet of reclaimed Pennsylvania bluestone walls. "The bluestone adds softness and also makes a beautiful transition," Steven explained.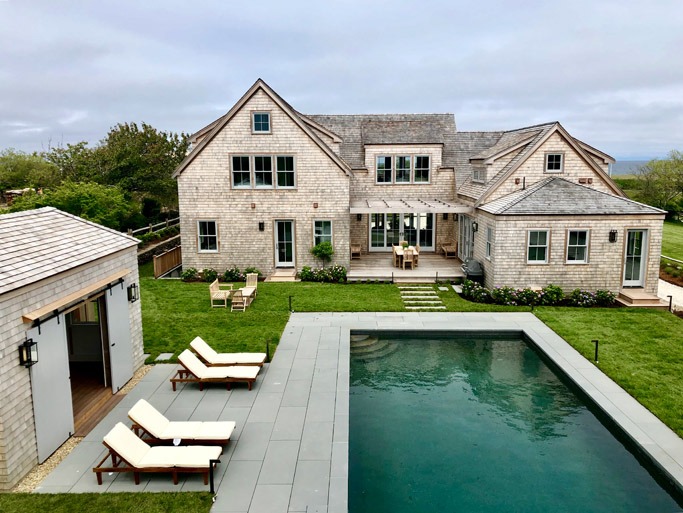 With the water view and privacy boxes checked, it's time to move inside to see how this home functions in real life. We've all seen the photographs of homes that are impossibly gorgeous and equally impossibly unrealistic when it comes to life with a family. Elisa is one step ahead of us, though, because this home is, in her words, "wash and wear." The interior features high-end materials and appliances, and the team made it a point to source as much locally as was possible, including Nantucket Looms (Elisa termed the Looms team as "rock stars"), who supplied all the interior furnishings.
Beyond that, though, the interior is designed to be lived in. Elisa said of the interior, "It's designed for a family, for sandy feet from a day on the beach. It's a perfect beach house for today's Nantucket summer family," she said. "It's definitely not formal. It's more upscale beach living." And that's an especially good thing, given that the home has beach access directly across the street, meaning there's ample opportunity to get those sandy feet even sandier. And for those rare rainy days when the beach isn't an option, there's no need to go anywhere for entertainment. The home features a finished basement with a media room, game room, and gym, along with a bedroom and bathroom.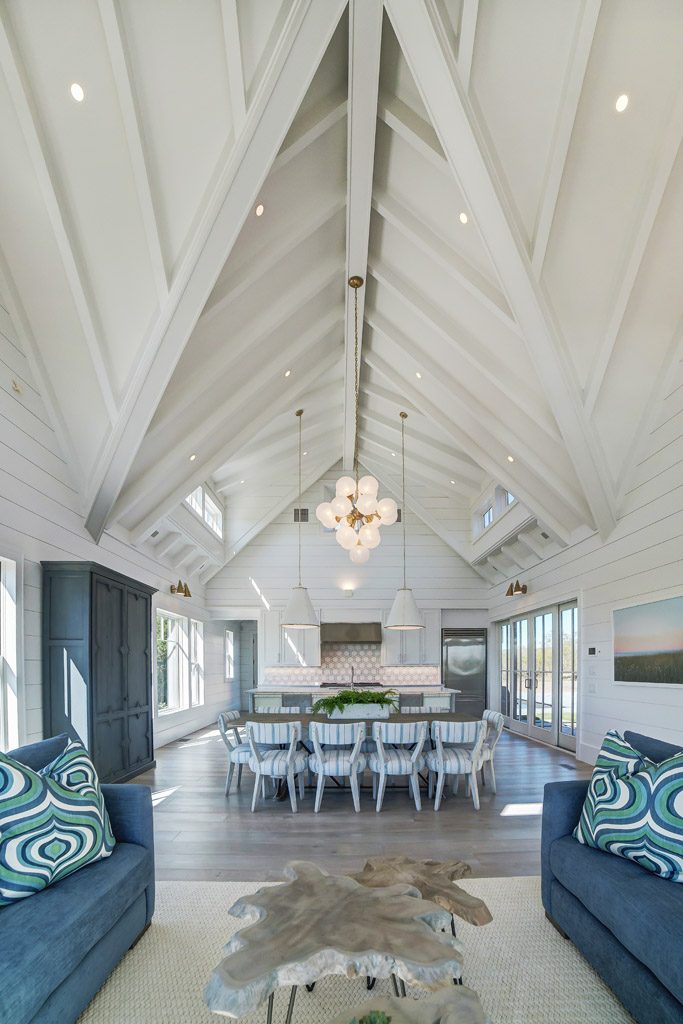 It was about this point in the description that I wondered why anyone would ever go anywhere else, and it was as if Elisa had read my mind. "This home is a destination," she said. "Once you get your groceries, you really don't have to leave."
And honestly, who would want to?
Article edited. Full version available in ONLY NANTUCKET Fall/Winter 2019