Seaside Bedrooms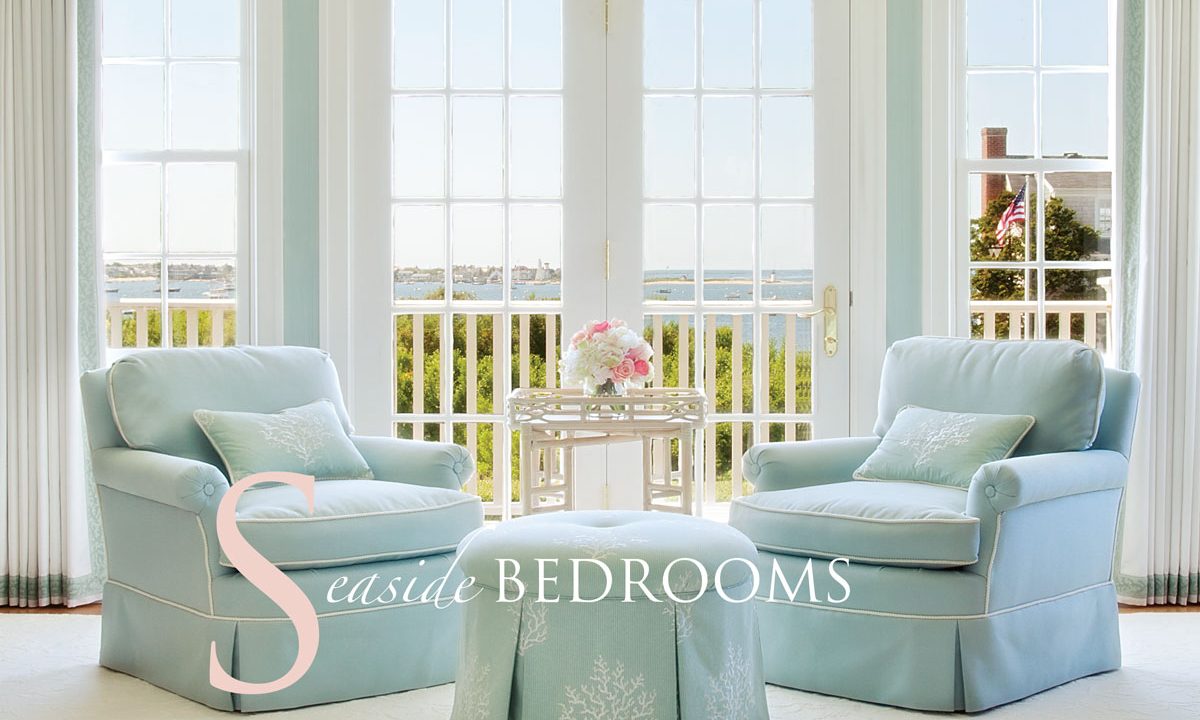 by Lisa Clair
Design by Dujardin Design Associates
Photo above: Jeffery Allen Photography

Just as birds return each spring and rebuild their nests, spring on Nantucket is when ferries bring summer residents back, ready for long lazy days in the sun and sand. Before heading to the beach, though, it's time to fling open our windows to the ocean breeze, and let summer and the seaside in! A great place to start is in the bedroom.
The ocean offers a world of colors besides blue and white . . .
There's no more heavenly color than blue and white, evoking the sea and sky: from the open ocean accented with crisp white sails to a summer sky dotted with white clouds.
Photogrpahy: Terry Pommett

Photography: Thibault Jean
Trudy Dujardin, has designed serene bedrooms on Nantucket for her busy, accomplished clients for years, and the award-winning designer knows just what elements make for a restful retreat.
She has an unerring eye for color. "I love to use white plus one color, and frequently, people ask me for blue. Half the people surveyed in the world said blue was their favorite color, and we know that it has a soothing effect."
Blue pigment from the earliest days of human civilization was prized, almost as highly as gold. A bride must have something blue. Blue flowers are the rarest in the garden and so are coveted by gardeners, almost above all others. Whether the blue is sapphire or navy, the white ivory or alabaster, the beauty of blue and white transcends seasons and years. Turning to the azure sea, watching white-capped waves roll to shore, is what inspires much of Trudy's work.
Blue and white together lighten the somber tone blue can take on by itself; a little blue can go a long way. Even in nature, blue is often paired with other colors: blue jays are splashed with white, the peacock is mixed with green, and for the blue-footed booby, Mother Nature decided blue feet were enough!
"I love to use white plus one color, and frequently, people ask me for blue
Photography: Terry Pommett

Photography: Jeff Allen
The ocean offers a world of colors besides blue and white, and Dujardin Design Associates has a wealth of ways to bring the seaside to your bedside. A walk along the coast offers the sight of picturesque harbors, small sea animals, and exquisitely colored shells. Sea animals such as crabs and starfish can be used in delightful printed fabrics to add panache through throw pillows, or can appear on ribbon borders. Of course, an artfully placed starfish or shell (the real thing!) is the perfect reminder of the beach.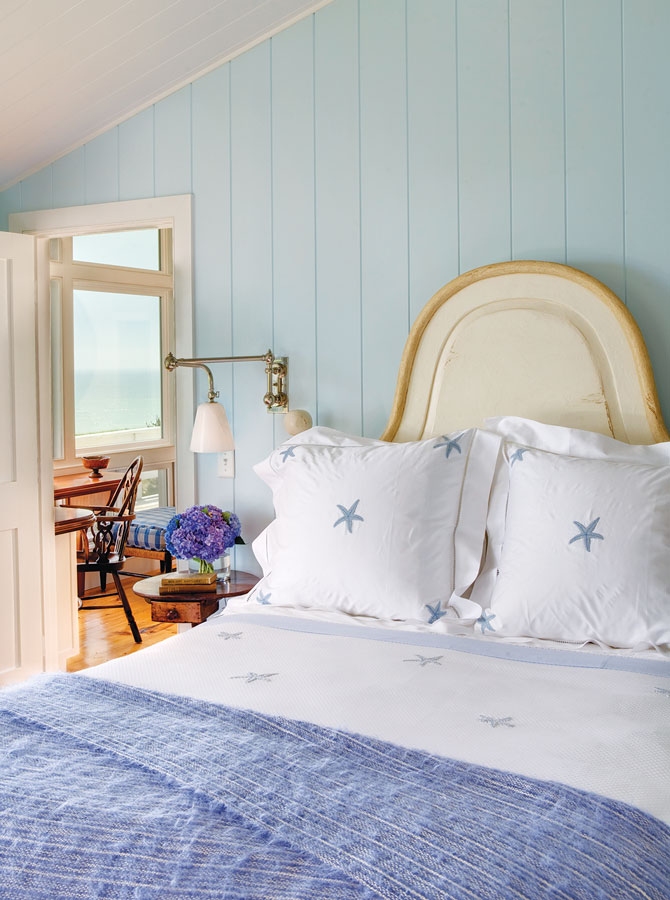 Light colored fabrics add a summery feel, as does white furniture, or pieces made of wicker or rattan. Toss a brightly colored throw on the end of the bed, and stack white birch logs in the fireplace. Add texture and interest with natural rugs underfoot, such as sisal, hemp, jute, or seagrass. Plant fiber rugs are sustainably harvested, renewable, and biodegradable, an added bonus to their beauty.

Photography: Terry Pommett
Nautical paintings or pictures of boats, water, and ocean beaches are a window to the world you love. Slip into the garden early in the morning when the grass is still cool beneath your feet, and cut a few fresh flowers for a vase on your bedside table. You'll love falling asleep with the light fragrance of blossoms to scent your dreams.
Article edited. Original article from REVIEW Nantucket, Spring 2016.