Sailing Nantucket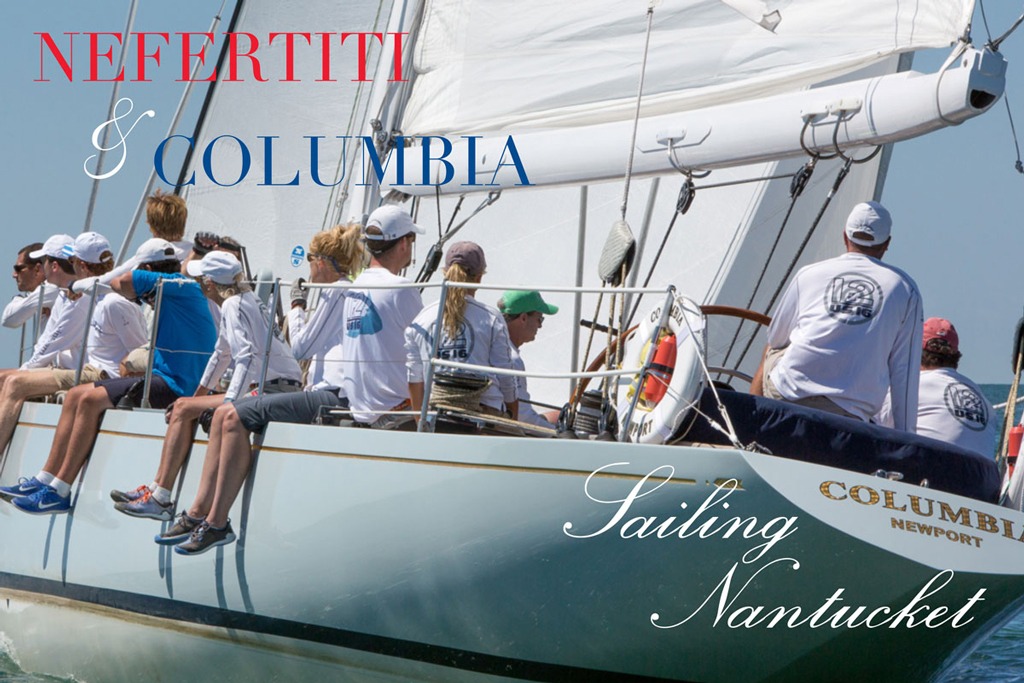 by Andrew Spencer
photography by Karen Ryan Photography
The 12-meter class of sailboats traces its history back to the post-World War II era of the America's Cup, and they were commissioned by some of the country's most elite patrons, including the Vanderbuilt's and the Forbes.Two 12-meter sailboats, Columbia and Nefertiti are coming to Nantucket August 8 to 23.
Prior to the war, the J class yachts were used for America's Cup racing. After the war broke out, America's Cup racing was temporarily suspended, and many of the boats and their lead keels were melted down for the war effort. In 1958, it was decided to re-start the America's Cup again. The 12-meter class had been around since the 1920s and was deemed by authorities to be the optimal vessel for competition, given its design and competitive nature.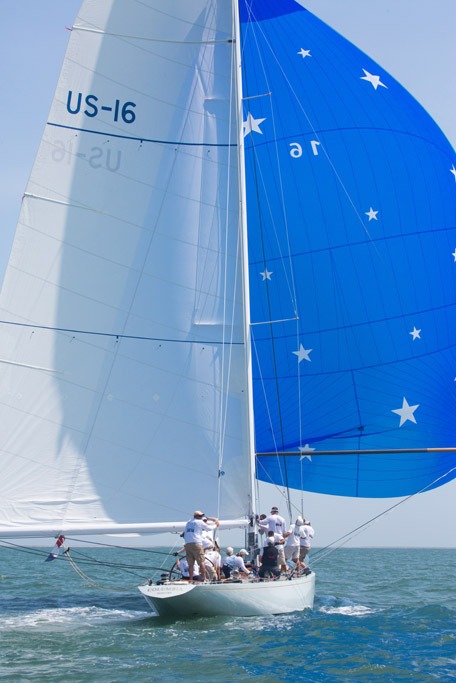 Despite their name, these boats are much longer than 12-meters. The boats are constrained by a fairly complex formula that dictates things like length, sail area, and breadth. Given the variety of available permutations that fit within the formula, there are no two 12-meters that are identical. Typically, 12-meters range from about 63 up to 72 feet in length. And for many years, they were the standard-bearer for racing yachts and were the boat in which competitors raced for the America's Cup, the oldest trophy in international sports.
From 1958 until 1987, any group challenging for the Cup did so in a 12-meter, and the decades saw the creation of some of history's most beautiful yachts. The first 12-meter to win the America's Cup was Columbia, a 70-foot beauty designed by legendary yachtsman Olin Stephens and skippered by notorious racecar driver Briggs Cunningham. During the trial series, Columbia eliminated the other three American contenders vying to represent the United States to defend the America's Cup, and then swept the four-race series against the English challenger Sceptre in 1958 to win the America's Cup. Incidentally, she also recently won the 2019 12-meter World Championship in Newport, Rhode Island, along with many other regattas, so her racing pedigree continues to impress.
When asked what he loves about sailing a 12-meter, Columbia's modest owner and Captain Kevin Hegarty responded, "The camaraderie and the ability of putting together a race crew with close friends and family and performing as a team. It is all about the crew work."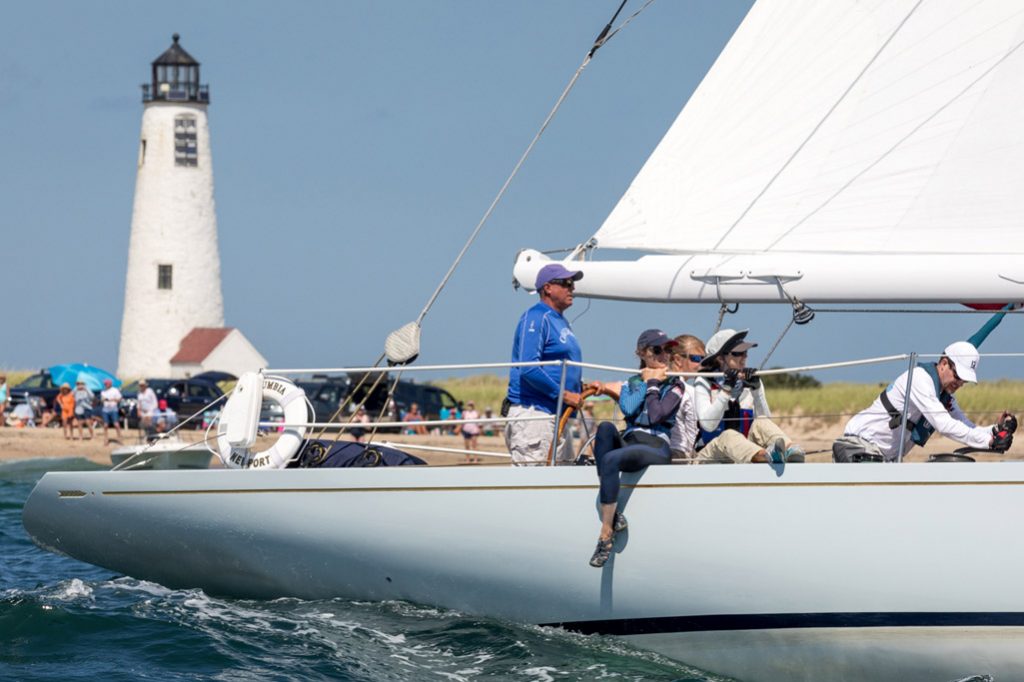 Hegarty has assembled the largest and finest fleet of America's Cup 12-meters available for charter in the world for corporate team-building regattas, family reunions, or a leisurely scenic cruise. The fleet also includes Nefertiti and American Eagle. Nefertiti was built in Marblehead, Massachusetts in 1962, and designed by legendary sailor Ted Hood for the America's Cup. She was considered the fastest boat that year. In 2020, Nefertiti was purchased by Jack Klinck and underwent a major refit and restoration, and today looks more beautiful than ever. Wait until you see her! American Eagle, designed and built by Luders in 1964, contended for the America's Cup and went on to be Ted Turner's 1979 Fastnet winner and World Ocean Racing Champion. American Eagle was recently purchased by Nantucket summer resident Alexander Valcic.
For those who would relish the chance to get out of the house and go out on one of these amazing boats, your wish has been granted. This summer, Hegarty, the owner of 12-Meter Yacht Charters in Newport, Rhode Island, will be bringing two of these gorgeous yachts to Nantucket. Columbia and Nefertiti will both be available from August 8 until August 22 for half- and full-day charters, and the charters will adhere to all guidelines in regard to coronavirus precautions.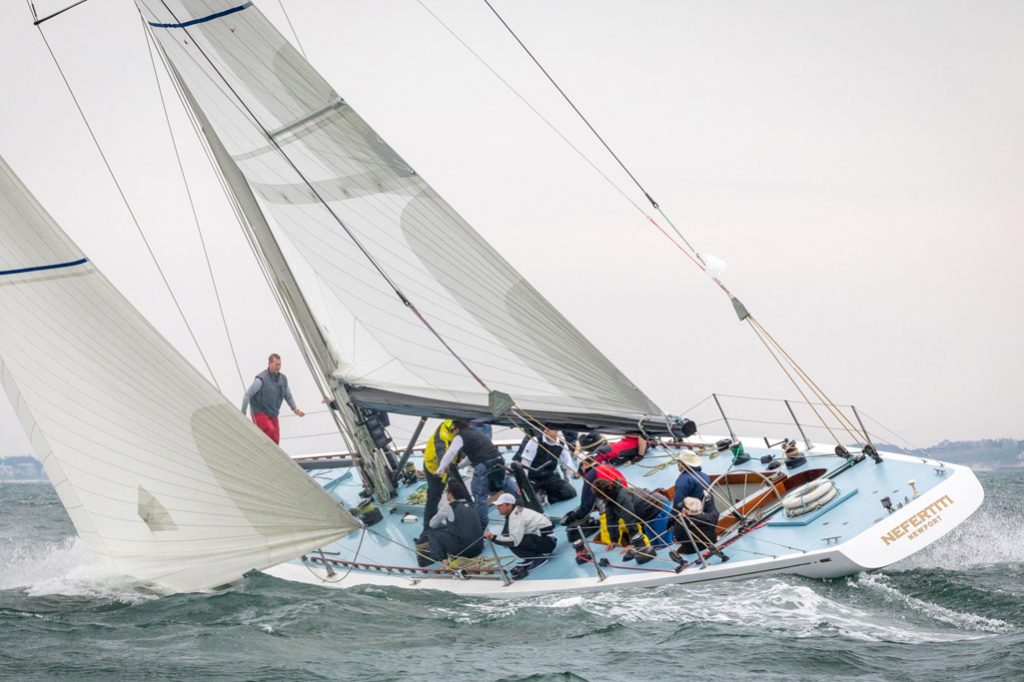 "These boats are iconic," Hegarty said of the classic 12s. "To my mind, they're the most elegant sailboats in the world." Add to that the iconic setting of Nantucket Sound—arguably one of the greatest sailing venues anywhere in the world—and you've got the makings for a perfect day.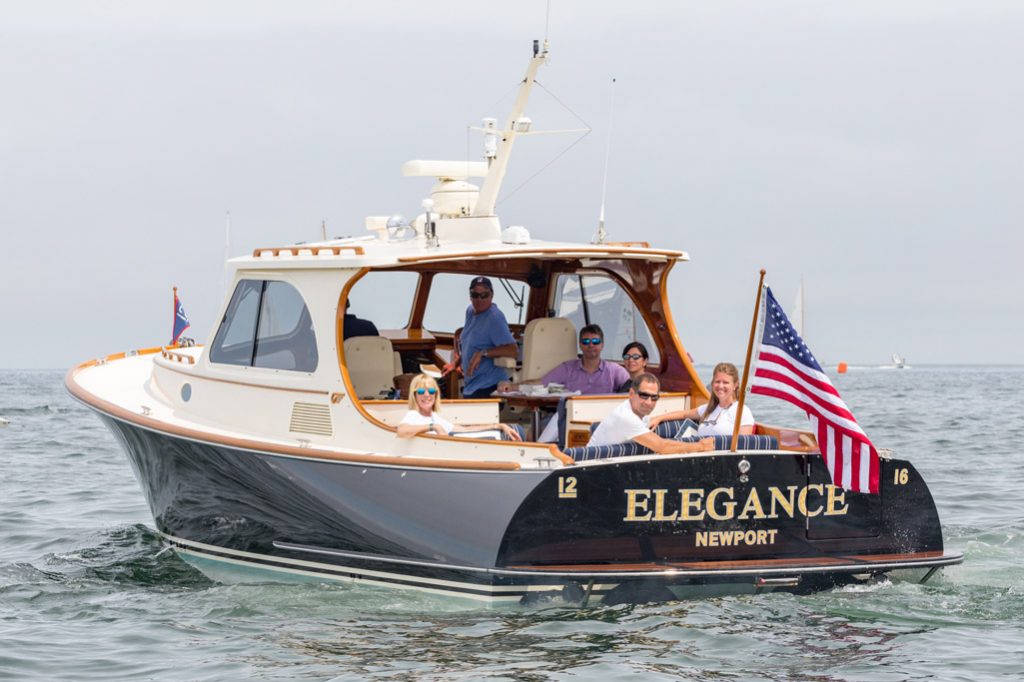 And don't let all the talk about sailboat racing scare you. There's absolutely no sailing experience required to get out on the water. Kevin and his expert team will tailor your charter to fit your abilities and your desires. Each boat is under the command of a United States Coast Guard-licensed captain, along with two additional trained crew members. So whether you want to be totally hands-off while you lay back and watch the beautiful island sights from the water. Or you want to get involved in the sailing and even take the helm to feel the power of one of these iconic yachts, you'll be right where you want to be under the watchful eyes of the skilled crew.
For those who prefer power vessels, Hegarty will also be offering charters on the company's 40-foot Hinckley Picnic Boat Elegance, yet another iconic water-going craft. The open seating area allows you and your guests to relax while gliding peacefully through the waters around Nantucket. And the Hinckley name is synonymous with luxury, so you are guaranteed comfort and style as you take in the island's vistas from the water.
Half-day charters run for three hours, from 10 AM –1 PM and 2 – 5 PM, while full-day charters are seven hours.
Sailboats can be chartered individually or as a pair, and charters can be as small as one passenger or as large as twelve per boat. Powerboat charters can accommodate up to six passengers. What's more, the 12-meter Yacht Charters team will be happy to customize your experience. Challenging the next-door neighbors to a match race or just sliding along lazily as you pass Great Point Light, it's tough to beat life on the water aboard a 12-meter!
Non-alcoholic drinks will be provided with the charter, and passengers are invited to bring their own food and any other libations they might wish to have aboard. Sailors' buffs—the nautical answer to a face mask—will also be available on-board as will hand sanitizer, and boats will be fully sanitized by the crew before and after each charter.
"There are few places in the world where you can experience these boats first-hand," Kevin said of the classic 12s. "And there are few places in the world as beautiful as Nantucket. It's a perfect match." Whether you choose to spend your time under power on a Hinckley or under sail on a 12-meter, you'll experience Nantucket in an entirely new way.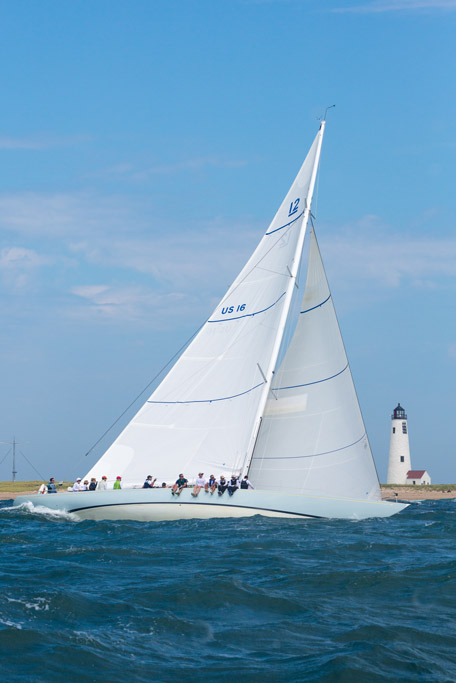 12-Meter Yacht Charters offers seasonal charters aboard three classic 12-meters: Columbia, Nefertiti, and American Eagle at Bowen's & Bannister's Wharves in Newport, Rhode Island. Charters will be available on Nantucket from August 8 until August 23.
To make a charter reservation while in Nantucket, August 8 to 23, please contact (401) 851-1216 or email sail@12meteryachtcharters.com.
Check out their website at www.12meteryachtcharters.com.