ACKcent on Style & Comfort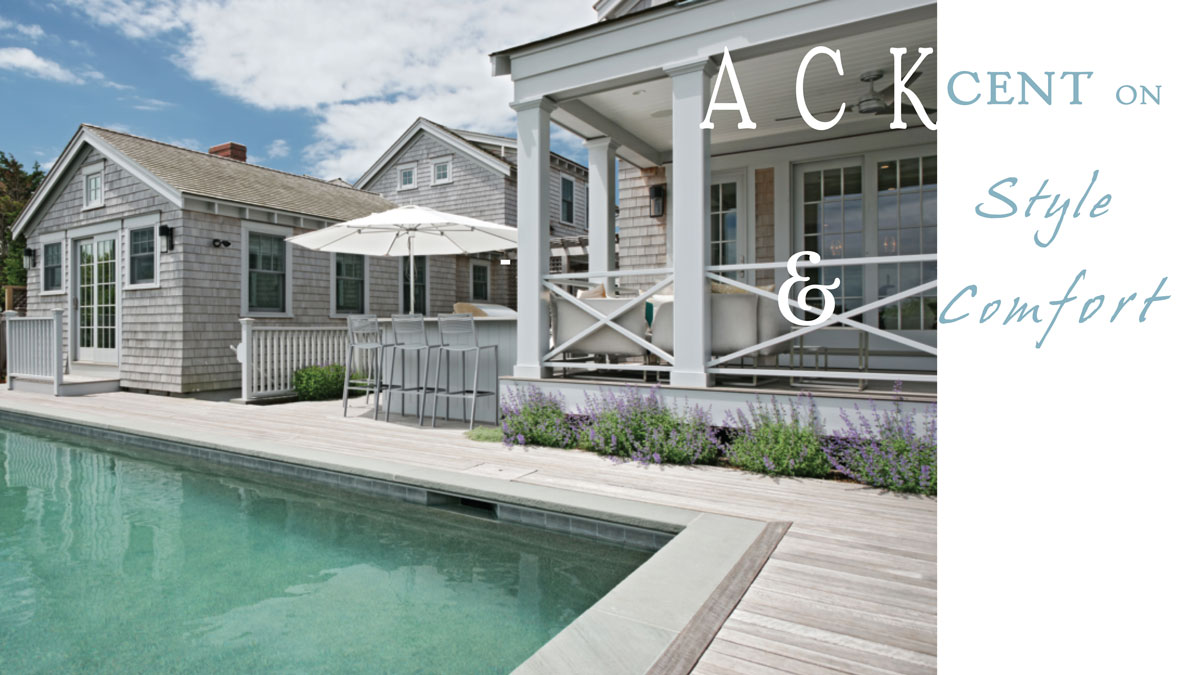 Architecture and design by Emeritus Ltd.
Interior design by Audrey Sterk
Photography by Tom G. Olcott
When Matt MacEachern of Emeritus Development was creating a home for a Nantucket family, specifically for Jennifer and Dalton Frazier, owners of the on-island real estate firm, J. Pepper Frazier & Co., he said, "Our most important role in designing for clients is listening to what their needs are."
We don't subscribe to a single architectural style; our client's vision is what serves as our principal inspiration. We have specific dedication to balance, composition and intuitive circulation. We believe everything can be designed better and persistence provides the best results when approaching design."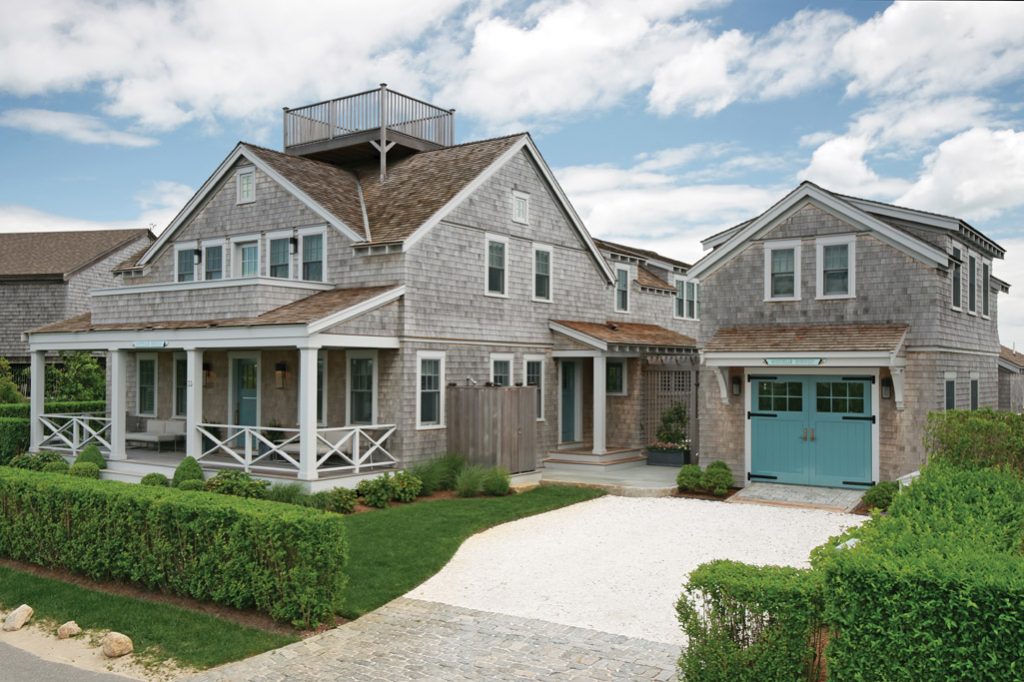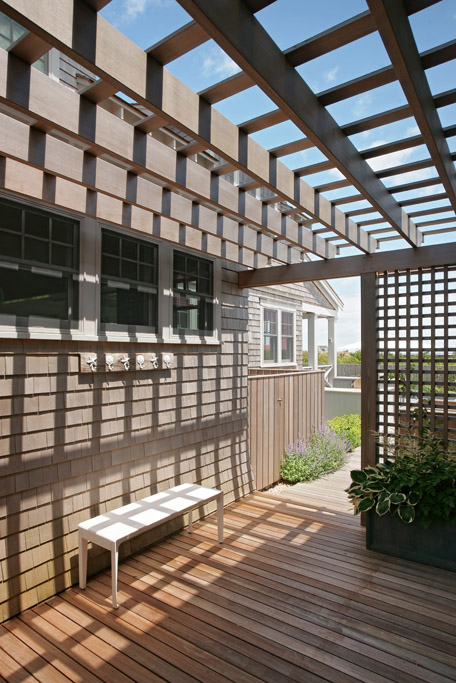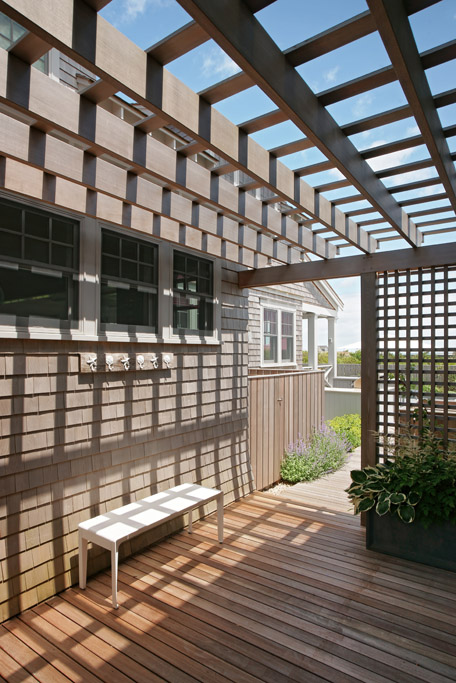 Their home at 33 Jefferson Avenue has an open-floor-plan concept with eight bedrooms and eight and half bathrooms (includes the cottage). The cottage is a separate living space, complete with kitchen and bedrooms. An interesting hidden feature of this home is that the cottage is connected to the main house via an underground tunnel. Of course it can be traditionally accessed via the above ground.
The house is rented for a portion of the year, typically from shoulder season to shoulder season. As is rents to families of all sizes, Matt and his team at Emeritus made sure it contained multiple bedrooms as well as many spaces for socializing and relaxing. This home also allows for guests who are looking for privacy from the larger, more active spaces to retreat to some areas for quiet and solitude.
The site itself was complex in its proximity to coastal dunes, wetlands and deed-restricted view easements. Maximizing the footprint to take advantage of solar orientation, views and delineation of public vs. private spaces given its location was a challenge. Emeritus' goals were to provide enough bedrooms to support a large extended family with guests.
It was critical to include a number of social spaces located throughout the house for different uses. For example, there's a large entertainment area in the basement for watching movies or playing games. There's also a separate area for games such as table tennis, which is located below the parking space in the garage. We also created quieter spaces to enjoy reading a book or just to decompress. Finally, we were able to provide a number of exterior spaces for socializing or individual enjoyment – many of which have direct ocean views. Maintaining the integrity of any ocean view is critical when designing on Nantucket or any coastal area where they are present.
For the final aspect, Audrey Sterk Design was hired for the interior design of this home. She and her team approached it with the intentions of the client, combining the function and ergonomics of the spaces, layered with aesthetics.
"We incorporated many memorable moments into the modern and comfortable interior," said Audrey.
This Jefferson Street home is a true beach house, combined with sophisticated style. Creating a home for a Nantucket family inspired layers of texture, pattern and color that flow from one space to the next. There are examples in every room, from the sea grass walls in bedrooms, rich textiles, custom-patterned wallpapers and decorative techniques and mindful placement of artwork and objects. "Working closely with Emeritus and Matt MacEachern, we layered a furniture plan and interior details with the living spaces and architecture they created," relayed Audrey. It is important early on in a project for the architect and designer to have a close working
relationship to create a cohesive concept.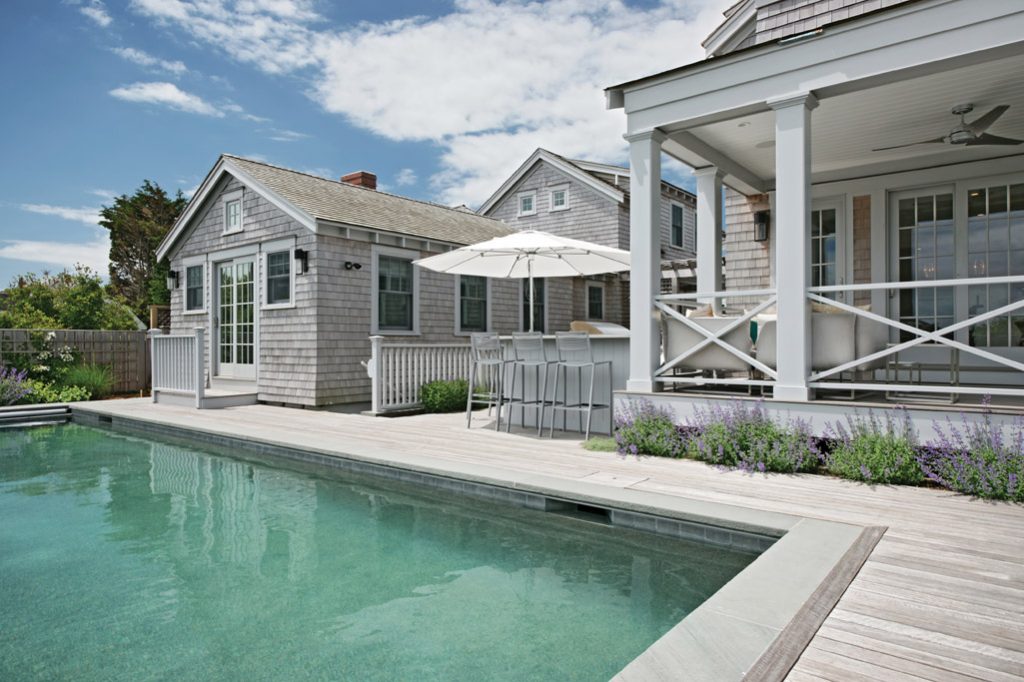 The interior has a modern feel with thoughtful wall details paired with cool whites and neutral colors in fabrics and furnishings along with warm wood-tones, pops of cool-hued color and a curated look to the furnishings. Creating a home for a Nantucket family made the design and build team choose materials based on function, durability and aesthetics to handle the traffic and sustainability of the interior. Audrey states, "When meeting with a client for the first time our main objective is to listen and understand the importance of the design and function and how they like to live and then to reflect it back to create their perfect living environment. Every project is as unique as the individuals we create for and 33 Jefferson is a true reflection of Jen and Dalton, their young children and their sophisticated, fun- loving, modern style."
This article has been edited. Originally published in ONLY Nantucket, Fall/Winter, 2016.