One Man's Journey Through Art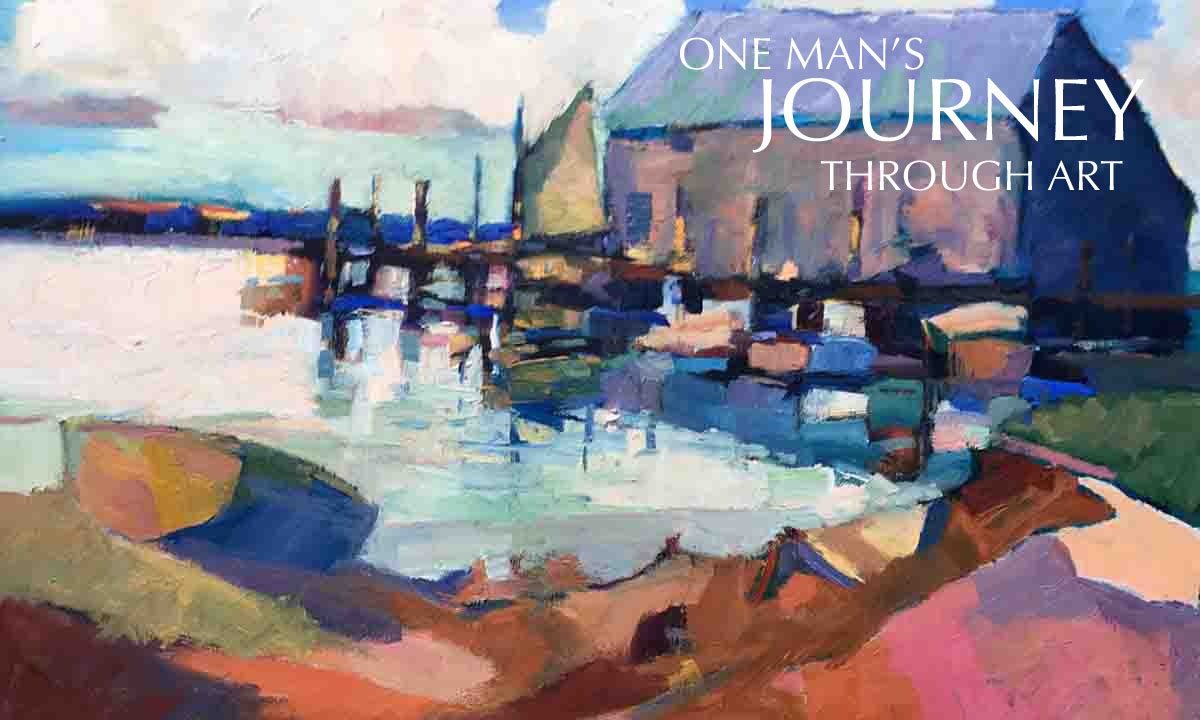 by Suzanne Keating
photos courtesy of David Lazarus
I have known David Lazarus for over 40 years, as a scrimshander, painter, printmaker and teacher. This is the story of his journey as an artist and how he made Nantucket his home. By his own admission, David was a terrible student growing up outside London, England. He knew that the only thing he was any good at in school was art, so he studied at the Bath Academy of Art in Somerset. He became a freelance pen and ink illustrator early on and for a time, David did get his work published. At age 23 however, he decided to seek artistic fame and fortune in North America and that's when his journey began.
David started his trans-Atlantic journey with his friend Tim in Toronto, Canada. It took 12 days of hitchhiking along the Trans-Canada Highway to get to British Columbia. He recalls picking apples there, which he said was hard work and a job he personally came to hate! It was time to explore south of the Canadian border in Washington State.
David liked the vibe in Bellingham, where he hung out and learned the venerable art of scrimshaw, a local craft originally practiced by the indigenous people of the Northwest, who used whale ivory and petrified walrus tusk to etch their stories. Scrimshaw appealed to David's artistic abilities with pen and ink and gave him a manageable, portable studio from which to work while he continued his exploration of the States. He really liked being able to pack his tools into a backpack and have a means of making some money while on the road. Leaving Washington State, this erstwhile explorer crisscrossed North America, headed to Key West, Florida . . . one coast to the other, from the north to the south.
In Key West, David found a community of artisans, hippies, and entrepreneurs. He was able to ply his new trade from his miniature studio and there he met shop owners Bob and Inez Kareka. David's art reminded them of the scrimshaw done in the Northeast, which grew out of the whaling tradition in Nantucket and where they owned another shop. They suggested he move to the island and work for them in their aptly named shop, Kareka. From the Northwest to the Southeast and up to the Northeast, David's sojourn ended when he set anchor on the island and began his exploration of art 30 miles out to sea.
I remember walking into Kareka on Main Street in 1975 looking for a new pair of earrings, but what really caught my eye, was a high counter at the back of the shop where a tall man with a British accent was regaling customers with tales of the high seas while he etched a fanciful scene on a piece of ivory. I was fascinated. That was the first time I crossed paths with David Lazarus and his art and it wouldn't be the last. Fashioning various scrimshaw designs on necklaces and pipes, David's work drew the attention of Morgan Levine from The Four Winds Craft Guild, who offered him a career opportunity plying his trade.

David apprenticed with Bob Spring, learning more about traditional scrimshaw. So began a more-than-40-year collaboration with The Four Winds Craft Guild that continues to this day, having moved through a succession of owners, to Sam Sylvia in the '80s, and presently to his son John Sylvia. David expanded his interests by taking printmaking classes with Michael Vienneau at the Artists Association of Nantucket. First, scrimshaw, then printmaking, now oil painting and watercolors – David has exhibited them all at Four Winds and Sylvia Antiques on Rays Court, as well as becoming an artist member and teacher at AAN. He also exhibited for years at the South Wharf Gallery.
Printmaking was a logical segue from scrimshaw into intaglio etching. He continued to explore and refine his printmaking capabilities for many years. David's popular prints of whales and birds of prey soared off the presses and into the hands of young and old, the wealthy collector and the average worker and that's the way he likes it. He admits to being a bit of a socialist when it comes to getting art out into the world.
David feels that the biggest limiting factor for an artist is to get stuck with one medium or genre. After the tight work of printmaking, he found oil painting and the liberating medium of the juicy oil paints opened him up, increasing his artistic voice. Considering himself a multilingual kind of guy, David began with small 8" x 10" oils, finding that the more he did, the larger his canvases became. Having a restless artistic spirit, David says he wants to someday work with clay and find other areas of art that playfully speak to him.
I asked David what his artistic influences were. The Ashcan School and the Canadian School, particularly Tommy Thompson, a rigorous outdoorsman who took all his supplies with him into the wilderness and only painted 8×10's. David considers the painter Robert Henri to be a modern-day Da Vinci. The sensuality of thick oil paint used by the Impressionist painters created a kind of magic for David. Up close, dabs of paint and quick swipes of the brush don't look like anything, but step back and there's a stunning landscape! He is aware that painting, like set design, is an illusion and that's the kind of magic he likes.
Currently, the arc of influence for David is moving more toward abstract, or non-representational painting, like Diebenkorn. He finds he likes the challenge of abstract art – it's a new language. A big misconception about abstract art is that there are no rules . . . But there are! You cannot paint a la prima, like in a landscape, you have to think more about the two dimensional. He says a good painter knows how to draw and draws a lot! You have to let the painting dry and then go back in and see what it is asking for. This editing process takes a certain amount of discipline and courage. Refusing to become a staid painter, David finds this exciting. "The explorer in me is having some fun and it's proving to be somewhat lucrative."
As we talked some more, David told me he is concerned that we now live in a world with no yardstick for craftsmanship and he feels there needs to be. "People think they can just throw paint on a canvas and call it an abstract, or pile refuse in a room and call it an art installation." He does think it's important to reach the man on the street and he has a fondness for graffiti and public art because it takes the precious out of the art world, making it accessible to everyone. David rented a table at the Annual Christmas Bazaar for many years in the 1990s, where he sold very inexpensive prints to the local folks or often gave them as gifts. I know, because as the organizer of the Bazaar for 12 years, I was often the grateful recipient of these treasured prints!