Sweet Melissa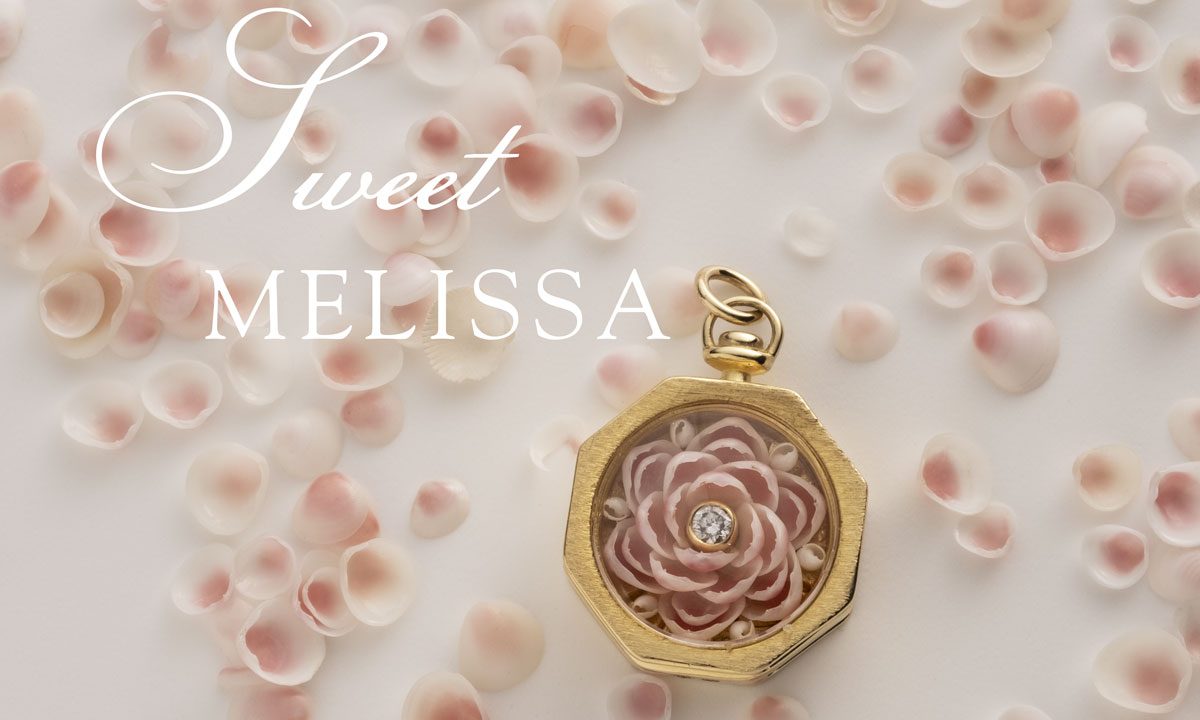 By Andrew Spencer
There is a particular romantic lore associated with sailors' valentines. It's a sort of double-sided image: On one side are the lonely (and bored) men aboard a whaleship methodically gluing individual shells to a backing enclosed in an octagonal wooden frame; on the other are the women waiting patiently for their safe return. And at that happy meeting, there is an exchange of gifts – the nineteenth-century version of "What did you bring me from your business trip" – an exchange that would include those sailors' valentines.
I come from a family of Nantucket antique collectors, and have been around more than my fair share of sailors' valentines. And while that story about men pining away for the women they love is nothing if not romantic, I'm afraid I'm going to have to burst that bubble. The pragmatics of the situation don't quite make sense. Where did these men – men who were,
remember, confined to a ship on the water for years at a time – find such perfectly-matched shells, not to mention the necessary materials to actually build the valentines?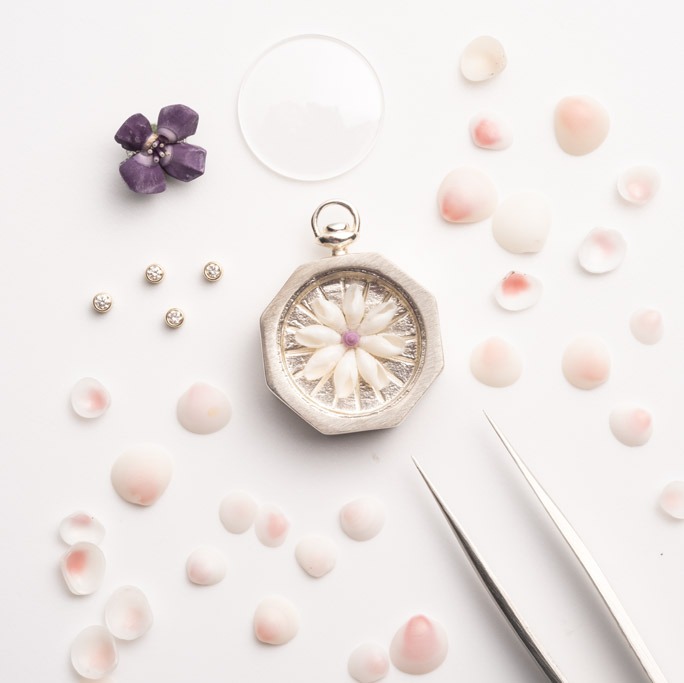 While pinpointing the exact truth is difficult, the reality is that the valentines were most likely purchased pre-made. Most experts point to Barbados as the most prolific supplier of sailors' valentines for two important reasons: One, it was most often the last port of call for whaleships returning to the East Coast of the United States; and two, the fact that antique sailors' valentines have been shown to have Barbados newspapers underneath the shells.
Historical realities, however, do not diminish the inherent beauty and fascinating historical importance of these artworks. And that is the reality with which Nantucket jewelry artist Melissa Dudley is most concerned. "I'm inspired by antiquity and connection," she said recently. "I believe that antiquity guides us and enriches the present. And antiquity can help us build connections to people."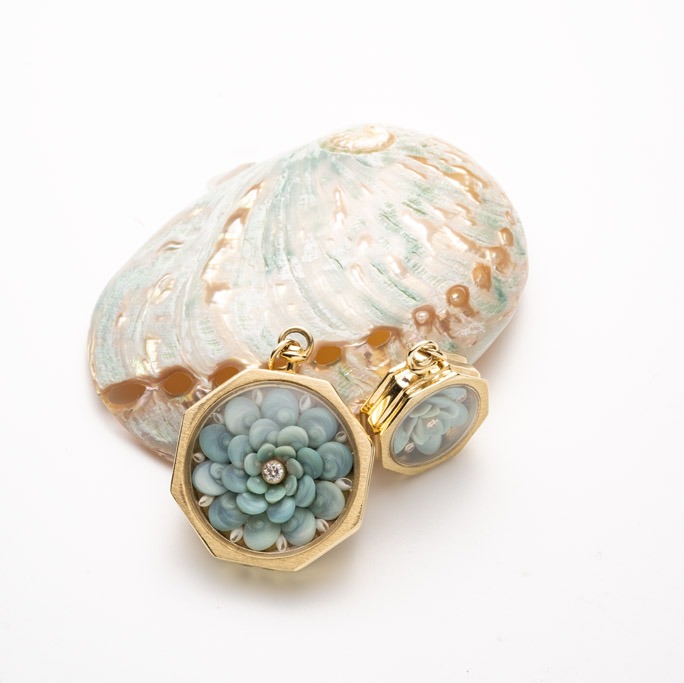 Today, Melissa creates one-of-a-kind pieces that harken back to those antique sailors' valentines, though hers are slightly smaller and designed for a slightly different purpose. Using a combination of shells that she pairs with stunning precious gems, Melissa creates miniature sailors' valentine jewelry that is just as gorgeous as their full-size cousins.
Melissa's connection to Nantucket isn't quite so antique as those original sailors' valentines, but hers is a story oft-told. As a student at UMass Dartmouth, she came to Nantucket with a group of friends to spend the summer. "I instantly felt like this was home," she said of the Little Grey Lady. "It was just magical." As it turned out, she was the only one of the group to land a job, working as a lifeguard at the old White Elephant pool. However, a broken wrist threatened to relegate her to the same unemployed status as her friends, but she was able to land a job with local jeweler Kim England.
"I'd originally apprenticed as a woodworker," Dudley recalled. "I was doing woodworking from the time I was twelve years old until I was seventeen. Then I took a jewelry-making class during my first year of college and loved it." So working in a jewelry store wasn't so far out of Melissa's comfort zone, but the job was in sales and her true passion lay in creation.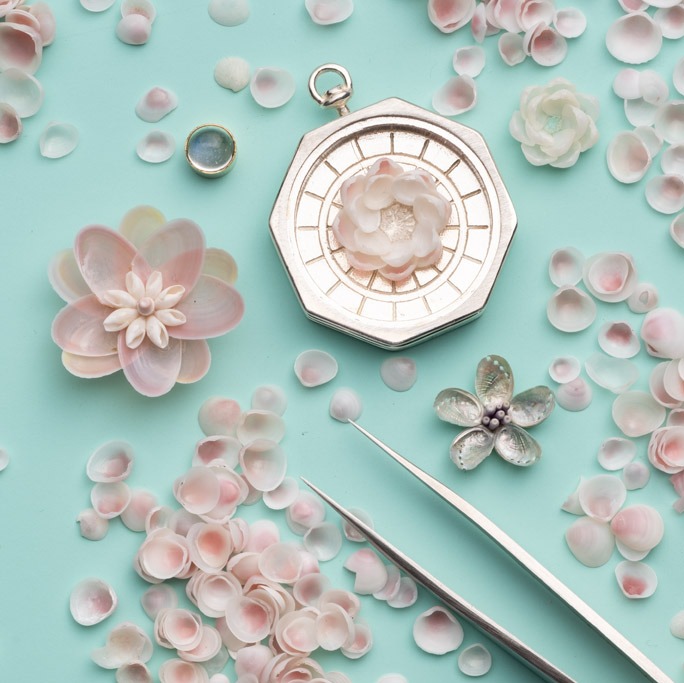 After two years of sales with Kim England, Melissa moved to Jewel of the Isle, where she did bench work for Gary Trainor for three years. From there, she went to Pagéo, where she served as the store's manager for eleven years. Then the idea hit her like that cliched lightning bolt that seems to accompany so many good ideas. "I woke up really early one morning in the winter, and couldn't get back to sleep. My brain kept
focusing on sailors' valentines."
Those sailors' valentines wouldn't leave her alone so Melissa contacted Sandy Moran, who offers courses in valentine-making in Sanibel, Florida. Dudley took a course and was immediately hooked, so much so that she took another course back on Nantucket with Elizabeth Braun at the NHA's 1800 House. She then took those lessons and combined them with her jewelry-making expertise to create her own line of fabulous jewelry. "Sailors' valentines are magical and captivating, just like the island itself," she said. And while Dudley is modest about her own creations, suffice it to say that they also carry that same torch of magical and captivating, with a healthy dose of beauty added, too.
But it wasn't simply a process of taking what she'd learned in her valentine-making classes and just doing them in miniature. It took her an incredibly long time to perfect the specifics of how to construct the valentines as jewelry. "I had to do research with watch companies to create the cases," she recalled of the research process. "Then I had to learn which glue I could use. Lots of glues will break down in heat, so you pack your necklace in a suitcase and get home to find a puddle of glue with shells in it. There were so many things I had to think through before I could even start making them."
And even once she'd mastered the specific components, her work wasn't done. Once they are designed, each valentine is made by hand, and each valentine requires hours of sorting through shells to find the perfect ones and then the precision work of placing each shell and any other gems. She then carefully encloses the creation inside a box of either silver or gold and covers it with a scratch-resistant Sapphire crystal. To my mind, it sounds like an impossible task, but Dudley tells me that she loves her work: "It's almost a form of meditation for me," she said. "It's all about positive and peaceful energy. I love it."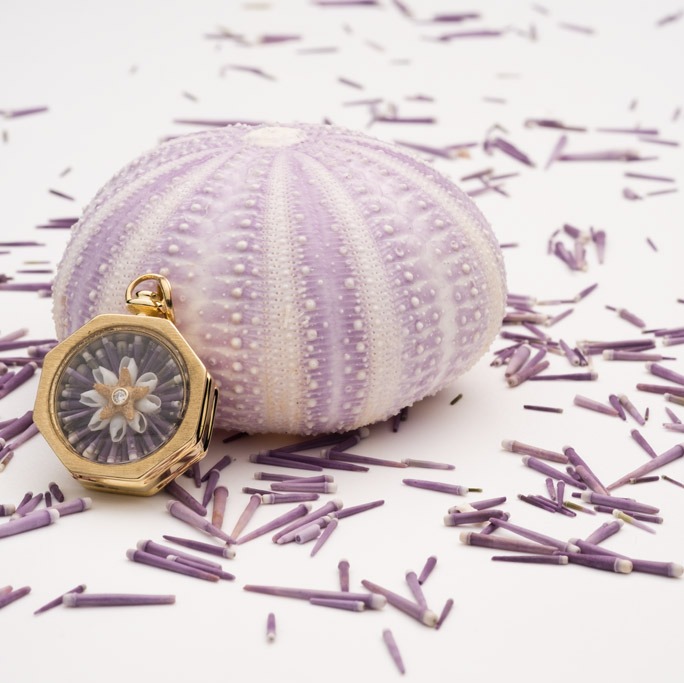 Much of the credit for Dudley's entrepreneurial enterprise goes to her partner of eleven years, local artist Christopher Bonelli. "He encouraged me to go out on my own," she said. "He advised me to grow slowly and to only do as much work as I could comfortably manage. That way,
I keep on loving what I'm doing and I don't get so stressed out that I grow to dread the work."
And while she has a legion of fans who proudly wear her designs, few have had quite the following of nationally-renowned journalist Katie Couric, one of Dudley's first customers at her booth at Sustainable Nantucket's Farmers and Artisans Market, where she sells her creations. Couric's praise was certainly a boon to Melissa's business, but she's managed to keep it all in perspective, still just gluing one shell at a time and loving it. "I wake up and can't believe this is my life," she said. "I just feel so blessed."
And so do all of those lucky enough to own one of her magnificent creations!
For more information about Melissa Dudley's work or to inquire about custom commissions, please visit her website at www.melissadudleydesigns.com.
She is also a regular presence at Sustainable Nantucket's Farmers and Artists Market on Saturday's downtown from June to October, and she is available by appointment.
Article edited. Full version available in ONLY NANTUCKET SUMMER 2020.