Artistic Genius – Illya Kagan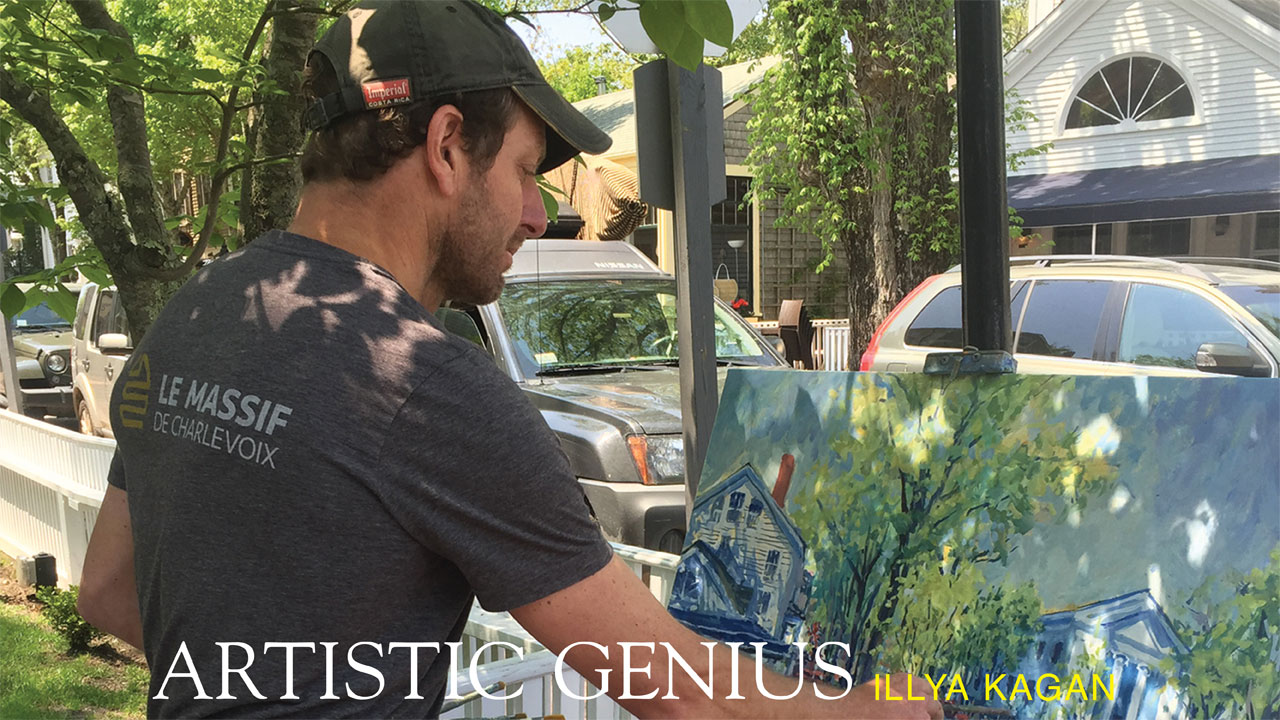 by Andrew Spencer
photos courtesy of The Kagan family and Beverly Hall Photography
Illya's studio is a veritable maze of empty frames awaiting paintings, stretched canvases, and works-in-progress. His desk littered with sketches, photos, magazines, and other various items. Oh, and make sure you step over the dog that is happily snoozing next to the coffee table covered in local magazines. That amalgamation of stuff, at least to my mind, is a true sign of genius.
Illya is quick to give credit to the DNA he got from his mother and father as being at least one component of his talents. Illya was born to Vladimir Kagan and Erica Wilson, both of whom were artistic giants in their respective fields. Born in a small town in Germany, Vladimir – Vladi to his friends – was born into a cabinetmaking family. "My grandfather – Illie, after whom I am named – was a cabinetmaker. My father really learned furniture making by working for my grandfather." Vladimir once recalled that his father, who was quite the perfectionist, taught young Vladi not to measure twice in order to cut only once. No, Vladi needed to measure THREE times, just to make ABSOLUTELY sure.
Meanwhile, across the English Channel, a young woman named Erica Wilson came into the world in 1928 in the town of Tidworth, England. Her father was in the military and the family moved to Bermuda soon after Erica's birth. A drawing prodigy, Wilson "translated her drawing techniques into needlework," Illya said. Needlework became her artistic focus and she graduated from the Royal School of Needlework in London.
Therefore, you have the son of a German cabinetmaker and the daughter of an English military officer. Then, there was a party and things got interesting. Things escalated from there, and by "escalated," he means they became characters in a fairy-tale romance that spanned nearly sixty years.
Erica established herself as a fixture in Nantucket, opening Erica Wilson Needleworks, the store that today is located at 25 Main Street and managed by her daughter Vanessa. She offered courses in needlepoint and created fabulous canvases that are still produced today. For those who are just too intimidated to take on a project like needlepoint the quintessential rainbow fleet, there are also pre-finished pieces featuring many of Wilson's creations.
Growing up Kagan meant constant exposure to art. "We always had some kind of art projects going on when I was a kid," Illya said. "My mother was always sketching, always drawing. She would see some flowers and just start drawing them, or the family dog, or a tree. Whatever. She would start drawing, and then we would all join in and start drawing, too. It wasn't so much a contest, but we all wanted to have the best drawing."
Vladi was also quite accomplished when it came to drawing. "Every piece of furniture he designed," Illya recalled, "he would draw it on tracing paper. I don't know why, but he always used tracing paper. We would go on a trip, and by the end, he would have yards of tracing paper rolled up, covered with new designs." However, Vladi's style was much different from Erica's. Whereas he preferred what Illya termed "minimal penmanship" with few lines, she was more of a sketcher, using several lines to create a shape.
Illya's paintings evoke a feeling that is, in a word, Nantucket. It's just one of those things that you know when you see, with all due respect to Potter Stewart. To spend time on Nantucket – whether as a weekend-visitor or a lifelong native or somewhere in between – is to join an exclusive club, one that defies explanation. Nevertheless, you know it is special, even though you cannot necessarily put the sentiment into words. However, Illya manages to capture that spirit. In the same way that Vladi was immersed in the Bauhaus aesthetic, so, too, is Illya's work intertwined with what can only be called the Nantucket aesthetic. It is a feeling that only someone so intimately familiar with the island and so skilled with a paintbrush can capture in a single painting.
Today, Illya has two daughters of his own, so I naturally felt compelled to ask if they showed any artistic talent. It was at that moment that I saw a side of Illya I had never seen before in all of the four-plus decades that I have known him. All of a sudden, he beamed like he had just won the lottery. He took out a sketchbook and showed me some amazing drawings, all done by his daughters.
I then asked how much of artistic ability did he think was taught and how much was genetic. "I'm blown away by how these things get passed down from generation to generation," he said.
We lost Erica in 2011 and Vladi in 2016. Even with the inevitable march of time, the sadness associated with their passing lingers. I know that somewhere Erica and Vladi are holding hands, looking down on their children and grandchildren as they, too, beaming like Illya as he shows me his daughters' work. They have passed on their immense talents to their children and, it seems, to their grandchildren. The Wilson-Kagan legacy lives on in their absence, and through that genetic gift, they continue to make Nantucket a better place today.
Article edited. Full version available in ONLY NANTUCKET FALL/WINTER 2017.