An Instrument of Grace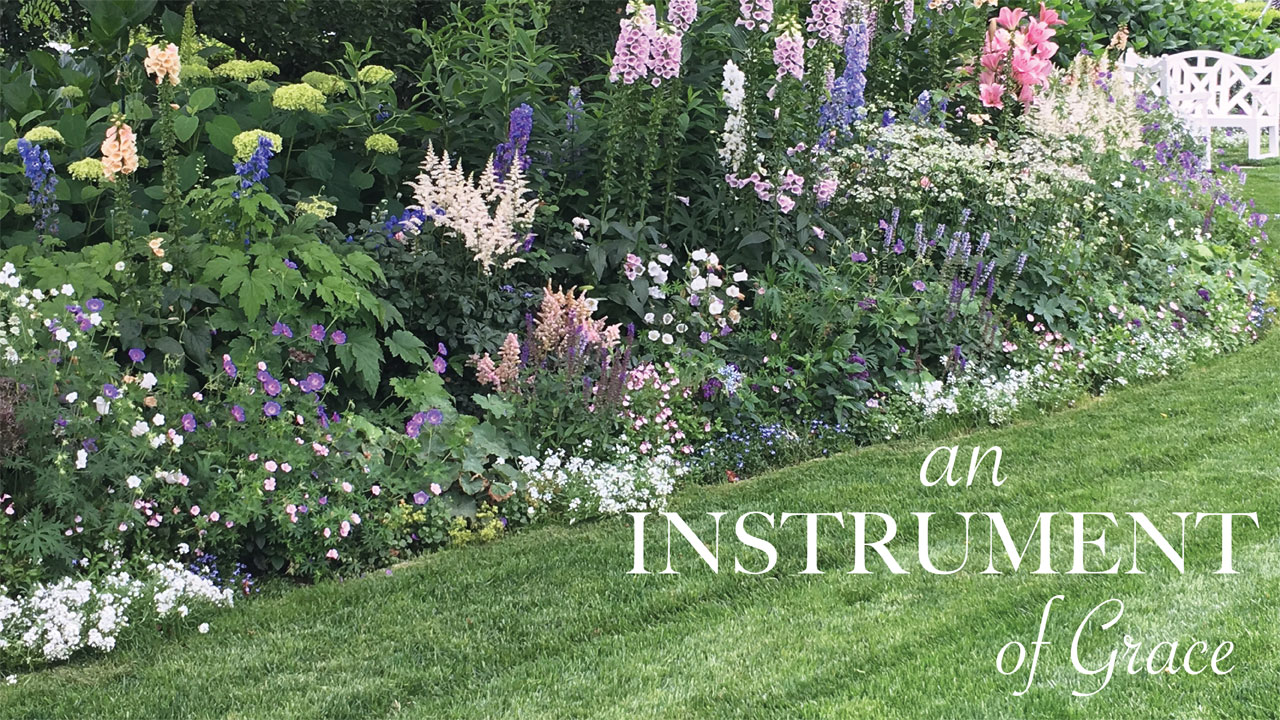 by Kimberly Nolan
photos courtesy of Kristina Wixted
It begins by giving the client a simple task — pick three colors. The rest is a blend of science, sunlight, tradition and practicality. Talking with Kristina Wixted about her approach to garden design is reminiscent of plein air painting.
"Soil is a blank canvas," said Wixted, owner of Kristina Wixted Gardens. "Color, knowledge of plant material and collaboration are all part of the garden design process." Decision-making is just the initial phase. To gain complete knowledge of a garden takes one year, she said.
"The light is different in the fall than it is in spring or summer," Wixted said. "If you are overtaking an existing perennial garden, you learn what works by spending time there. There are so many considerations, including the style of the house. Gardens in town have a different feel than gardens out of town."
When revamping an existing perennial garden, Wixted said she considers the sentimental relationship a client may have with a particular tree, shrub or bush. She works around clients' preferences, while managing the everyday obstacles of Nantucket gardening.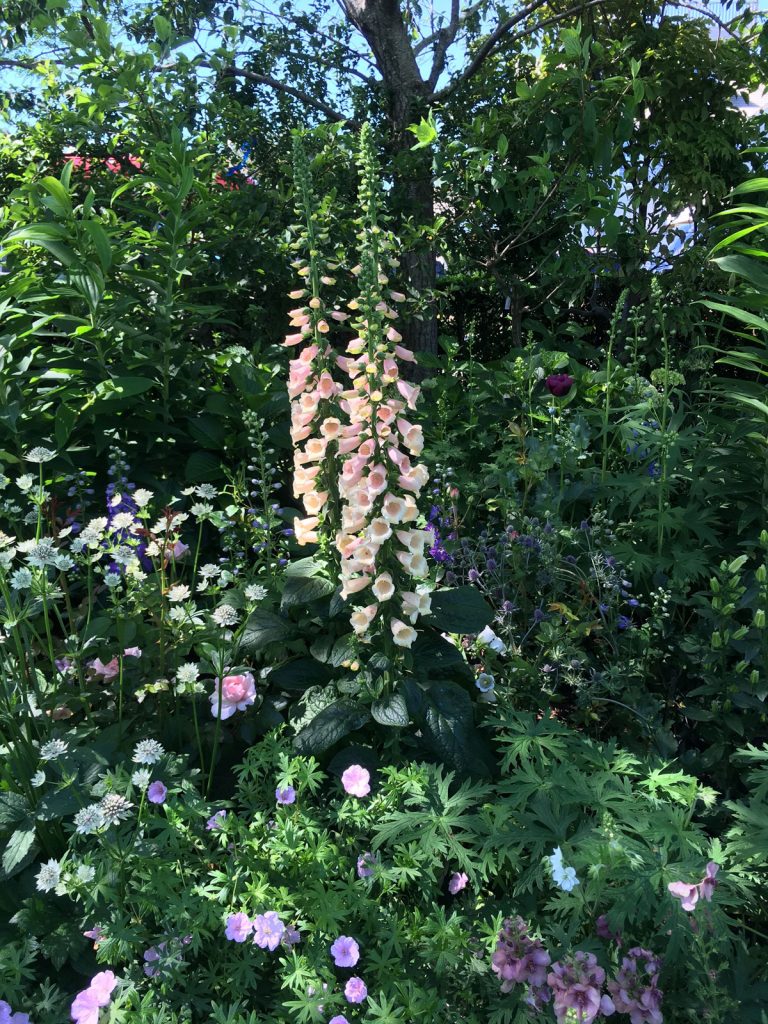 The light is different in the fall than it is in spring or summer . . .
"Rabbits and deer are a huge problem," Wixted said. "It's figuring out what plant material they eat versus what plant material they do not eat. I've read in books that deer will not eat echinacea or rosa rugosa, but deer on Nantucket do eat them. Delphiniums are supposedly poisonous plants but deer and rabbits on Nantucket eat delphiniums."
For Wixted, garden design extends beyond logistics and aesthetics, it includes a philosophy of organic practices, she said. The Kristina Wixted Gardens mission states their specialty in organic gardening is intended to protect the Nantucket waters, while maintaining health, beauty and balance in the garden.
"Healthy plants come from healthy soil," Wixted said. "Science has discovered that nitrogen and phosphorous (commonly used in landscape fertilizer) have been a major factor in polluting our water."
Wixted adheres to Best Management Practices, which is a regulation intended for landscape fertilizer use on Nantucket. Prior to starting Kristina Wixted Gardens in 2005, she learned sustainable gardening techniques through her former Nantucket employers.
"I worked for a woman who taught me about the naturalistic landscape of Nantucket," she said. "I learned the value of pine needles and how they can be used to mulch blueberries, among other things."
Since her early days of gardening on Nantucket, Wixted said there has been a growing awareness of preserving the island ecosystem. She said the town offers courses and workshops to continue education around fertilizer use, which she appreciates.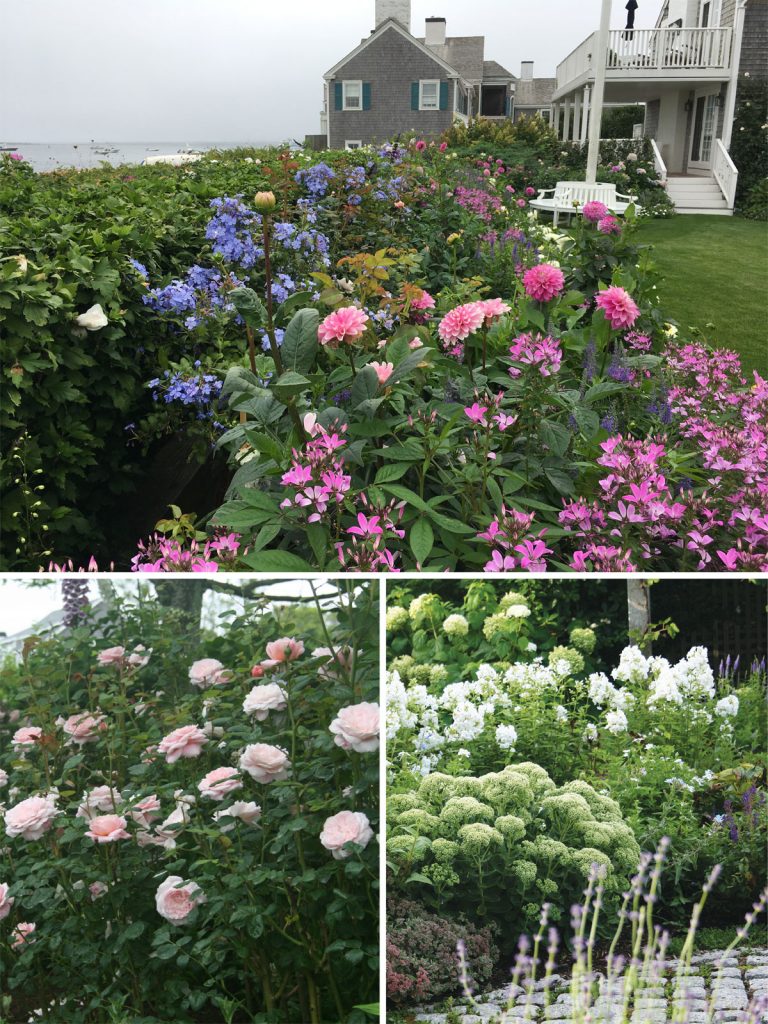 "It is important to educate homeowners, businesses, employees and everyone else on the island," Wixted said. "We have to be progressive. Nantucket is a place where we can still drink the water, we have to keep it that way."
For Wixted, the love of gardening is woven into her love of the island. It is a sense of purpose connected to a place, which connects her business to her family.
"Both of my parents came from agrarian cultures," Wixted said. "My mother is Croatian. When she was young, they tended to the fields and grew their own food. Her father was a winemaker and sold wine to the bigger cities on the coast. They used to take pigs to the woods to hunt out truffles. My father is from Bosnia. He grew up in similar environment. They settled in New Jersey. Gardening remained a part of our lives, we tended to the garden and we weeded the garden."
Una, Wixted's four-year-old daughter, assists in their home vegetable garden, the way she did alongside her parents. She said allowing her daughter to explore the garden has increased Una's excitement for eating vegetables, especially those harvested on site.
"There was a great connection working in the gardens while I was pregnant," Wixted said. The songbirds and honeybees offered their own lullabies to each of her children, while they were in utero, she said.
For Wixted, there is a contentment found in each of her clients' gardens. She prefers to manage her business in a hands-on manner, alongside her crew.
"I have to work in the gardens, it is a part of me," Wixted said. "I could not go through a season without working in the gardens."
Even at home, Wixted said she can be found in her perennial garden or cutting garden. The cutting garden showcases a combination of annuals and perennials: dahlias, sunflowers, peonies, roses, poppies, lillies, scabious, salvia, veronica and delphinium, among others. Wixted also sources flowers from off-island, when necessary, to complement floral arrangements, including those used in bridal bouquets, she said.
Creating, cultivating and nurturing gardens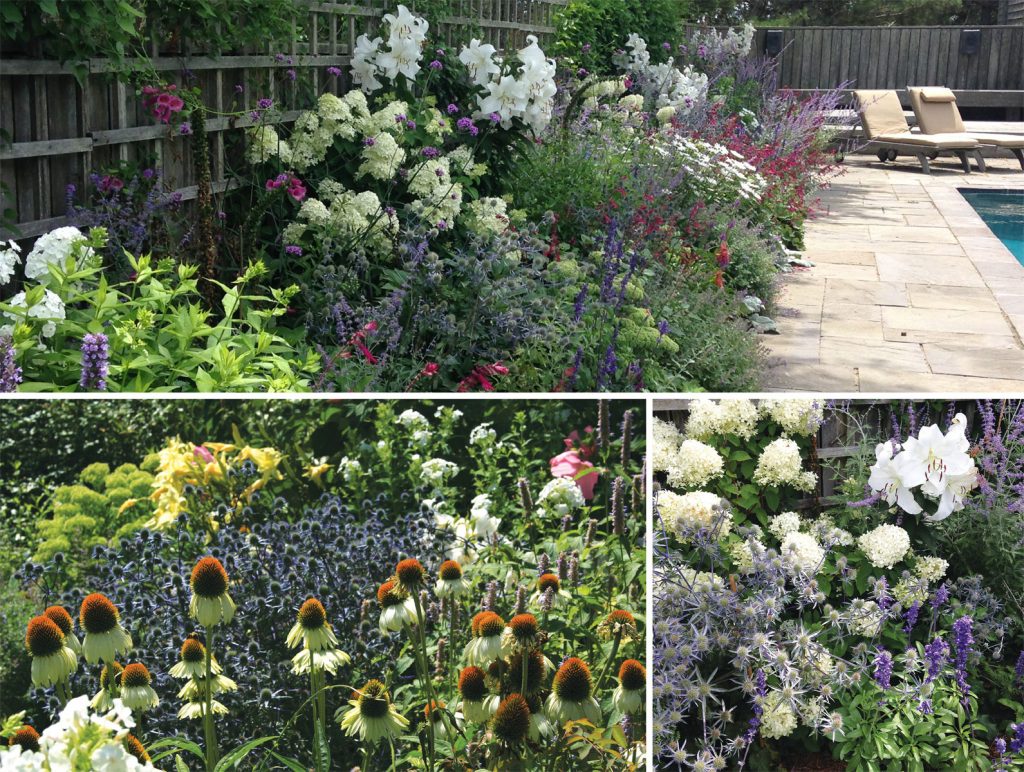 "Knowing what kind of flower arrangements a bride wants is a similar approach to garden design," Wixted said. "I have them pick three colors that they want to use. I also keep in tune with the growing season and the flowers available at that time. Peonies are hard to find in July, while tulips are hard to find in August."
Despite the busyness of fall and spring clean ups, garden installation, arranging floral bouquets and maintaining window boxes, Wixted derives joy from the work that is her passion, she said. Watching flowers open, observing the flight pattern of a dragonfly or listening to bees collect pollen, are small moments that elicit a deep sense of peace for Wixted, she said.
"We live in this world that is fast-paced," Wixted said. "People forget to spend time in the garden. On Nantucket, we still have that appreciation. The flower gardens have their own little world that work together in harmony and the energy that comes from the flowers is very healing. It is an old energy that has been moving for a very long time. It is reminding us to slow down, to stop to smell the roses."
While in the garden, Wixted said she feels a sense of connection and balance. She said she is content with the size of her business, because it allows her contact with each of the clients' gardens.
"I once read a quote from a book about gardening that "gardening is an instrument of grace," I truly believe that is true," she said. "Perennial gardens are a lost art form. You see a lot more of places that have lawns, hedges and hydrangeas because they are lower maintenance. Perennial gardens and vegetable gardens require a lot of care, like children."
I could not go through a season without working in the gardens