Jewels of Autumn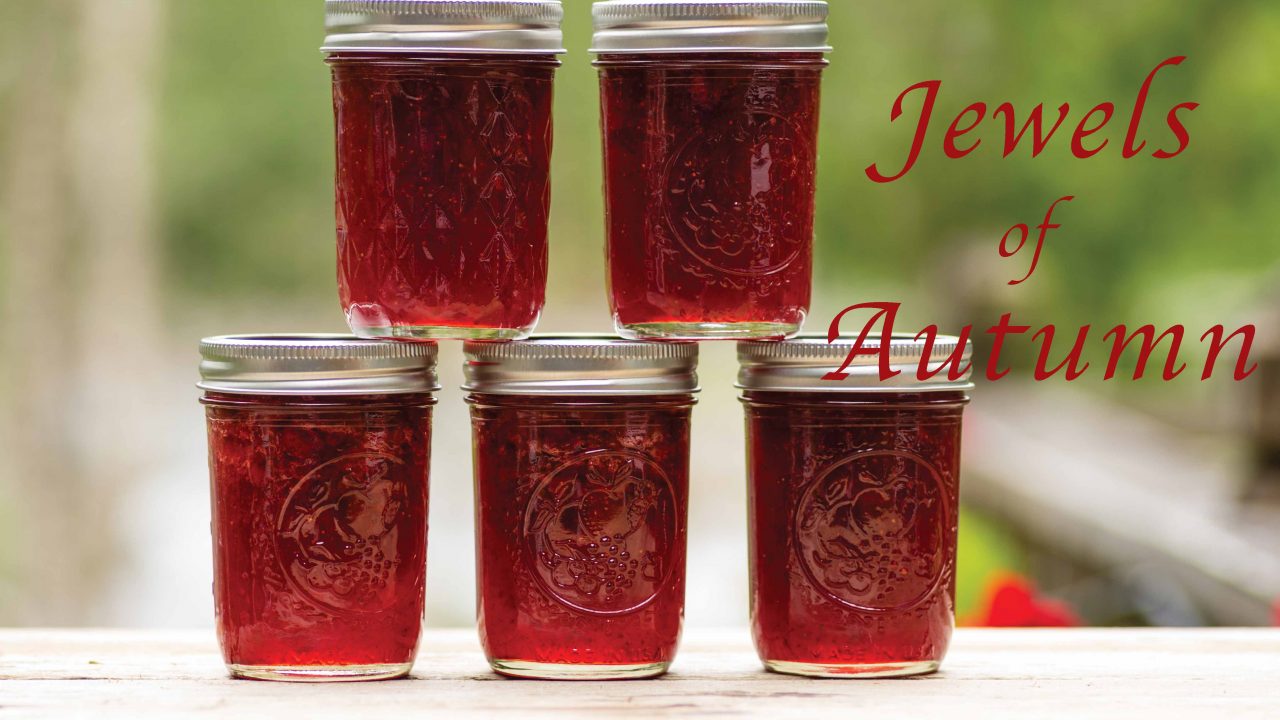 By Rose Ganella and Karyad Hallam
Gathering native plums, grapes and berries, Nantucketers delight in creating homemade jams and jellies from freshly picked fruits, and some even harvest their own fresh golden honey from backyard hives. The kitchen fills with the sweet smells of simmering pulpy masses, as row upon row of jewel-colored jars rise in the pantry. The aromas of a day's harvest remind us of the height of summer, as the cold days bring us to the warmth of the fire, the hearth and the stove. The sensorial pleasures of the process touch the nostalgic heart and satisfy many appetites.
On Nantucket, blueberries, beach plums, rose hips and plump grapes grow with rampant joy and abundance in almost every nook. They are nature's sweet gifts to residents, who cherish their distinctive flavors, respectfully gathering small basketfuls to preserve and store as wintertime treats for family and friends.

Indigenous fruits were gathered by the native peoples, and early European settlers to Nantucket adapted the unfamiliar fruit to their cuisine, so these bountiful morsels have helped shaped the culinary styles of Islanders for many generations.

For present-day Nantucket residents, the art and joy of making jams and jellies from individually picked fruit is a cherished family tradition. The labor involved in creating the delectable products is a beloved homespun activity, well worth the hunting and gathering. Many Nantucketers collect plums and grapes to make their own jelly in order to later share in the enjoyment of the fruits of their labors.
The good graces of nature are an important part of the mix; a dry season results in a less bountiful harvest, with the exception of grapes, plums and berries, which seem to be plentiful throughout the growing season and have a heartier resistance to island weather. The intense native berries ripen in early to mid-summer, while rose hips, beach plums and grapes peak in late August to September.
Searching out the little pulpy jewels of nature is not difficult, but a pure heart, a sharp eye and a good secret location may be the forager's key tools for getting the best picks. Located throughout many micro-environments, the Island hosts several kinds of Concord-like grapes, including varieties that are green, purple, red and pink in color. For the best spots to collect these grape varieties try walking by the cranberry bogs.
Many Islanders have an easily accessible supply of beach plums growing along the dirt roads leading to their homes. With 50 miles of sandy shores, it is no wonder that the gem-like beach plum thrives, along with many varieties of berries that love loose soil in which to expand their roots. Some berries, such as raspberries and both high and low bush blueberries, are more commonly found in the heathlands, also known as the moors.

It seems that for many Nantucket residents the time of peak harvest can be likened to a treasure hunt. Competition with birds and other small wildlife make the search for the colorful baubles a bit tricky, but careful inspection of flora will reveal nature's sweet gems to the intrepid.

Why trudge with bucket in tow to painstakingly pick these fruits – only to bring them back to the kitchen for many more hours of labor? For those involved, the task is not a grind but a joyful experience in producing a home staple that can be trusted for its freshness and wholesomeness and devoured for its uniquely flavorful taste.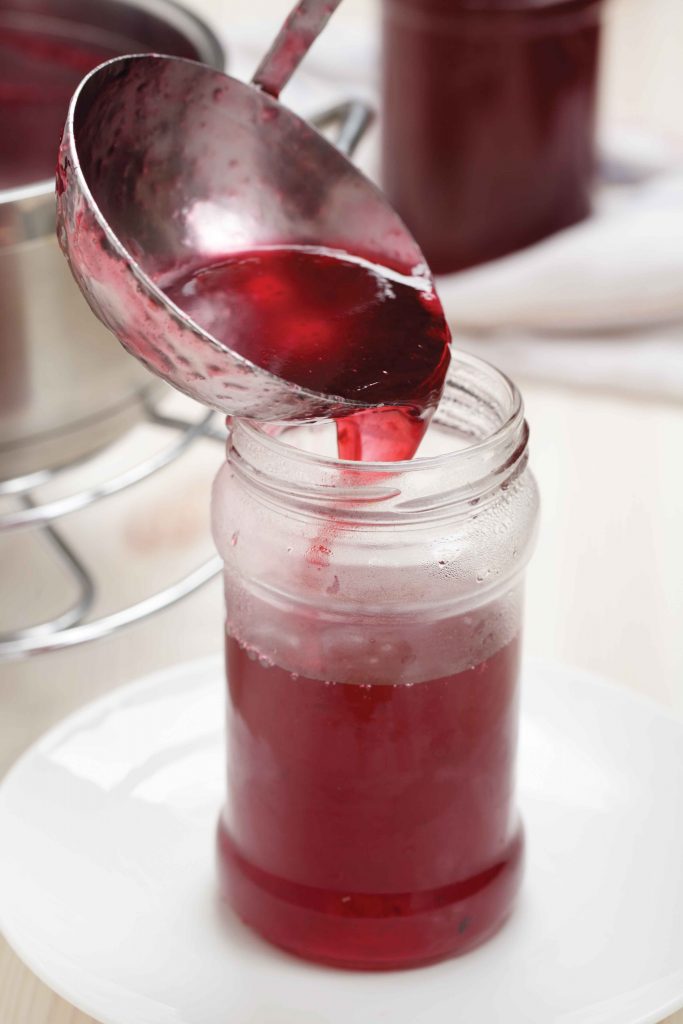 Most visitors to the Island know that the wild rose (Rosa rugosa) flowers prolifically in front yards, pathways to beaches and on along the roadside. The little rose fruit, or "hip," appears after the rose's summer bloom. As well as being useful for herbal teas, wines, soups, oils and soaps, these orange-red seed pods are an ideal main ingredient for preserving. These nuggets rich in vitamin C cook down with sugar into a sublime blush-colored jelly.
As for the individual flavor, rose hip jelly is mild, while grape and beach plum jam are robust. With experience and tinkering, many try fruit combinations to expand their palate. Blends of plum-and-grape or plum-and-berries merge flavors beautifully. Some cooks try an herb-and-fruit
jelly such as thyme and plum, lavender and blueberry or rosemary and fig.
Obviously, the sweet fruit spreads can be eaten at breakfast time with toast, bagels, scones and waffles. For a more elaborate recipe, jam can be baked into biscuits or muffins and eaten steaming hot from the oven. A generous dollop of yogurt topped with granola and finished off with jam is another complementary fusion of taste.
But the first meal of the day is not the only time for jams and jellies. For lunch perhaps the most perfect sandwich is fresh peanut butter coupled with homemade regal grape jelly, cloaked by thick slices of soft, crusty Portuguese bread.

For dinner dishes such as lamb chops, light brushes of berry jam and mustard add a sophisticated touch. After sautéeing a chop, a spoonful or two of jam mixed into the pan drippings with a splash of orange juice reduces into a sauce to accompany the meat. For dessert ideas, jams can top ice cream or frozen yogurts and meld with crepes, cakes or custards.

The creators and happy consumers of homemade jelly all agree: once you've tasted preserved fruit that is made with love, you'll never have store-bought again. The taste can't be duplicated outside of a home kitchen.
So, when the stinging winds of winter whip across Nantucket, retreat into a cozy corner with a warm snack of the jewels of the kitchen. Flavorfully intense grape jelly, beach plum jam on hearty bread or hot tea with fragrant honey – each recalls warm summer days and whisks away winter's chill.
Article edited. Full version available in ONLY NANTUCKET Fall 2014.