Oranmental Grasses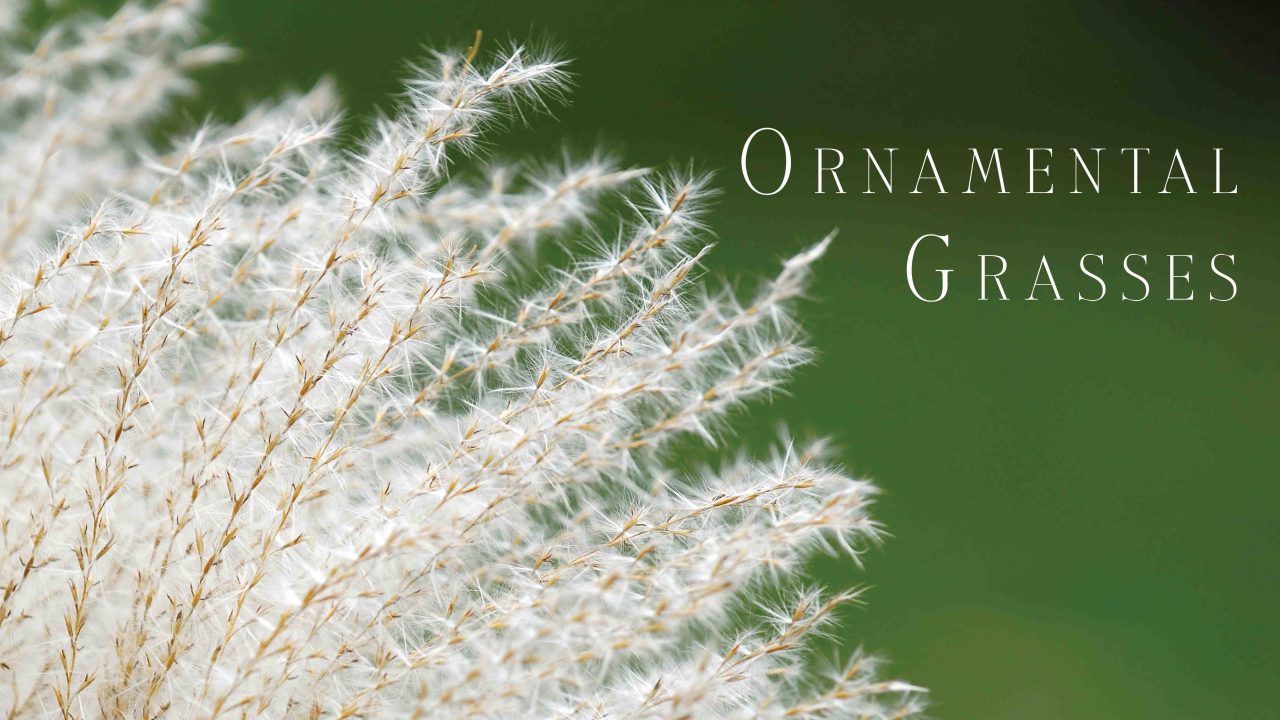 by Amy Jeness
Nantucket's natural beauty can be credited, in large part, to its native grasses. Whether it's low mounds of sea-green beach grass undulating in the breeze, soft hummocks of the saltmarsh or the carpet of sandplain grasses that helps comprise the moors, grasses add texture, sound and motion to the local landscape.
More and more Nantucket horticulturists are looking to add some of that
aesthetic to their island gardens by using plants found in the gramineae, or grass, family. Local staple, American beach grass (Ammophila breviligulata), is considered an ornamental grass, but the plants come in all sizes and shapes. Gardeners prize them because they are low maintenance, survive in difficult conditions and contribute color and texture long after summer flowers have faded.
There are more than 1,400 species that are native to the United States. There are annual and perennial varieties as well as varieties that grow in cool weather and in hot weather. On Nantucket, there are many varieties that tolerate salt blown in from the sea and will thrive in sandy soil.
Clearly, this is not your father's lawn grass – kept clipped crewcut-short and tidy. Tall and spiky or low and creeping, ornamental grass increasing popularity is based on a growing sophistication that includes preserving a sense of place by landscaping with native plants or using unusual plantings to add visual interest to a traditional flower garden.
Left to grow on their own, ornamental grasses take one of several forms: medium-to-tall mounds, low, thickly-massed carpets and loose stems. Many, like pampas grass (Cortaderia sellana) and fountain grass (Pennisetum alopecuroides) sprout fluffy seed heads, as pretty and interesting as any blossom. Other varieties add color by variegation such as ribbon grass (Phalaris arundinacea) or change to beautiful purples and bronzes in late summer, like switch grass (Panicum virgatum).
Along with their beautifying properties, ornamental grasses are also a practical choice for the Nantucket garden. They are largely resistent to pests, the deer don't eat them, and, once established, they grow in poor soil and don't need a lot of watering.
Ornamental grasses are also a fine choice for container gardening. By combining grasses and other plants in containers, gardeners create interesting container groupings. As long as you use a rich, well-drained potting soil, plant the grass at its original soil line and keep it watered, it will grow well. And, this is a great way to experiment with growing different grasses that might be invasive in the garden.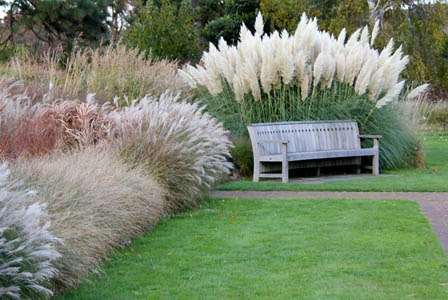 Other grass-like plants that don't belong to the gramineae family, but are used like ornamental grasses, include
varieties as diverse as evergreens, bamboos, rushes and sedges.
Liriope is a popular group of grass-like plants, commonly called lilyturf or monkey grass. These small evergreen plants, which are related to lilies, are used throughout much of the country as groundcovers. Liriope is easy to grow and is native to China and Japan. It's tolerant of every soil type, grows in either sun or shade, divides easily and can even withstand a fair amount of salt spray. Liriope is available in varying heights from just a few inches to more than a foot with both solid green or variegated foliage and bold, blue flowers that resemble grape hyacinths.
The following ornamental grasses will do well in a Nantucket garden
Arundo donax A native of southern Europe, this giant reed grows 10 to 14 feet tall and can spread up to six feet in diameter. It is a warm season grass that likes full sun with blue-gray/green foliage, thick woody stems and bronze plumes that turn silver in the fall.

Chasmanthium latifolium Called northern sea oats, this
northern U.S. native offers an unusual look to the garden with its flat seed heads and broad leaf blades. The latifolium will grow in sun or shade and forms a three to five foot tall clump with attractive seed heads that look good all winter long.

Cortaderia selloana Commonly called pampas grass, the
cortaderia is the poster child for ornamental grasses. With its eight foot tall stalks and dramatic cotton candy plumes most everyone has seen one of the 24 species somewhere in one of the Americas, Europe and Australia. Pampas grasses grow in shade or part sun and don't mind poor soil and water.

Cymbopogon citratus Lemon grass not only adds a pleaseant citrus aroma to the garden, but it can be used as a cooking herb. It is a tender annual best grown in pots and brought
indoors at first sign of frost.

Festuca species There are 300 species of fescue and many are used for turf, but one of the best known ornamentals is blue fescue. Fescue tend to be small, clumping grasses that grow to 12 inches with slender, thread-like leaves. Fescue need full sun and well-drained soil.

Helictotrichon sempervirens Blue oat grass is native to Europe and is a cool season, tufted grass. It grows to four feet and its blue leaf blades arch to form a visually pleasing round mass. It does best in full sun and well- drained soil.

Panicum virgatum Switch grass forms an upright clump
of blue-green leaves and masses of feathery green to pink flowers emerge in late summer. It grows to four feet tall and requires full sun and normal soil.

Phalaris arundinacea Variegated ribbon grass is also called gardener's garters. It is an invasive plant that grows best in the cool temperatures of spring and fall. It grows to three feet tall, can spread three feet or more and can grow in full sun or partial shade.

Pennisetum alopecuroides Fountain grass comes from eastern Asia and the name in Latin: bristly feather – penna (feather) and Seta (bristly) – refers to its showy flower. It grows in full sun with well-drained soil with four foot mounds that spread up to two feet wide.

Sesleria autumnalis Called autumn moor grass, this grass is a better accent than main event. It forms two foot high mounds of light green leaves. It grows best in full sun to partial shade in well-drained soil.
Be sure to decorate your Nantucket garden with these beautiful plants. You will find their swaying fronds soft music to the ear and their delicate wave-like movement pleasing to the eye.