John Evans and His Art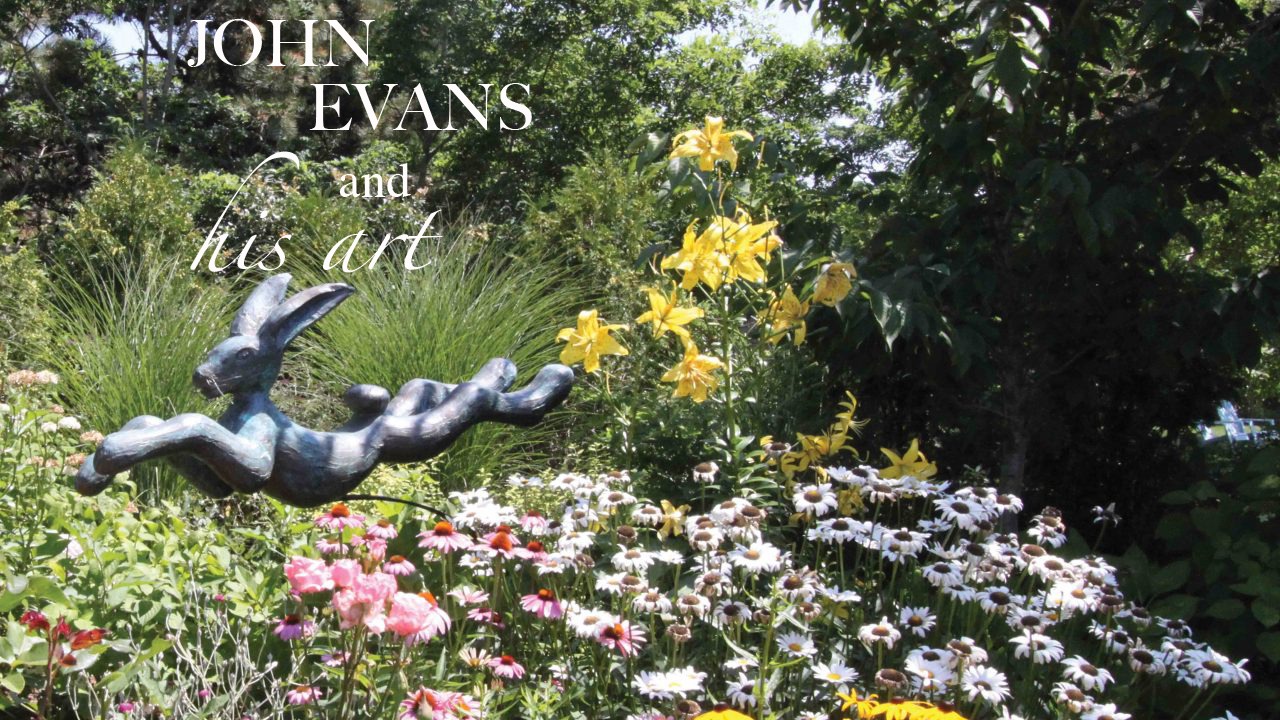 by Rebecca Nimerfroh
This summer, Nantucket sculptor John Evans' island renowned "Wild Hares," will be making the pocket garden outside the arrival gate of the Nantucket Memorial Airport even more colorful. This work, most recently on display outside the Old Spouter Gallery, pays homage to one of the many integral things to love about this island the artist calls home.
Well, Nantucket is not without its rabbits," jokes the sculptor, who for the last 40 years has populated the island with his sculptures. The artist explains that he "found humor" in creating this sculpture of leaping rabbits, saying "They're pests, but we love them. People don't really know me for the rabbits because I've always done contemporary work." While true that John, most widely known for his large, modern shapes, has not often dappled in more "realistic sculpture," he says, "As an artist, I believe you have to keep searching for some sort of challenge. I'm really not that interested in finding a formula that works. I'm interested in taking chances and seeing what happens. And as an artist, I believe you're allowed to do anything you want to do."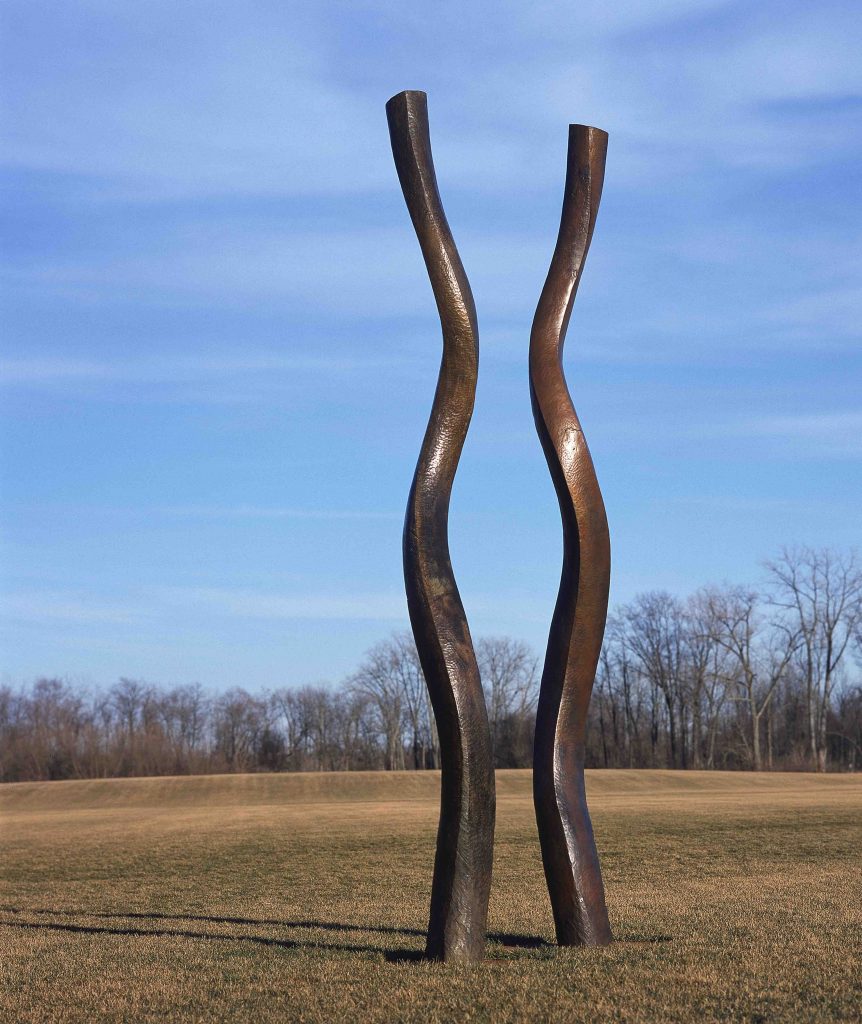 Along these same lines, the sculptor has most recently erected "Whaler Man" in the center of the rotary on Sparks Avenue, a large, blue man now on display until mid-May. John fashioned "Whaler Man" on a base that can be periodically rotated, so don't be surprised if there's "something" that
randomly catches your eye about this impressive figure. John says, "He will be looking down one road and then change his mind and start looking down another. I love the idea of having him a little bit animated and changing."
"It's interesting because when I put him in the rotary, it did cause quite a stir initially," laughs John, who was inspired to make the piece after reflecting on a favorite childhood toy. "It was really fun to see how others interpreted him. A lot of people identified with the toy, while others saw him as an
authoritarian image." John laughs again. "As far as art goes, if you're not infuriating a few people, are you succeeding?"
As a student, John attended Ohio University, majoring in sculpture and painting. And then went on to obtain his Master of Fine Arts with emphasis on sculpture, photography and art history from the Instituto Allende which is associated with the University of Guanajuato in San Miguel de Allende, Mexico. However, it was David Hostetler, the late Nantucket sculptor, his teacher and mentor who originally brought John to the island of Nantucket in the early 1970s. "It was one of those Tom Sawyer events where David said, 'Hey, this will be a lot of fun,' and really he just needed guys to come out and help him," John smiles. "But really I willingly did it because he was a lot of fun to be around."

John reflects on that first time he came to Nantucket to help David set up his gallery, finding himself "In the middle of the ocean with all these gray shingled shacks." He says, "I'm a contemporary artist and a lot of people don't quite get the connection, but I love the yin and yang of that. I feel as though I have accomplished my intention when I see my clients mix my contemporary work into their traditional homes, it's a thoughtful way to live your life, to mix it up a bit."

Throughout the years, John's work has been on display in his own galleries throughout the island, from Old South Wharf to Broad Street, and now is represented in the Old Spouter Gallery on Orange Street. John's work is also currently on display in Greenwich, Connecticut, Stowe, Vermont and Columbus, Ohio. "I just found that I was enjoying making art a lot more than selling it," laughs the artist.

As far as John's sculpting process goes, the artist explains, "It requires a certain amount of infrastructure, the right tools, and space. People ask you how you do it, but usually you're mid-sentence and they glaze over," he laughs. "It's a lot of work! The end result is considerably more exciting than the process." As for his favorite medium, John prefers wood to metal and welding. "I still consider myself a wood-carver first," he says. "I think it's one of the more romantic ways to accomplish the 3D thing. It's a bit quieter, more thoughtful process than assembling and welding, while I do like doing that. In having the choice, I will still choose a bench and a piece of wood – it's a quiet, meditative process." John elaborates on the process, saying, "Wood is a little different because sometimes you get this amazing piece of wood that nature has already done some bending and twisting to, or maybe you open it up and it has something really beautiful in it, and that will dictate part of your idea. Wood is always a little different in that respect."

Raised in Ohio, John recently discovered in his parents' house a book he had created in the second grade. The book was about things he liked to do, and to his bewilderment, in as early as second grade, where it asked what he wanted to be when he grew up, John had answered "an artist."

"I just feel so lucky that I have been able to navigate through life doing things that I have found to be both challenging and rewarding. That has been a gift to me."

As for his home on Nantucket, John says the beauty of the island is what keeps him inspired. "Even when I'm not sculpting I'm still out there visually collecting data. It's a lovely place to live."

To learn more about John Evans and his art, visit his Website at www.evanssculpture.com