Roast Turkey with Herb Scallop Stuffing & Cranberry Bread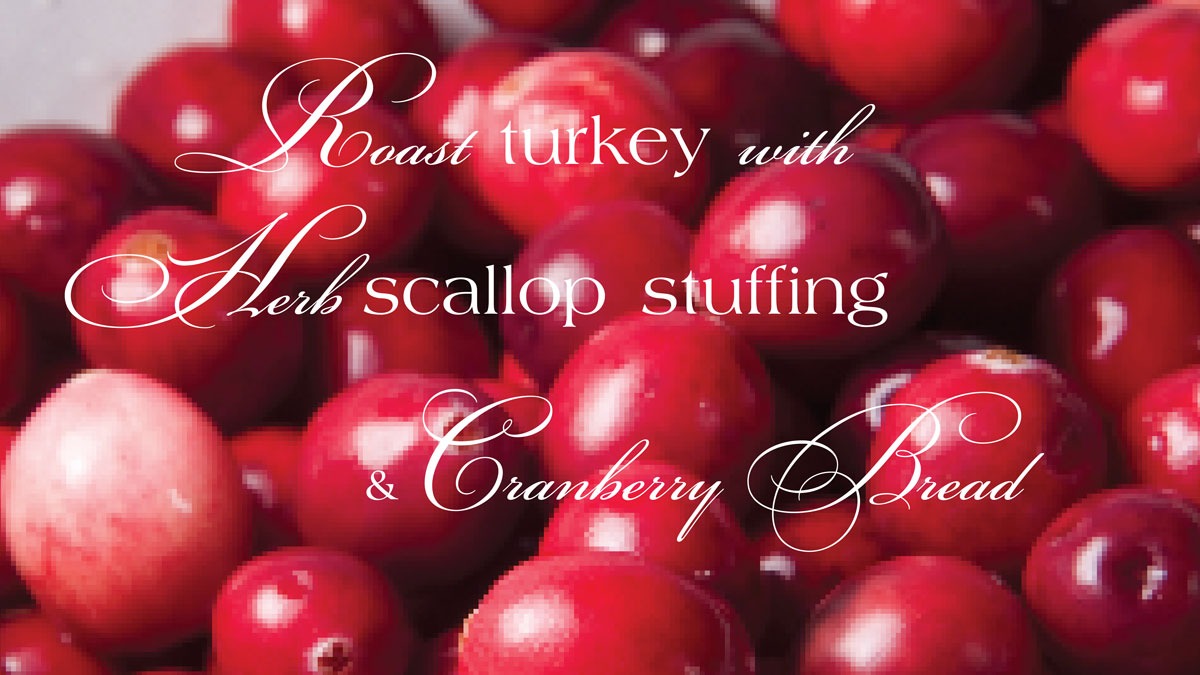 If you are looking for a few classic Nantucket Thanksgiving Dishes, these recipes focus on two of Nantucket's iconic autumn harvests, the bay scallop and the cranberry. Create a magnificent holiday stuffing and a perfectly tart bread. We have a few pointers for the main course too!
SCALLOP STUFFING
Because nothing tastes quite as quintessentially Nantucket as fresh bay scallops for classic Nantucket Thanksgiving recipes!
Two 1/2-pound loaves of day-old Italian or French bread, cut into 3/4-inch cubes (about 12 cups). We love Something Natural's French Bread, and Born and Bread's crusty Pain au Levain.
1/2 pound bacon, cut into 1/2-inch pieces
1 tablespoon minced garlic
2 cups finely chopped onion
1 1/2 cups chopped celery
3 tablespoons minced fresh thyme leaves
or 1 tablespoon dried thyme, crumbled
1 tablespoon minced fresh sage leaves
or 2 teaspoons dried sage, crumbled
2/3 cup finely chopped fresh parsley leaves
1 stick (1/2 cup) unsalted butter, melted
2 cups of fresh uncooked scallops
1 cup turkey giblet stock (or chicken broth) made
from the neck and giblets (excluding the liver) of
a 12- to 14-pound turkey
1 1/2 sticks (3/4 cup) unsalted butter, softened
MAKE THE STUFFING
In two shallow baking pans or jelly roll pans, arrange the bread cubes in one layer. Bake them in a preheated 325˚ F oven for 10 to 15 minutes, or until they are golden and transfer them to a large bowl.
In a large skillet, cook the bacon over moderately low heat, stirring, until it is crisp.
Transfer it with a slotted spoon to paper towels to drain and pour off all but about 1/4 cup of the fat. In the fat remaining in the skillet, cook the garlic, onion and celery with the thyme and sage over moderately low heat, stirring until the vegetables are softened.
Transfer the mixture to a bowl.
Add the parsley, melted butter, uncooked scallops, bacon and salt and pepper to taste, toss the stuffing well and let it cool completely.
The stuffing may be made one day in advance and kept covered and chilled. (To prevent bacterial growth do not stuff the turkey cavity in advance.)
THE GRAVY
1 cup dry white wine
6 tablespoons all-purpose flour
4 cups turkey giblet stock, including the reserved cooked neck and giblets
parsley sprigs and thyme sprigs for garnish
Skim all of the fat from the roasting pan juices, reserving 1/3 cup of the fat. Add the wine to the pan. Deglaze the pan over moderately high heat, scraping up the brown bits and boiling the mixture until it is reduced by half.
In a saucepan, combine the reserved fat and the flour and cook the roux over moderately low heat, whisking, for 3 minutes.
Add the stock and the wine mixture in a stream, while whisking.
Simmer the gravy, stirring occasionally, for 10 minutes.
Add the reserved cooked giblets and neck meat, chopped.
Add salt and pepper to taste. Simmer the gravy for 2 minutes and transfer it to a heated sauceboat.
Garnish the turkey with the parsley and thyme sprigs and serve it with the gravy and the stuffing.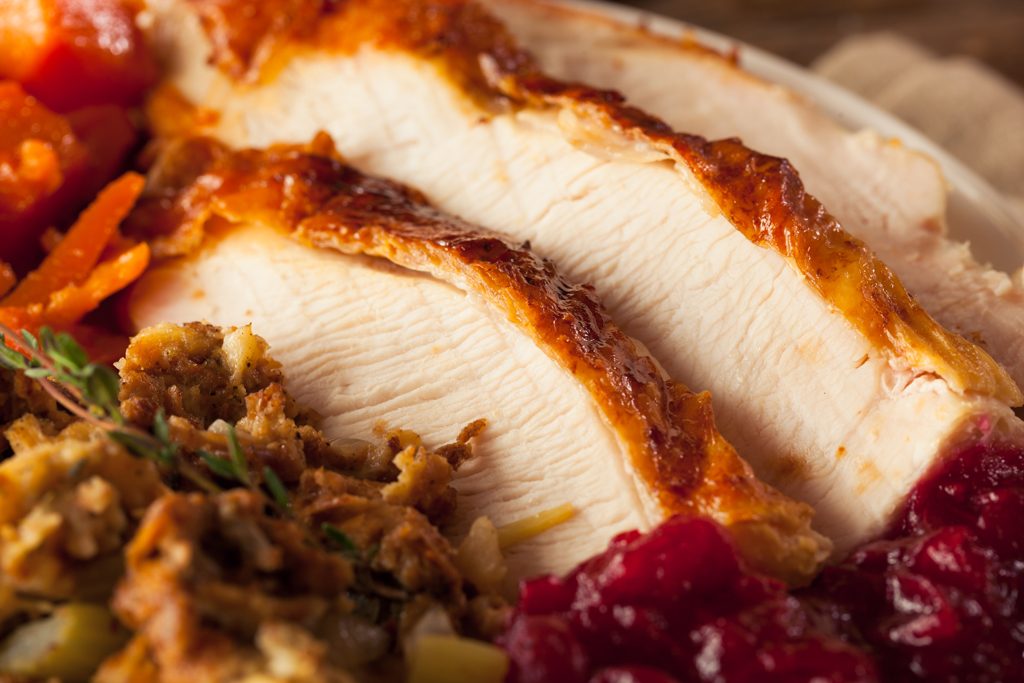 PREPARE THE TURKEY
Rinse the turkey, pat it dry and season it inside and out with salt and pepper.
Pack the neck cavity loosely with some of the stuffing, fold the neck skin under the body and fasten it with a skewer.
Pack the body cavity loosely with some of the remaining stuffing and truss the turkey.
Transfer the remaining stuffing to a buttered 3-quart baking dish and reserve it, covered and chilled.

Spread the turkey with 1/2 stick of butter.
Roast it on a rack in a roasting pan in a preheated 425˚ F oven for 30 minutes.
Reduce the temperature to 325˚ F, baste the turkey with the pan juices and drape it with a piece of cheesecloth soaked in the remaining 1 stick butter, melted and cooled.
Roast the turkey, basting it every 20 minutes, for 2 1/2 to 3 hours more, or until a meat thermometer inserted in the fleshy part of a thigh registers 180˚ F and the juices run clear when the thigh is pierced with a skewer. During the last 1 1/2 hours of roasting, drizzle the reserved stuffing with the stock.
Bake it, covered, in the 325˚ F oven for 1 hour, then bake it, uncovered, for 30 minutes more.
Discard the cheesecloth and string from the turkey, transfer the turkey to a heated platter, reserving the juices in the roasting pan.
Keep it warm, covered loosely with foil.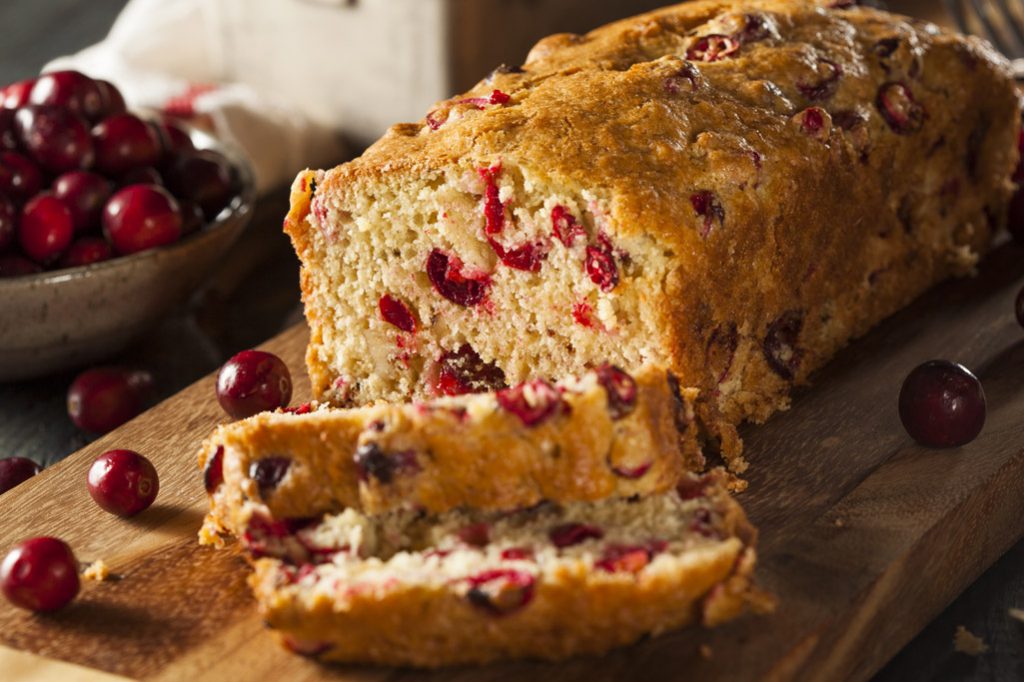 PUMPKIN CRANBERRY BREAD
1 cup canned solid-pack pumpkin
1 cup sugar
1/4 cup water
2 large eggs
1/4 cup vegetable oil
2 cups all-purpose flour
2 teaspoons baking powder
1/2 teaspoon salt
1/4 teaspoon baking soda
1/4 teaspoon ground cinnamon
1/4 teaspoon ground ginger
1/8 teaspoon ground cloves
1 cup picked-over fresh or frozen cranberries

Preheat oven to 350˚ F and butter a loaf pan, 8 1/2 by 4 1/2 by 2 3/4 inches.
In a large bowl, beat together with electric mixer the pumpkin, sugar, water, eggs and oil. Sift in flour, baking powder, salt, baking soda and spices, and stir just until batter is smooth. Stir in cranberries and spoon batter into loaf pan, spreading evenly.
Bake bread on middle rack of oven for 1 hour and 15 minutes, or until a tester comes out clean. Cool in pan on a rack 10 minutes. Turn bread out onto rack and cool completely. Bread may be made four days ahead and chilled, covered.

Makes 1 loaf.

We hope you enjoy the fun and flavor of these classic Nantucket Thanksgiving recipes!
Article edited. Full version available in ONLY NANTUCKET Fall/Winter 2018.