Bringing the Garden Indoors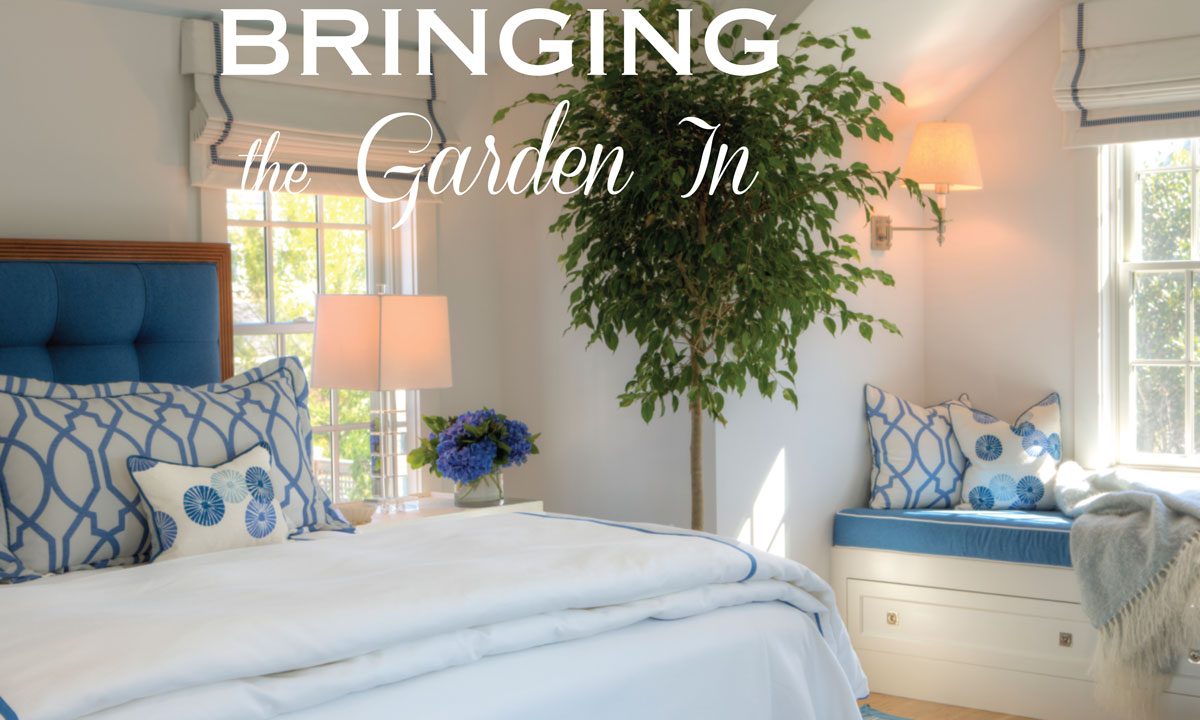 by Lisa Clair
A sight so lovely to behold, why not bring the beauty of Nantucket gardens indoors? The line between indoors and out is wonderfully blurred in the summertime. Windows are flung open to catch the sea breeze, sand and shells find their way into the house in beach bags and the air is filled with the sound of wind chimes and birdsongs. One of the greatest pleasures of an island home, though, has to be the abundance of flowers available in the garden. And nothing brings a home so beautifully to life as a bouquet of blooms, whether bought at the florist's shop after shopping for fresh fish for dinner, or brought inside in a bucket with a pair of clippers in your pocket. Why should the butterflies and bees have all the fun?
Trudy Dujardin, is a longtime island resident and interior designer who understands the appeal of fresh flowers. "For a home to truly feel like a refuge from the world, it must appeal to all of our senses," she says. "Flowers add visual beauty through color, texture and form, and sometimes through their delightful scent. However, they also connect us to nature, and add a touch of grace to our rooms."
"There's not a single room in your home where flowers would be out of place," Trudy says. "I like to keep a small vase of flowers on my desk to brighten my day as I work. Sometimes it may be a single bloom, whether it's the most exquisite daffodil in April, a rose in June, or a hydrangea in July or August."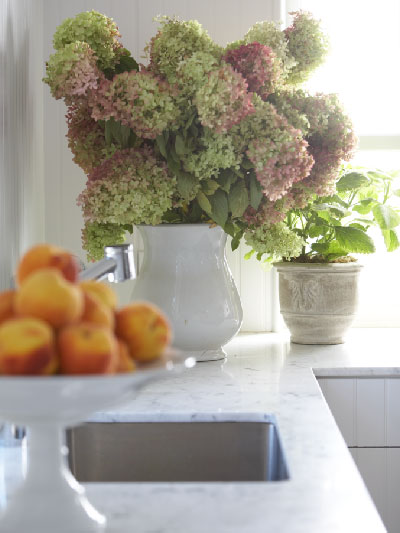 The end of summer is generally hot and dry, so she recommends making a trip to the garden early in the morning with a cup of coffee, to snip fresh blooms before the dew has dried.
The best bouquets in July and August are not the tender violets, fragile columbines and glorious irises from early in the season, but rather the fiery colored and firmer-stemmed zinnias, coneflowers, cleomes and larkspur. Snapdragons and Queen Anne's lace will thank you for bringing them indoors and putting them in a cool spot by blooming for as long as a week.
"Remember that opposites attract," Trudy says. "A mix of textures and fabrics works in a room and a mix of leaf shape, size, and delicate and firm petals work in a vase." Let your eye guide you in finding reddish-bronze leaved nandina, also known as Heavenly Bamboo, and tucking that foliage into a deep bowl with yellow roses and the spiky blue stemmed globe thistle.
"The element of surprise is an integral part of flower arranging," she explains. "Don't be afraid to try new combinations, or new containers to hold them." A collection of beautiful vases is always a good idea, in different heights, but Trudy also has put tiny snowdrops into teacups, sunflowers into pitchers, and almost every kind of flower imaginable into her favorite blue and white Chinese export porcelain. "Nothing says Nantucket so much as blue and white china and garden flowers," she laughs.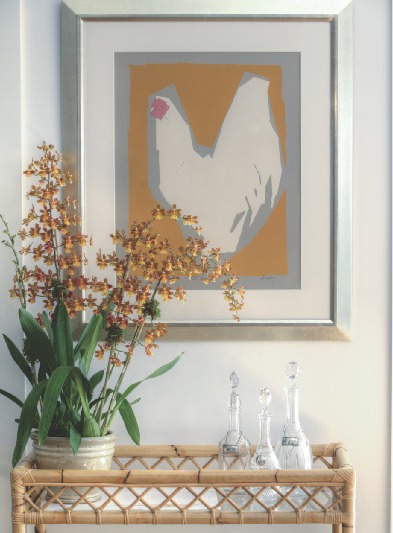 "Nothing is so welcoming to guests as a fresh arrangement in the foyer, and a small bowl of hydrangeas and roses by the bedside in the guest room." Confiding that her favorite bouquets are white flowers, in any combination, Trudy says that a flower arrangement on the dining table is a touch of elegance that enhances the appeal of food. Muffins heaped in an old cranberry sieve on the kitchen table taste better next to violets in a vintage Hotel Silver sugar bowl, red Bee Balm will always be a perfect accent for a basket brimming with blueberries, and cocktail hour on the veranda is far more elegant when a silver cocktail shaker offers a mixed bunch of dahlias.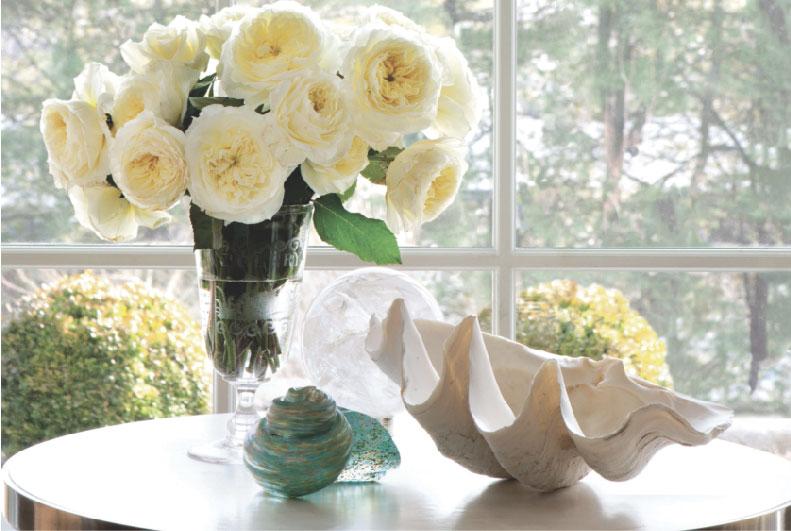 Finally, Trudy says, there is beauty in the simplest green fronds or lush potted palms, too. "Nature gives us the gifts of the most fabulous leaf shapes," she says, and adds as a reminder that living plants are also a way to freshen our rooms and exchange carbon dioxide for oxygen.
A snippet of a Nantucket garden indoors can create rooms that remind us of the out doors, and spaces that are cheerful, lifting our spirits and bringing us pleasure. So when the dog days of August feel too hot to head outdoors, go ahead and bring the garden in.

Article edited. Original can be found in REVIEW Nantucket, August 2016.