Paul McCarthy, Master Woodcarver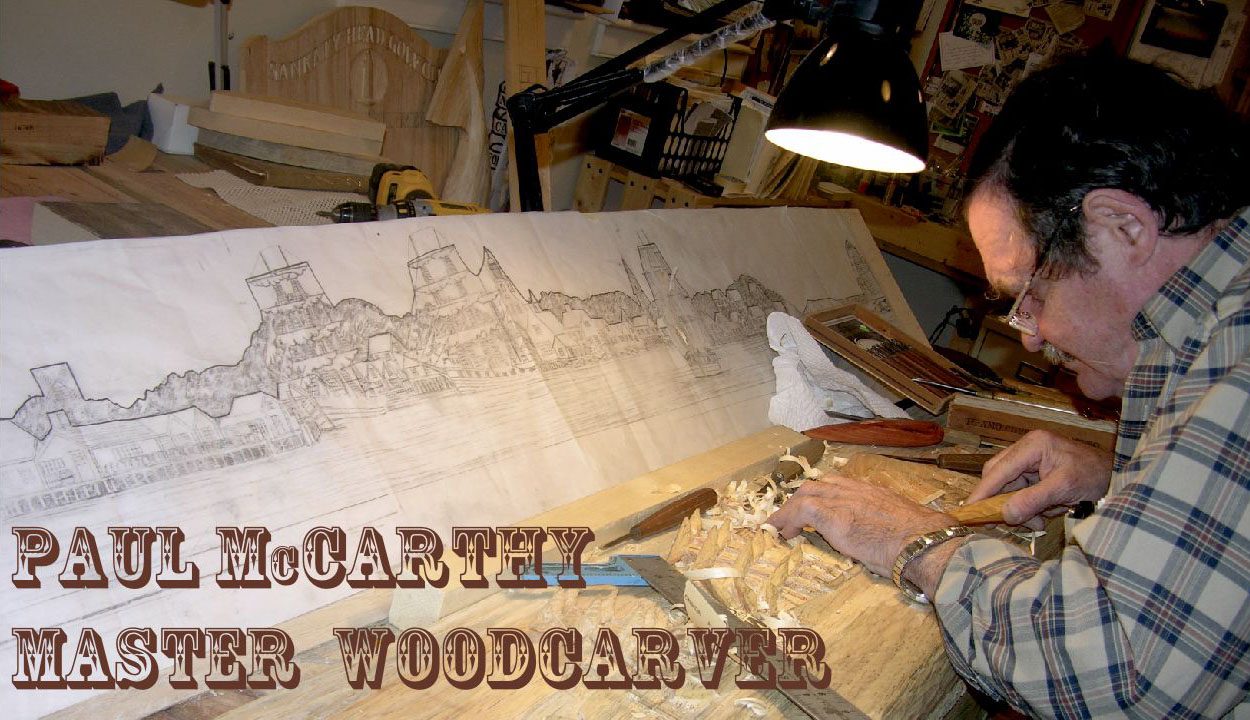 by Andrew Spencer
Paul McCarthy creates one-of-a-kind woodcarvings that become instant treasures admired by all who see them. His woodcarvings are the next best thing to stepping back in time.
Paul has been a woodcarver since his high school days in Scituate, Massachusetts. In shop class, he had been assigned to make a lamp as a final project, but by his own admission he "just couldn't do the darn thing." So the teacher assigned him a different project: woodcarving. "He brought out some carving tools," Paul recalled, "and I carved an eagle. I passed the class, and that eagle was hung up in the principal's office at Scituate High School."
He quickly discovered both a talent and a love for working with wood. "Carving is not like building furniture," he explained. "It's freer. You have more freedom to create and more freedom to make mistakes. You also have more freedom to correct those mistakes." That freedom ignited a spark inside Paul, and he began carving more and more, creating beautiful pieces of artwork from a block of wood…and doing so with just his hands and a few tools.
From those beginnings, Paul has built a career as a master wood carver , creating fantastically – almost impossibly- beautiful works of art for clients around the world. He's called Nantucket home for the last twenty-three years, when he moved to the island to assist a former employee of his who had moved to the island. "He set up a shop out here," Paul said, "and asked me to to come over and help him out because he was so busy."
"I do everything by hand," Paul said of his process. "I start by talking to the customer and figuring out exactly what they want and then I'll do some drawings to work from. I use a band saw to cut the ends of the blanks, but that's the machine I use. Everything else is done by hand." The average quarterboard takes about two or three weeks , with more complex projects taking longer. He reserves the most elaborate ones for the winter, when his shop slows down and he can focus on his carving. But if you're interested in getting one of this talented carver's creations, don't expect to have it in a matter of weeks. Given his popularity both on Nantucket and beyond, the waiting list for even the most basic of custom carvings can stretch out for several months.
One of the reasons it can take so long to get your new treasure is the care and attention to detail that goes into each one. After Paul carves a quarterboard, for example, it comes time for the painting. After that point, the quarterboard is ready for the finish work, which includes painting each letter individually, applying gold-leaf, as necessary., and lining all of the letters. It is, to put it mildly, a painstaking process.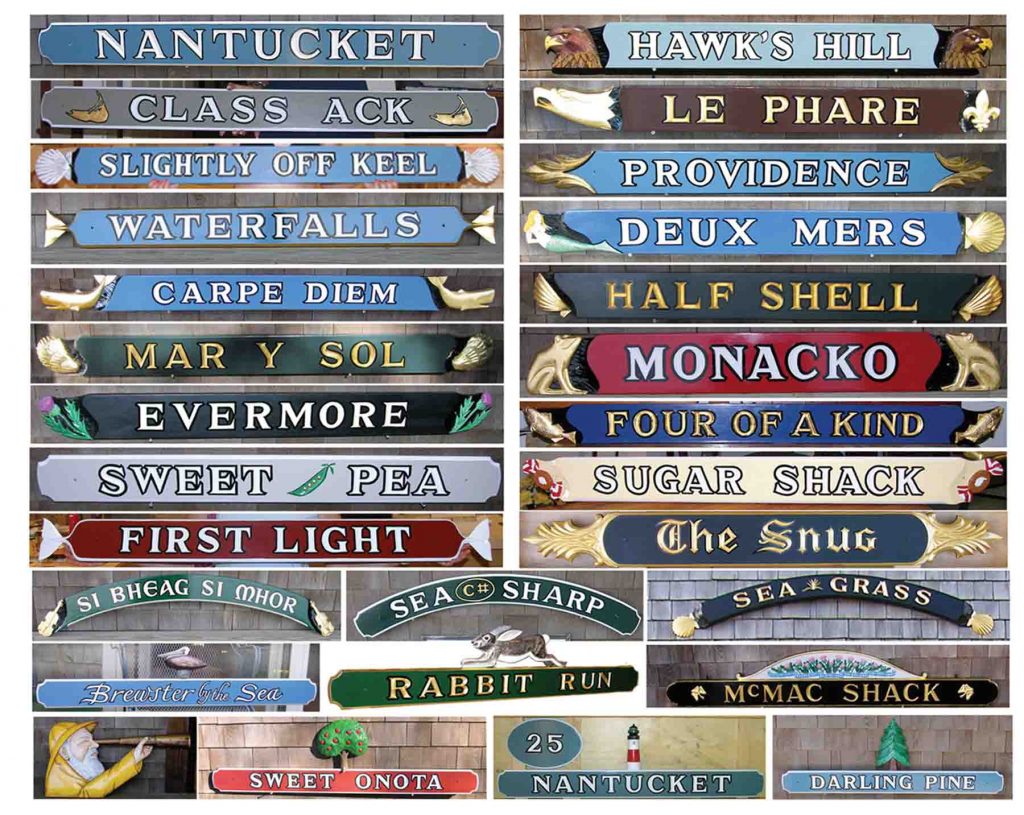 Some of the most amazing works of this craft are on display in here on Nantucket and at his shop in Scituate. From the quarterboards that adorn so many entryways on the island, to the iconic "Going on the Whale" carving done in 2005, which hangs outside the Nantucket Historical Association's Whaling Museum, Paul's work is as common the island as are grey shingles. To date, he estimates that carved approximately five thousand different quarterboards and somewhere in the neighborhood of twenty-five thousand individual works.
The catalog of items that Paul has created over the years is nothing short of breathtaking in both its scope and its beauty. And looking at his creations, it's obvious to even the most casual observer that each piece is crafted with an artist's love and passion for his work. When you understand the process and the incredible skill and patience it takes to complete it, you can't help but be amazed.
His son is carrying on his father's sign-making tradition in Braintree, Massachusetts, but is facing the obstacles presented by a community that doesn't share Nantucket's sense of historical preservation. "He's trying as best he can to respect the craftsmanship and tradition, but it will be difficult for him to continue like that because he's competing with machines that can make signs out of plywood."
You won't find machines inside Paul's workshop, nor will you find any plywood. What you will find is a man who loves what he does, working with the only tools he really needs; his hands. He even resists using a computer to catalog his voluminous works; each one is recorded- again by hand- on a card like ones you used to find in library card catalog drawers. It's a system that would seem out of place, even anachronistic, anywhere else in the modern world of computers. But it is how Paul continues to do it.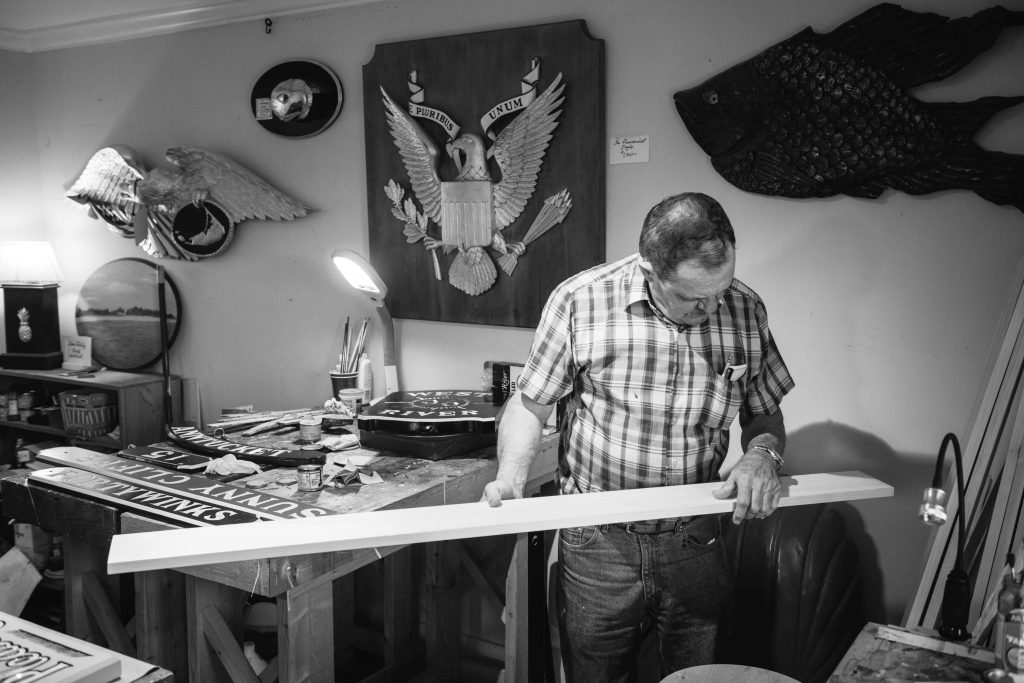 Paul has come a long way since that day shop class, when his teacher gave him some carving tools to help him pass the class. Maybe that teacher saw something in him, a creative spark that identified McCarthy as a candidate for wood carving. Whatever it was, many people who are patrons, owe that teacher a a huge debt of gratitude for teaching Paul to carve and planting that creative seed. And let's don't forget that chance meeting in Scituate Harbor twenty years ago. Not only is this island a better place for the beauty Paul added to it, it's a better place for having his one-of-a-kind pieces.
Article edited. Full version in ONLY Nantucket, Fall 2014.