Parties • Receptions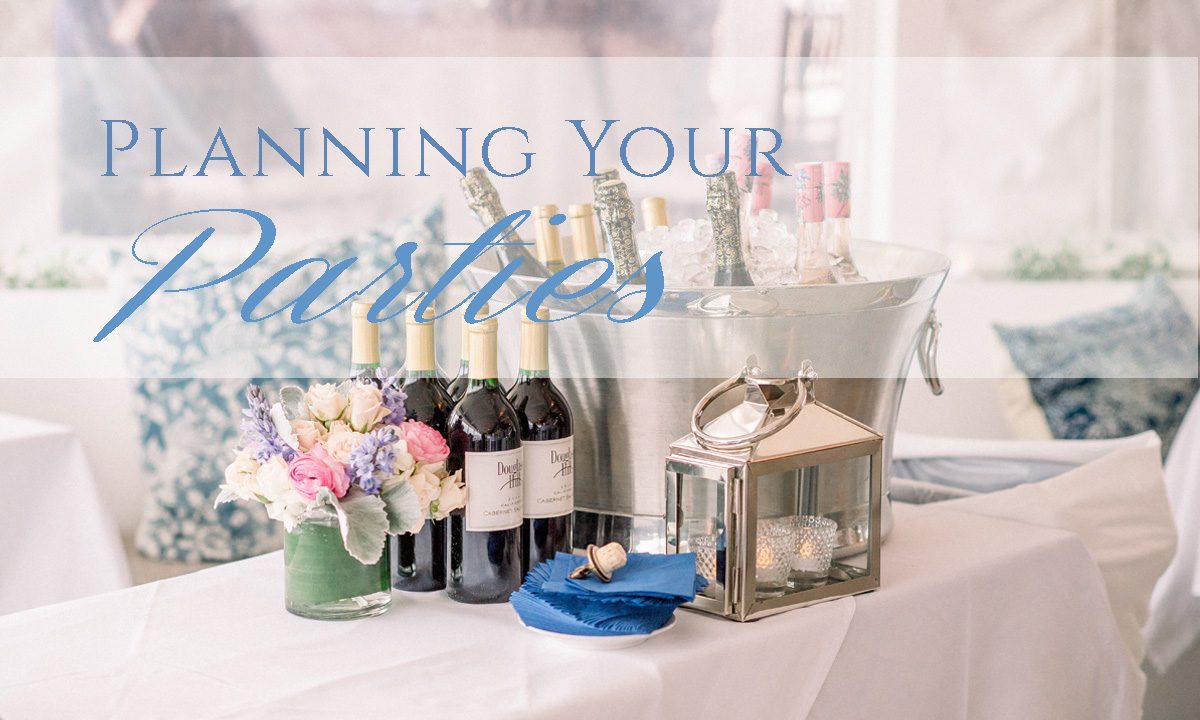 Rebecca Love Photography
Your reception can be as grand or as simple and intimate as you want. A lawn wedding may suggest a reception in a tent set up on the property. A church wedding may conclude with a reception at a restaurant located on the water. Nothing could be more Nantucket than a seaside event! The smell of the salt air, the sound of seagulls and the feel of warm ocean breezes make beautiful memories.
At the reception entry, greet your guests with a silver tray decorated with flowers and filled with flutes of champagne. It lets guests start the festivities without having to make their way through the crowd at the bar.
How about over the top, elaborate hors d'oeuvres for your reception food? You could choose to have tables for guests who want to sit, allowing others to mingle freely. That way no one is at a table with just one group of people. No need to worry about offending anybody with your seating plan!
A dessert table with decadent chocolates, mini-desserts (cheesecake tarts, key lime pie slices, chocolate mousse), a bowl of velvety raspberries and fluffy whipped cream offers a choice other than wedding cake. Slices of wedding cake can be set onto the table after the bride and groom "cut the cake."
Favors are meant to be something to take home to remember the day. You can have boxes or ribbons printed with your names, monograms or just the date. They can be filled with all types of things — a small gift, candy or a slice of wedding cake or groom's cake. Place them at everyone's place setting or arrange them on a table for guests to take as they depart.
Chocolates in the shape of shells or chocolate covered cranberries can be put into clear cello bags or placed on a real shell and tied up with an imprinted ribbon.
A Scotch and cigar tent could be set up with couches and cozy chairs for those who want to partake as the evening goes on.
Raw bars are a favorite for guests to enjoy. Your caterer may provide that service or bring in a company that is known for providing this service. One thing is for sure . . . the seafood will be the freshest possible!
Pre-nuptial Party
Theme bridal showers (garden, linen, lingerie, wine, housewares, etc.) and co-ed showers are in style
If you are having a small ceremony and reception – invite business and social acquaintances to a party beforehand.
The bridesmaids' party can be a tea, luncheon or dinner and it can take place any time in the weeks before the wedding. It is also a good time to give your attendants their gifts.
Rehearsal Dinner – consider inviting the minister or priest, out-of-town guests, perhaps the caterer, musicians or photographer.
Reception
Decide whether to have the receiving line as people exit from the church or at the reception. Current day brides have chosen to include only the bride, groom, maid-of-honor, best-man and parents in the
receiving line. This relieves the other wedding attendants from multiple introductions and reduces the time.
Find out any restrictions – alcohol, occupancy, tents, etc.
Check whether musicians, caterer, photographers, etc., need
approval from location management.
Are there stoves, refrigerators, etc., and can you use them?
Make sure there is enough parking. Ask for valet service to be provided as it is convenient for everyone.
Check bathroom facilities – request fancy soaps, hand towels,
potpourri, or supply them yourself.
Order portable toilets if needed for a large party so that guests don't have to wait in line for that one downstairs bathroom or take a long walk from the reception tent to the house.
Ask if the caterer provides custodial care if needed (broken glasses, spilled drinks, etc.) and if it is an additional fee.
Confirm who cleans up and who removes the trash.
Consider hiring a babysitter for young children.
Find out about cancellation policy.
Spray the yard for insects the day before and the morning of an outdoor wedding or reception.
Plan for sufficient lighting if reception is to run into the night.
Consider the romance of candles or clear mini lights.
Set a festive tone by greeting guests with trays of champagne or iced drinks as they enter the reception.
Choose a secure place for gifts.
Write out a flexible schedule as to how much time to allow for the receiving line, photo session, what time to serve food, the first dance, when to cut the cake, etc. Give copies to all concerned – the caterer, photographer, musicians – so that your wishes can be followed.