Handmade Heirlooms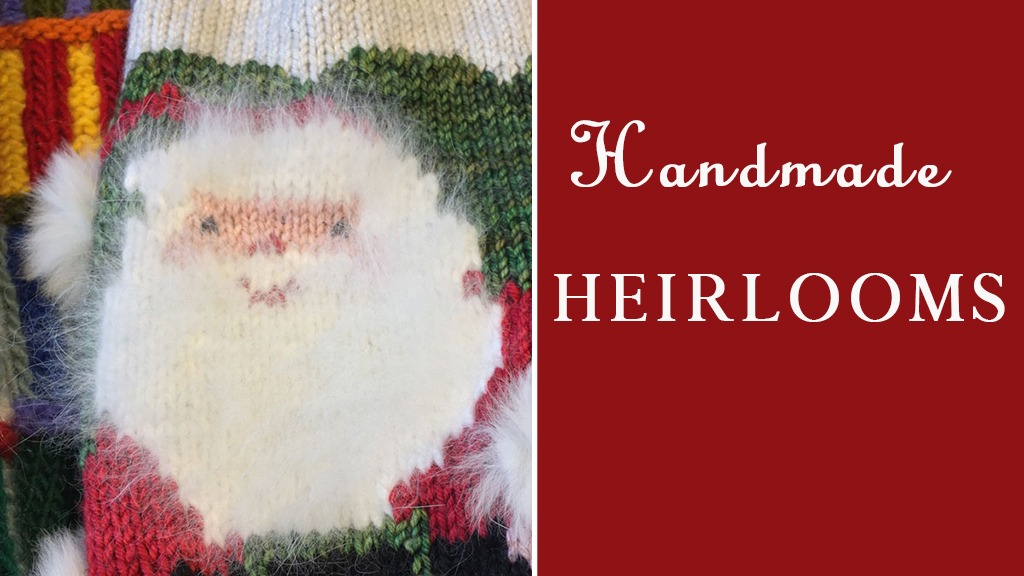 by Deborah Anderson
The stockings were hung
by the chimney with care, in hopes
that St. Nicholas soon would be there.
A handmade Christmas stocking is a gift of love to be treasured for years to come. It is usually made by someone who loves you (mother or grandmother) and many hours of time will be spent creating it, all with anticipation of the years of joy it will give. Every Christmas the stocking will be brought out and hung on Christmas Eve for Santa to fill with gifts and sweet treats.
Every year a Christmas stocking is taken out to be hung on the mantel, bedpost or nestled into the chair where you will sit on Christmas morning to open your gifts from Santa. As children fall asleep they dream of what treasures the elves have made for them during the year at the North Pole, to be put into their stocking on Christmas Eve. Certainly small items that do not compete with what Santa puts under the tree and of course, some special candy treats!
In my family, stocking gifts are opened first thing upon waking up! The gifts under the tree are investigated by seeing what tag is on the biggest (or the smallest one, usually holding a special treasure). They are held for weight and shaken for any discernible noise to hint at the contents. Breakfast is made and then everyone rushes in to now open the gifts under the
Christmas tree! How my children managed to wait always amazed me!
So, whatever your tradition, hopefully it will be with a handmade stocking, embellished with your name and maybe some other special things such as beaded eyes on a Santa face, an angora beard for Santa, a rosy red pompom nose, buttons on his jacket or a jingle bell on the toe of the stocking. My children's stockings were made by "Grammie" (their paternal grandmother). She shared her Santa face pattern with me, and I now make them for my grandchildren.
Where does the tradition of hanging a stocking come from? It is not quite clear, but one rendition that seems to be repeated is about a man who was the father of three daughters. He had fallen upon hard times and was worried his daughters would not have a dowry to be able to marry well. St. Nicholas was wandering through their village and heard of the family's plight. He wanted to help, but knew the man would refuse any financial help that he might offer. Instead, he threw three bags of gold coins into the chimney of their house and they fell into the girl's stockings that were laundered and drying by the fire. The girls awoke the next morning and were overjoyed upon discovering their gift! Because of St. Nick's generosity, they were now able to marry well to the delight of their father.
Stocking by Sheila Fee, owner of Flock, a knitting store on Nantucket.

Stockings made by Carol Moffitt, an expert knitter.
. . . and laying his finger aside of his nose, and giving a nod, up the chimney he rose.
So, if you want to be part of creating precious memories for your family, get out those knitting needles and get started for the holiday! It will be upon us before you know it!
To help you get started, stop into our local knitting store (Flock on Nantucket at 79 Orange Street) where you can find all kinds of yarn, knitting needles and HELP when you need it! There is a special sun-lit knitting room in this cozy shop, where you can sit and knit with the warmth of the sun streaming in or watch the snow drifting down while you knit. Best of all, you can get immediate help if you need it. The owner, Sheila Fee and many other women who work or come in to knit are always happy to pause and help you with any project you are working on. There is a knitters once a week, as well as open sessions where you can bring any knitting project you are working on and just knit and talk (or stitch and bitch). You are sure to make some new acquaintances! In addition, you will certainly find a project someone else is working on that you will want to duplicate once you are done with your current one.
Flock has many Christmas stocking patterns, fabulous yarns (solid colors, variegated ones or even yarn with sparkly threads woven through it) and of course fuzzy angora for Santa's beard! You won't just be making a stocking; you will be making a memory!
This article has been edited. Original article appeared in REVIEW Nantucket, Holiday, 2017.