Familial Forces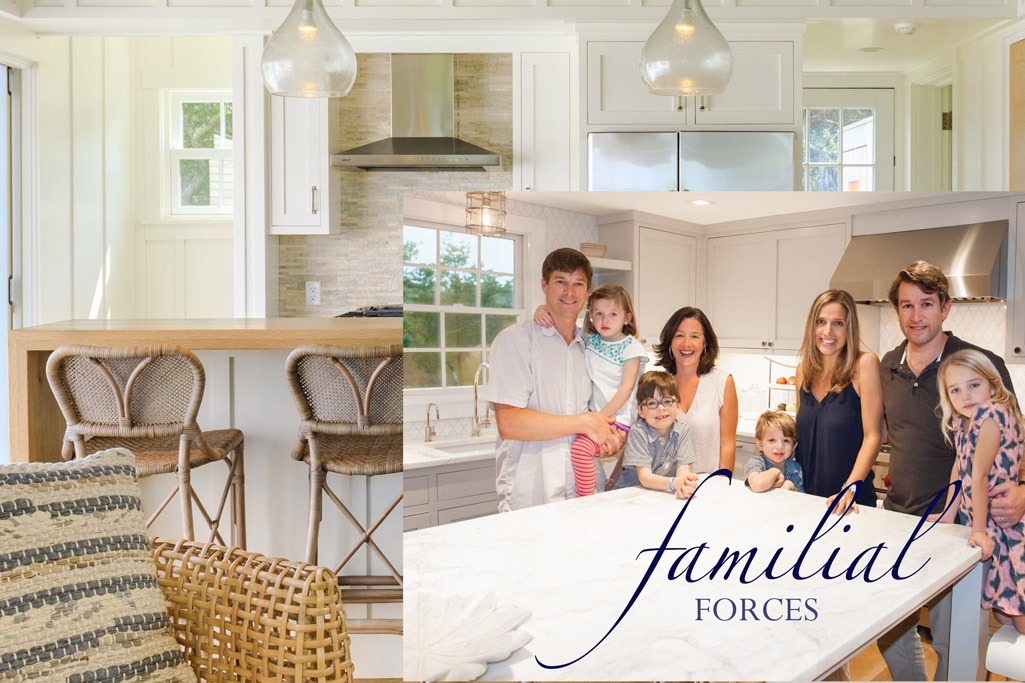 by Andrew Spencer
When it comes to family design business on Nantucket, there are quite a few. Nantucket is a place where family roots are an important thread in the fabric of life in all its many facets. It's hard to go anywhere on the island and not run into a few members of the Macy, Coffin, Folger, Chase or Mayhew clans, just to name a few. Many business names include sons, daughters and even grandchildren of the people who started them, as one generation passes the torch to the next. In the case of a trio of Nantucket businesses, it's not so much a generational situation as it is a joining of familial forces. The owners of The Tile Room, The Water Closet and The Nantucket Lightshop have more in common than just being business neighbors. They're also family members.
It all started with Mollie Burton in the mid-90's when she moved her tile business to Nantucket and opened The Tile Room on Old South Road. In 2000, her son Graham and his girlfriend LuAnn pulled up stakes and moved to Nantucket to begin to build what has grown into a full-on family affair. While Graham was beginning his experience in the tile business, LuAnn spent her time working at The Nantucket Lightshop. When current owner, Sharon McLaughlin, put the shop up for sale, LuAnn and Graham made a decision to buy the business. In 2003, they tied the knot and a year later relocated both The Tile Room and The Nantucket Lightshop to the current Sparks Avenue location. Shortly after that, Graham purchased The Tile Room from his mother and she retired.
The shops, as their names suggest, carry interior design products centered on tile and lighting fixtures. They were a perfect fit for the Nantucket market as new home construction was booming and existing homes were undergoing renovation for new owners. The husband and wife duo was looking for a third business to complement their offerings and a plumbing fixture store seemed like a natural extension. Finding someone to run the new venture would require some thinking, however.
As it happened, Graham's second cousin Bert Turner was working in Boston and his wife Meg was working in interior design. Graham and his wife contacted them to gauge their interest in packing up and moving out to Nantucket to leverage their business and design skills into building up a new business. The Turners jumped at the chance and came out to Nantucket, and the trinity of design showrooms was complete.
Today, the three stores have built a very loyal following among savvy Nantucket homeowners and designers, due in no small part to the fact that they each are run by people who live on the island and understand the lifestyle that is so special here. "Our showrooms may be a bit smaller than the ones you see off-island," said Meg Turner, co-owner of The Water Closet, "but each owner has hand-picked and curated, so to speak, what they feel are the most beautiful and most reliable products available to outfit your home."
In other words, the owners handpick those items to include in their showrooms that they feel offer the best product for the price, but also ones that they feel are the most appropriate for Nantucket interiors. They are able to combine those qualities in all of their products because not only do they know what the best products available are in terms of quality, but they also know Nantucket, a fact that gives them valuable insight into what their clients want and need.
It's sometimes tempting, however, to peruse the larger chain stores off-island or online when it comes time to buy interior fixtures for a renovation or building project. After all, everybody knows that it's always cheaper to shop at those places, right? Think again. "People are astounded by how good our prices are," Meg said of the stores' offerings. "We cater to all budgets. And we give you the chance to see it in person, up-close and personal." Being an on-island resource is very important in terms of the design budget, because it offers clients the chance to see the merchandise first-hand without having to travel.
Graham Burton, owner of The Tile Room, echoed those sentiments. "It's really hard to buy tile on the Internet, because you have to know what you're getting. You need to understand the type of tile, the finish and the appropriate uses. Some tiles that are great for a kitchen counter are a disaster in the bathroom, for example." He added that improved manufacturing techniques have allowed designers to use larger tiles than they could previously, and new water-jet manufacturing techniques are making it possible for clients to have tiles cut in various angles, curves, or even shapes. That's a lot of information you need to know before jumping in with your order, which creates a problem for the average consumer who might not be well-versed in things related to the inner workings of these sorts of things.
To solve that problem, all three stores offer clients free consultation services with expert advice without the added pressure of being talked into something you don't want, don't need, or can't afford. "We ask a lot of questions when someone comes in for the first time," Meg explained. "We listen to our clients to find out what they like and what they need." They welcome you to come in by yourself or with your design team or contractor to discuss the project, too. They'll even come to your building site to look at the space you're working in to help you with the design process. Each of the owners has a design background, so they each have impeccable eyes for style and quality. To top it off, all of that expert advice comes at no charge. Try getting that from your computer.
Something else the three stores offer that is lacking at the big-box home improvement stores is specialization. When you go to a major off-island retailer, you might be getting advice on plumbing fixtures from someone who was putting tires on cars the week before. As someone who knows very little about either process, I'd prefer that someone who is an expert in a specific field does the advising and selling. That's the philosophy at all three shops. Because each owner focuses on the specific items they sell – be it lighting, tiling or plumbing – they are each experts in their fields. "We pride ourselves in that specialization," said Meg. "If you've ever shopped in any of our stores, you know that we all have very high standards. We want each bathroom, kitchen, whatever, to be as stunning as your budget can afford, no matter how small or large that budget is. Our only goal is for the client to be over-the-moon satisfied with the final result."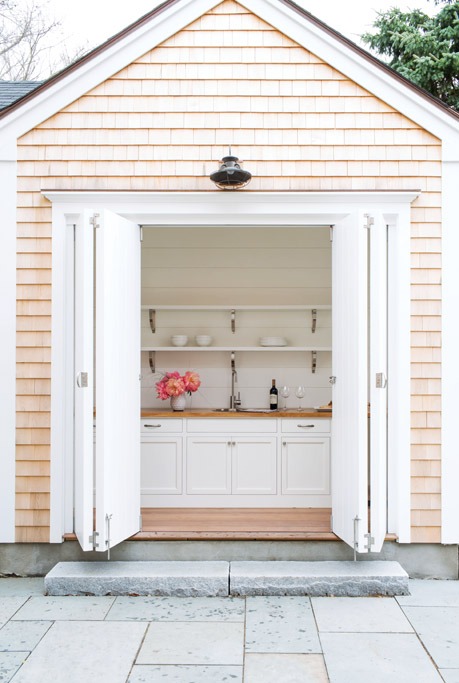 Chances are that if you stop in to The Tile Room, The Nantucket Lightshop or The Water Closet, you'll find the owners on-site, meeting with clients and offering advice and guidance to those who need it. And that customer service goes for everyone who walks in the front door you might expect from a family design business on Nantucket . "We pride ourselves on our relationships with builders, plumbers, tile installers, architects and interior designers," Meg said. "We each meet with installers before and during the installation process to make sure that the installation goes smoothly. We want it to be a hassle-free process from start to finish." That personalized service has fostered a sense of loyalty among the customer base. "Tradespeople and homeowners have given us years of repeat business," Meg said, citing a figure of between 90 to 95 percent in terms of repeat customers.
Of course, designing interiors on Nantucket is a process that comes with its own set of challenges that are related to the unique nature of the island lifestyle. Oftentimes, historic spaces have smaller or oddly shaped spaces that don't conform to standard products. Issues of wiring or plumbing can create situations where those everyday products just don't work. But by working with professionals who know about those challenges before they arise, you can rest easier knowing that you're going to love your new interior. You can only find that level of expertise in someone who is intimately familiar with Nantucket, someone like the owners of The Water Closet, The Nantucket Lightshop and The Tile Room. This family design business on Nantucket has loads of expertise and resources.
All three stores have a vast inventory on-hand, so there are plenty of options for clients to choose from. But in the unlikely event they don't stock the exact thing you're looking for, they can usually get whatever it is that your heart desires. "We can get a lot of inventory to our store within twenty-four hours," said Meg Turner. "For really special and hard-to-find items, it might take a little longer. But as long as you're flexible, we can get just about anything you want."
As with almost any family design business on Nantucket there is a good chance this family affair will continue on to the next generation. Meg and Bert Turner have two children of their own, as do Graham and Luann Burton. Given their pedigree, it's highly likely those young people will be experts in their respective businesses and keep this designer Nirvana going on for many years to come. And the next generation of designers and homeowners might not know it yet, but they're going to be a lucky bunch to have such a depth of expertise and knowledge to tap in to.
Article edited. Full version available in ONLY NANTUCKET, Spring/Summer 2015.