Design is in the Details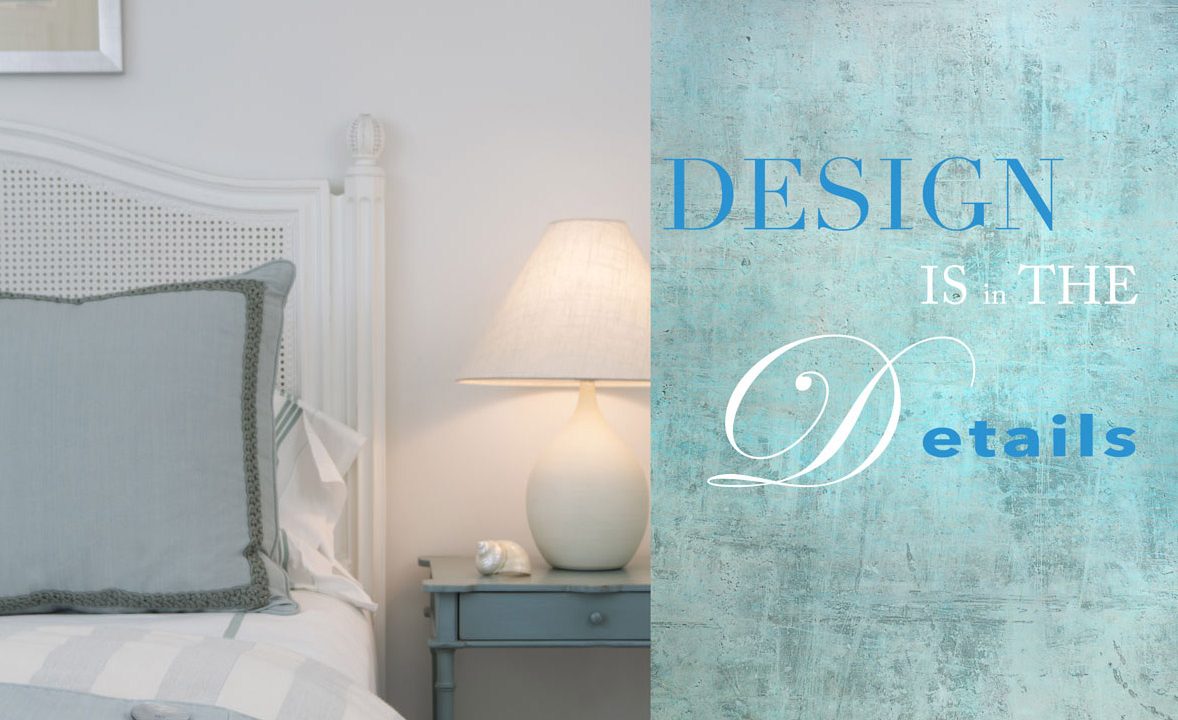 by Lisa Clair
For award-winning interior designer Trudy Dujardin, president of Dujardin Design Associates, Inc., (DDA) and a Fellow with the American Society of Interior Designers as well as a LEED Accredited Professional, beautiful interiors are brought to life with details.
"The broad strokes of room design, the basics of scale, proportion, form and function, are the building blocks," she says, "but beautiful design includes details that stop you in the doorway and take your breath away."
ONLY Nantucket asked Trudy to share some of her thoughts about interior design, and her unique approach to creating coastal masterpieces. The creative designer of countless island homes was happy to share her thoughts on what makes a room beautiful.
Seaside homes are already blessed with Nantucket's beautiful light, says Trudy, with windswept beaches and picture postcard views outside every window. Many clients want the soft shades of blues, sands, and whites that mirror the landscape of sea and sky on the island. Others have favorite colors that they dream of incorporating into their home.
"Color palettes are unique to each client and speak to their own passions. When we begin with a calming, neutral palette, we can add color that enlivens the space in a natural way," she says. "Light, airy rooms feel so peaceful. People come to the island to relax, so I want to emphasize that feeling of freedom."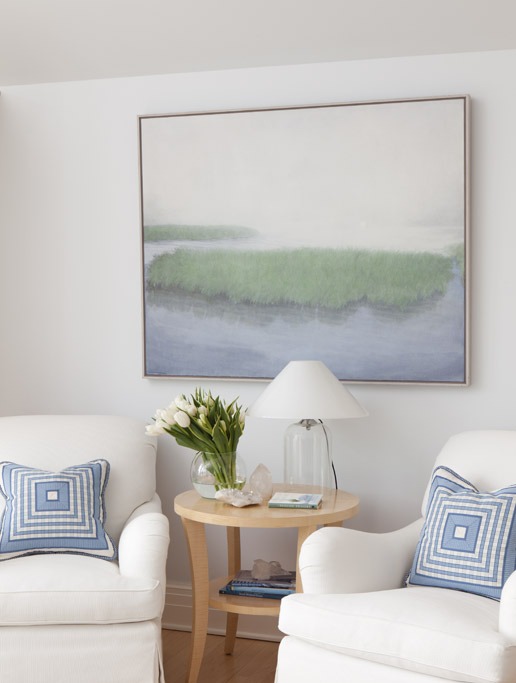 DDA custom window treatments are designed to allow as much sunlight into the room as possible, and never obstruct the lovely views of the ocean or a sunny garden.
Cottage to Castle
Trudy and her team have created stunning interiors for gracious mansions and casual beachside bungalows, apartments in the city or castles in Scotland.
"Besides the personalities of the homeowners, the house and its setting speak most strongly to me," Trudy says. "The most interesting homes are the ones with a sense of place. Nantucket, especially, has a personality of its own."
Island homes by DDA blend treasured family heirlooms with more modern pieces, and mix styles from different periods for a curated look. Classic design can invoke the island's setting and history, but interpret island life for the 21st century.
"Playing with opposites, can, quite unexpectedly, be what makes a room cohesive," Trudy says. "Mixing light fabrics with dark woods, or antique furniture with contemporary pieces, lightens the mood of a room."
Details may be subtle; delicate embroidery on a sea-foam colored fabric, or the contrasting welting on a sofa. Larger details may be striking artwork or artisan-made rugs. Trudy also delights in decorative accents that connect the charm of the home with the individuality of the homeowners.
"For clients who have spent time in the Far East, their collection of priceless artifacts from the Chinese Tang Dynasty should be included in the room's design. For the family who purchased a Sea Captain's house, 18th century boxes and tea caddies speak to the home's historic provenance," she explains.
Custom Work
Price Connors (DDA's senior designer) will search endlessly to find an exquisite accent that is jewel-like in its perfection. For one island home, there was a tireless quest for a precise curtain tie-back he had in mind, an opalescent 1880s Sandwich milk glass flower. For a sea captain's home, he emerged triumphant from an antique show with a whale weathervane.
A DDA home is always filled with custom upholstery, pillows, window treatments, and bedding. Custom design gives a home one-of-a-kind luxury and comfort.
"I have one client I've worked with nine times, on nine different residences," Trudy confides. "We've decorated her New York City apartments, island cottages, suburban estates in California, and we just completed her beautiful new country retreat in Connecticut. Each time, we designed custom pieces for each room so her new home is both familiar to her, yet unlike anywhere else on earth."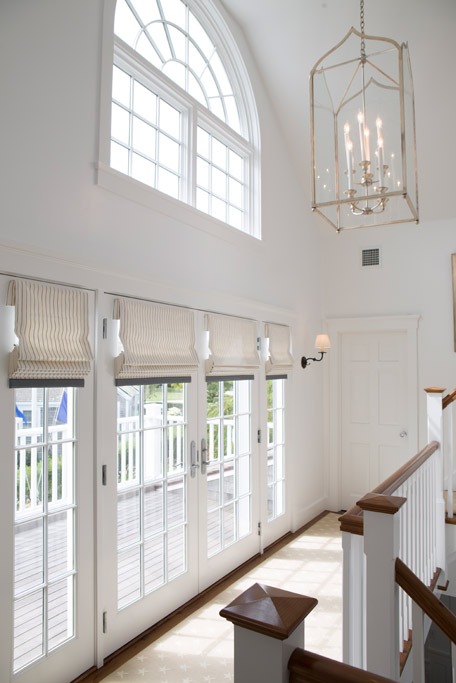 REFRESHING A HOME'S DESIGN
"A home evolves over time," says Trudy. "Just as we change and grow, our homes need to move with us.
DDA's classic interiors provide the flexibility to reinvent a home's style through the years with a few updates. Homeowners can dream of a new look, or find a piece of artwork that inspires a color palette for a single room or the whole house, and DDA jumps right in to help.
"I help my clients keep what they love, but change colors, textures, and patterns to make their home feel refreshed," explains Trudy. "Reupholstering with new fabrics, changing rugs and window treatments, or finding new accent pieces, especially by island artisans, can make you fall in love with your home again."
Beautiful Design Happens in Stages
"You don't have to wait until you can complete an entire house," says Trudy. "As much as I love creating interiors from top to bottom, young families sometimes need to choose where to begin. The living room, or a Child's room might be a logical starting point. Working with an interior designer can provide a plan that can be completed in stages.
"Even when I'm working on an entire large home, I'm looking at each room one at a time," she added. "A home should flow from space to space, but a plan can connect the present to the future, and can help young families achieve a coherent vision for their home. What's always needed is a master plan for an overview of the whole project, even if it's done in phases. We don't want any costly mistakes in purchases!"
"I never forget that we're thirty miles out to sea," explains Trudy, "on an island that is seemingly untouched by time."
"COLOR PALETTES ARE UNIQUE TO EACH CLIENT AND SPEAK TO THEIR OWN PASSIONS. WHEN WE BEGIN WITH A CALMING, NEUTRAL PALETTE, WE CAN ADD COLOR THAT ENLIVENS THE SPACE IN A NATURAL WAY," SAYS TRUDY.
Trudy believes that air quality is the key to living healthfully; she loves the fresh sea breezes that blow from the island's pristine beaches. Her passion for eco-elegant design and creating homes in harmony with the earth is rooted in this fragile island. Dedication to creating well-designed homes that also support our health and wellbeing has defined her life's work.
Trudy's gorgeous coffee table design book, Comfort Zone: Creating the Eco-Elegant Interior, is filled with examples of her timeless interiors.
"My ultimate goal is to establish a peaceful sense of place, and celebrate the essence of what home means to each of my clients," says Trudy. "Time goes by so quickly. Your home here should allow you to relax and enjoy the island's warmth and beauty, whether you stay for a season or a lifetime.
Article edited. Full version available in HOME & GARDEN, 2018