Anne Becker Style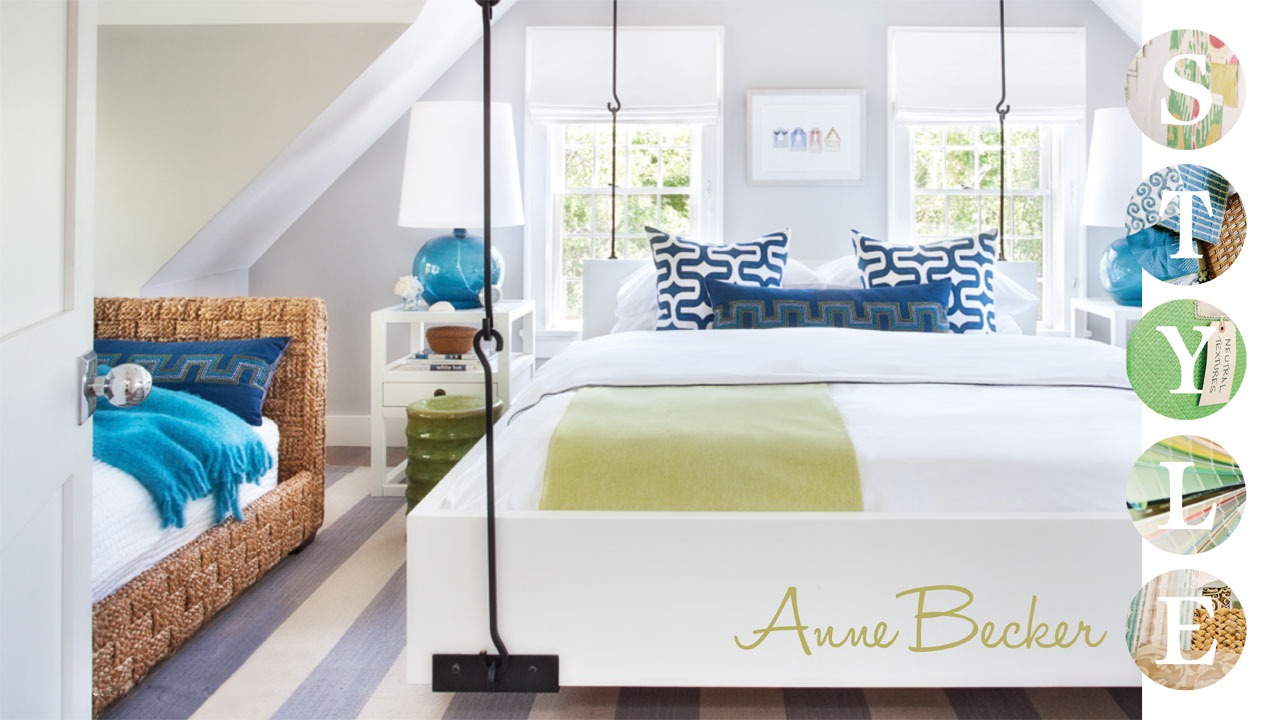 by Andrew Spencer
photos by Jeffery Allen Photography and Charlotte Carey Photography
WHAT EXACTLY IS NANTUCKET STYLE?
That is a question that has plagued as many island homeowners as it has New York marketing executives. Yet, ironically, everyone seems to have an idea of what it is, even if they can't put it in to words. A quick Google search of "Nantucket style" returns something along the lines of half-a-million different Internet pages that deal with that elusive subject; a recent article in the Wall Street Journal made the observation of Nantucket style, "Even on the island itself there's no definitive model."
Nantucket-based interior designer Anne Becker has faced that same conundrum of trying to define the indefinable. Anybody who has tried to lock her in to a defining way of approaching the decorating process knows that she, like the island she loves, defies those classifications. "I don't do cookie-cutter style decorating," Becker said of her approach to interior design. "Style is different from house to house and homeowner to homeowner." It is that understanding of the inherent differences between individual tastes that makes Becker the designer she is. "I have a style, not a label," she said.
Words that people use can be relative – she said. In other words, one person's 'Modern' might be another person's 'Contemporary', one person's 'Classic' might be another person's 'Traditional'
The process for Becker begins with a lot of listening and a lot of interpreting. "Words that people use can be very relative," she said. "In other words, one person's 'modern' might be another person's 'contemporary;' one person's 'classic' might be another person's 'traditional.'" Because of that potential difference in perception and meaning, Becker comes armed to her first client meeting with a collection of photos and images that fit her definition of a variety of interior styles. "Sometimes people will come in thinking they don't like a particular style, but when they see what I conceive that style to be, they find they actually love it," Becker said.
Of paramount concern to Becker's professional ethos is that the home's interior be what she describes as "very client-specific." By that, she means that the client gets the exact style they want, and that their home will both reflect their lifestyle and make itself amenable to that lifestyle. "Working with a client, for me, is more than a professional relationship. It's a personal relationship," she said. Her final goal in any project is to create an interior that feels personal to the owner, and the only way to achieve that goal is by getting to know all about the client's lifestyle.
Of course, anyone who has spent time on Nantucket knows that the island itself has a certain character, a casual-meets-semi-formal kind of air that permeates throughout, and it's all wrapped up in a tradition-rich envelope that celebrates the island's prestigious history. As a nod to that atmosphere, Becker said she likes to bring together items that might, at first blush, appear to be opposites. "I will oftentimes pair something ornate with something casual or something old-fashioned with something modern," she explained. The result is an inviting space that begs to be lived in, a space that is as appropriate a setting for a late-summer cocktail party with friends as it is for a rainy-day game of backgammon or a family breakfast before heading out for a day at the beach.
I like to think I have a diverse style rather than a limited vision
To return to the original question of what Nantucket style is, I think it's safe to say that we all know exactly what it is. The problem is, however, each one of our definitions of what it is might differ slightly from everyone else's definition. But that's part of what makes Nantucket such a special place. Everyone finds exactly what they need on this little dot of sand surrounded by the Atlantic, no matter what that thing is. Anne recently recounted the story of a furniture deliveryman who happened to mention to her that he'd been in several houses that Becker had designed. The thing that struck him about all the houses was how individual each one looked. And that might just be the label to apply to Anne Becker's style: individual.
Just like Nantucket.
Visit Anne's Website at www.annebeckerdesign.com