A Decade of Christmas Trees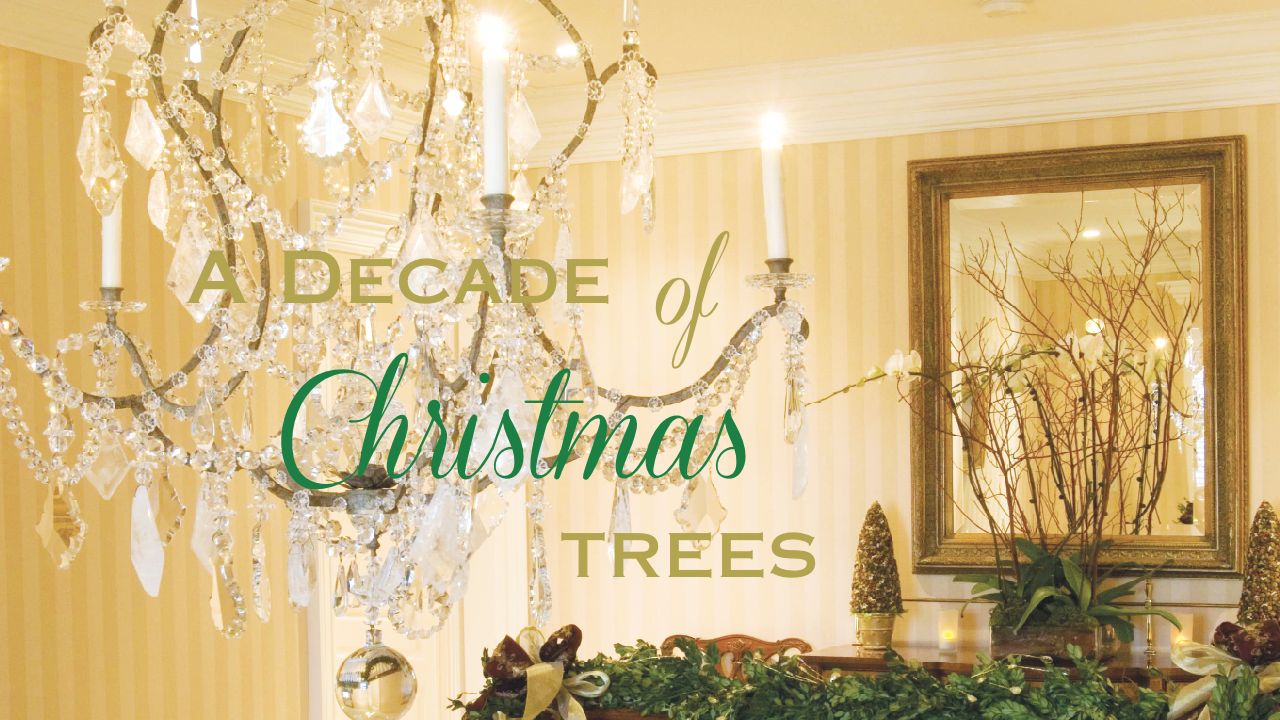 by Lisa Clair
For award-winning interior designer and longtime Nantucket resident Trudy Dujardin, designing beautiful homes with a sense of place comes naturally. It follows, then, that creating beautiful holiday vignettes that reflect a sense of the season comes naturally, too. Her credentials surely influence Trudy's lovely holiday decorations, but it is her love of Christmas, devotion to making holidays inclusive and uplifting, and her strikingly artistic themes that allow her to capture the true spirit of the season. Perhaps more than any other symbol, Christmas is associated with the evergreen tree, making its display a special labor of love for Trudy.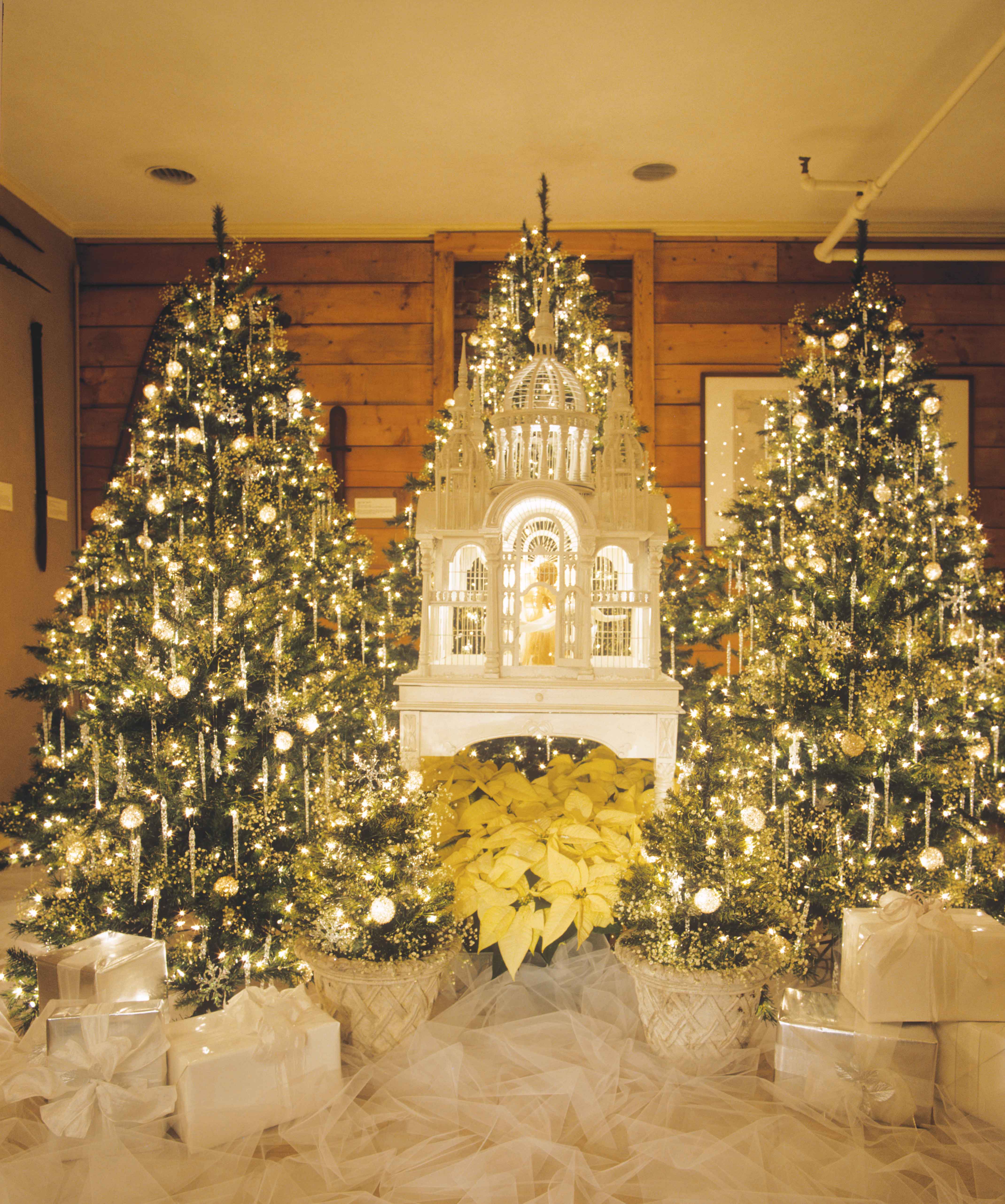 "There's something so touching about Christmas trees," she explains. "It's not just the beauty of the lights and the ornaments. It's the tradition of creating a magical display that stands for something bigger than ourselves: a renewal of light and love, and the memories of all the Christmases we've enjoyed through the years."
The Whaling Museum's Festival of Trees has been the recipient of Trudy's talents for more than a dozen years. Each year, she and Senior Designer Price Connors create a new theme, then adorn a tree in a completely original style. One year, their inspiration was Vincent Van Gogh's painting of Starry Night, so everything sparkled with stars. They recreated his night sky by draping a table in deep blue fabric, using wide gauzy star ribbon as table runners, with tiny silver stars sprinkled on the tabletop, glittering star boxes tied with bows, and even a dish filled with blue and silver star candies.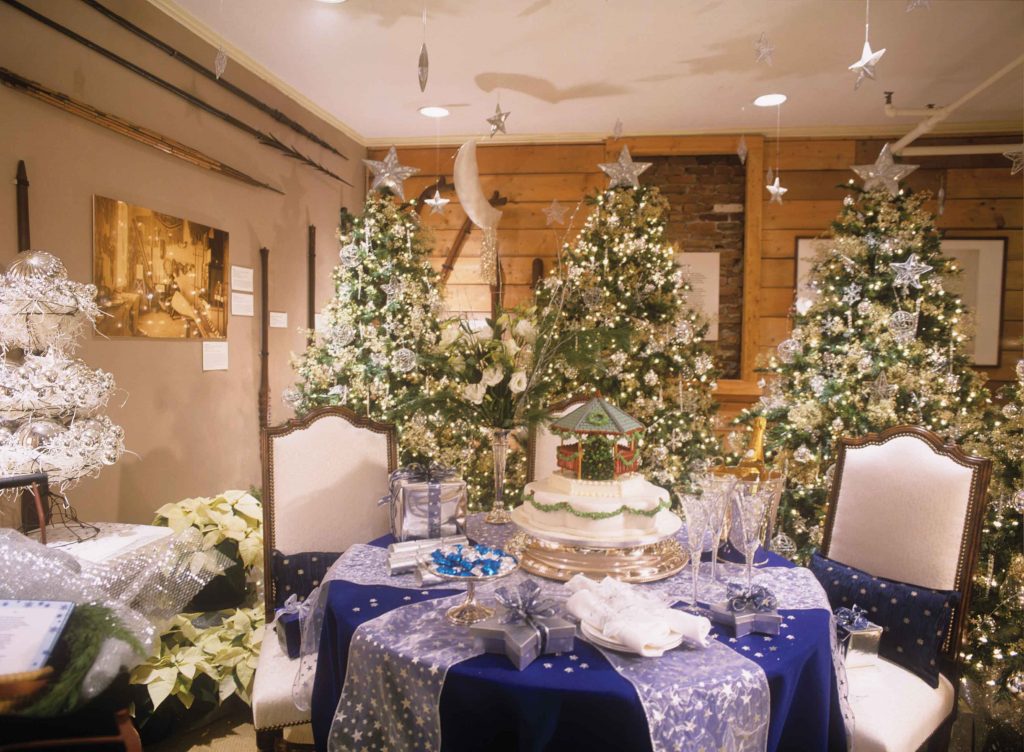 The night was clear and frosty, all ebony of shadow and silver of snowy slope; big stars were shining over the silent fields.
– Lucy Maud Montgomery
The spirit of Christmas is expressed differently each year, explains Trudy. "As important as tradition is, it's also wonderful to let our celebrations evolve. It's easy to fall back on decorating in the same way every year, placing the same Santas on the mantel, or filling a glass bowl with ornaments. It's also fun, though, to create a fresh new look for your home."
"We've decorated so many holiday venues," she continues. "My own home, my clients' homes, and showhouses galore! Our displays are meant to inspire people to create beautiful new tableaus."
One year, Trudy's Whaling Museum tree was the Legend of the Snow Maiden, complete with the maiden silhouetted in a white cathedral between two glittering trees hung with icicles.
Honoring her love of dogs led to The Dogs' Christmas, a pup's tree with charming stuffed ornaments, from poodles to basset hounds to golden retrievers, with paw print ribbons cascading through the greenery.
Perhaps her favorite was the Russian Christmas Fantasy, a splendor in red and gold, a celebration of her own Russian heritage. That year, the tree glowed with red glass balls, golden ribbons and more than 50 handmade Russian ornaments. There were Russian Cossacks, snowflakes, Fabergé eggs and matryoshka dolls (the traditional nesting dolls), all delicately hand painted in festive fashion. A silk tree skirt was embroidered in red glass beads in a snowflake design, a work of art in itself.
Or maybe her favorite was the Victorian Christmas she and Price created for the Lockwood-Mathews Mansion Museum in Connecticut. There, they placed a custom-made sugar gazebo on the mantel with sugar Christmas trees, and elaborate swags of fruit-embellished evergreens in keeping with the traditions of the era.
Whatever else be lost among the years, let us keep Christmas still a shining thing …– Grace Noll Crowell
One of the most meaningful trees, she says, was the one they created for the Autism Speaks organization. Made from two interlocking puzzle pieces, the recognizable Autism Speaks logo, it was painted the organization's signature blue. "Inside the tree there were more than 500 silver balls, a sparkling reminder of the children and families who need our support," she says.
Winter seems to awaken Trudy's inner child. As snow begins to fall, her thoughts turn to ideas on how to use twinkling crystal, roses and ribbons, and cherished china in new ways. With her childhood experience of winters in Connecticut and summers in South Carolina, her rich store of memories allows her to blend the best of New England tradition with southern grace. This Christmas she may have angels dancing on the mantel, then next her focal point might be colorful pillows spelling out "MERRY" in bright shades of cranberry, blue, green and gold.
One thing you can always count on in a Dujardin Christmas, says Price, is a gingerbread house, or four, or even a gingerbread cathedral. To accompany the Russian Christmas Fantasy, the team commissioned a meticulously molded and painted replica of St. Basil's Cathedral in Moscow from the skilled craftspeople at Colette's Cakes of New York. Standing over two feet wide and three feet high, this creation required over 200 man-hours.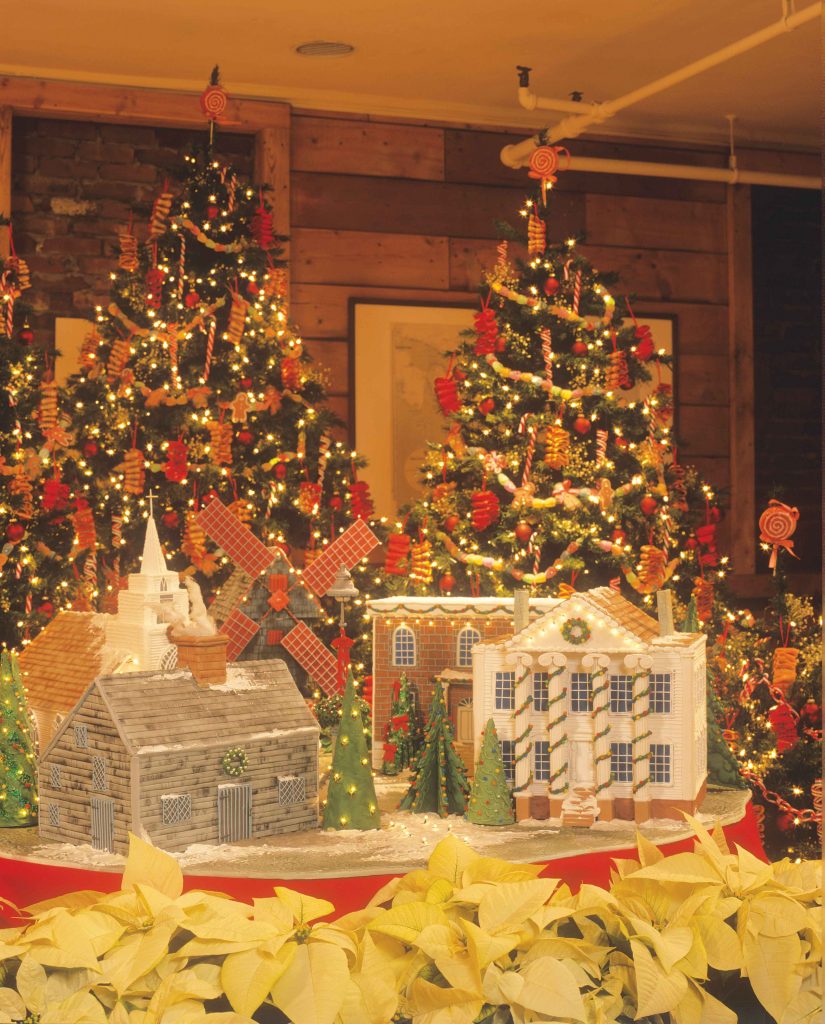 Making an enchanting tableau doesn't need to be extravagant, however. "Elegance is always in the details," says Trudy. "One year I printed a Christmas Pledge—a promise to believe in the beauty and simplicity of Christmas—on parchment paper, rolled and tied it with a beautiful ribbon, then laid it on the table beside each place setting to be opened at dinner."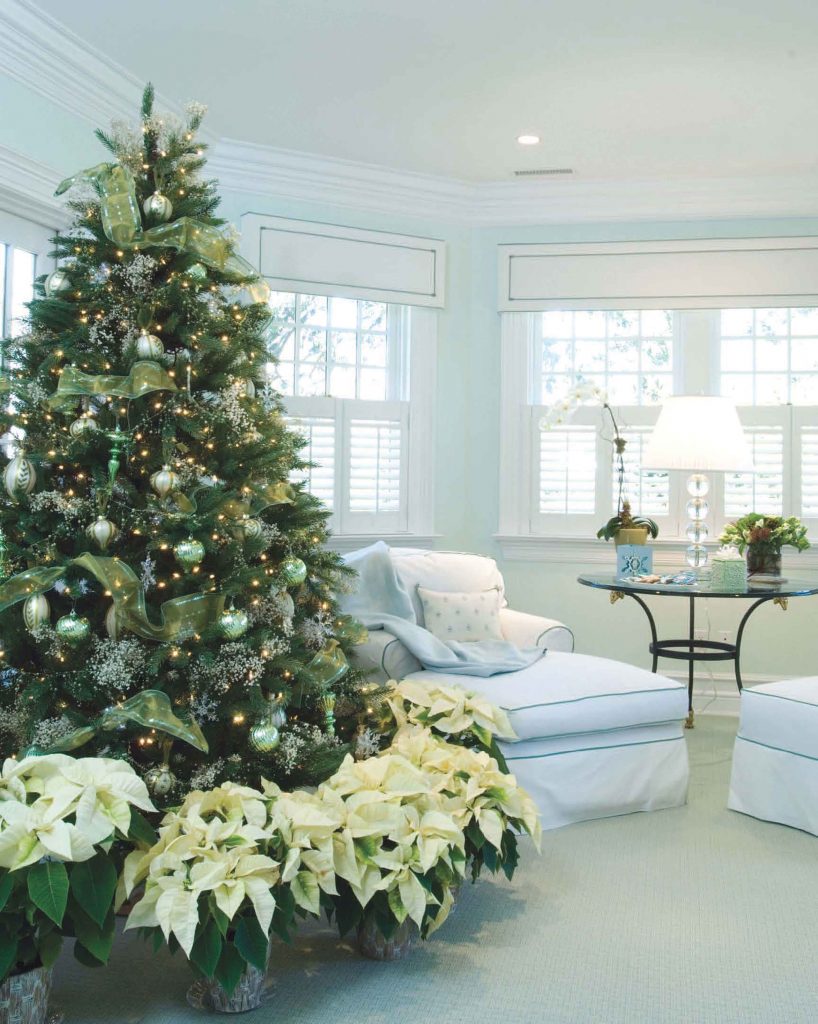 In fact, as richly imagined and created as all of Dujardin's public displays are, Trudy believes that the real blessings and bounty of the season are found in family and friends. Her traditions at home include pomander balls, made by piercing citrus fruit, then inserting cloves into the holes, mingling the essence of lemons and oranges with balsam and cedar. Simple fabric stockings hang by the fireplace. Family members are encouraged to give generously to charities, saving gaily wrapped packages mostly for the children.
If you ask Trudy where her inspiration comes from, she smiles and says, "For several years, I went for a very special Christmas luncheon at Caprilands Herb Farm in Connecticut, where Adelma Simmons used herbs to trim her trees, and tucked baby's breath into the branches to mimic snow, so I borrowed that. Nature is always an inspiration, as is history, memories, legends, and art…"
"Christmas is everywhere," she says. "But mainly, in our hearts."
Tips from Trudy for Making Holiday Magic
• Go to the florist's for fresh armfuls of baby's breath, then stuff it into the tree branches and into the greenery on the mantel. It looks like it is gently snowing.
• Hang bells at the end of tree branches so they ring when someone brushes against them. Legend says that's how to banish evil spirits and invite the angels in.
• Simplicity is best when everything else is gilded. A table looks elegant with red roses and white candles.
• Fresh flowers are always beautiful. A favorite is parrot tulips in a crystal vase.
• Weave roping around a chandelier and add pine cones.
• Hang an undecorated wreath from wide ribbon in every window. No ornaments are necessary!
• Scent is always part of our best memories. The smell of a cold, fresh balsam fir when first brought indoors can be complemented with fragrant wreaths. Tuck in sprays of rosemary, lavender and holly, and finish with bright red berries.
• You don't need to make a thousand cookies, but having one specialty from your kitchen is always treasured. Whether you make spice, spritz or sugar cookies, peppermint snowballs or Russian tea cakes, make your presentation pretty. You can stack them in ball jars with a bow on top, tuck them in teacups, or snuggle them into a colander with a Christmas tea towel.
• Let your own town's history inspire you to recreate it in gingerbread! I've celebrated Nantucket with gingerbread models of the Pacific Bank, the oldest house, the Unitarian Church, and the windmill.
• When you're stumped for what to give a loved one who has everything,
consider giving less stuff and doing more good. Head over to the Natural Resource Defense Council's Green Gifts at www.nrdcgreengifts.org for gifts that will help protect elephants, save polar bears, and bring back bees.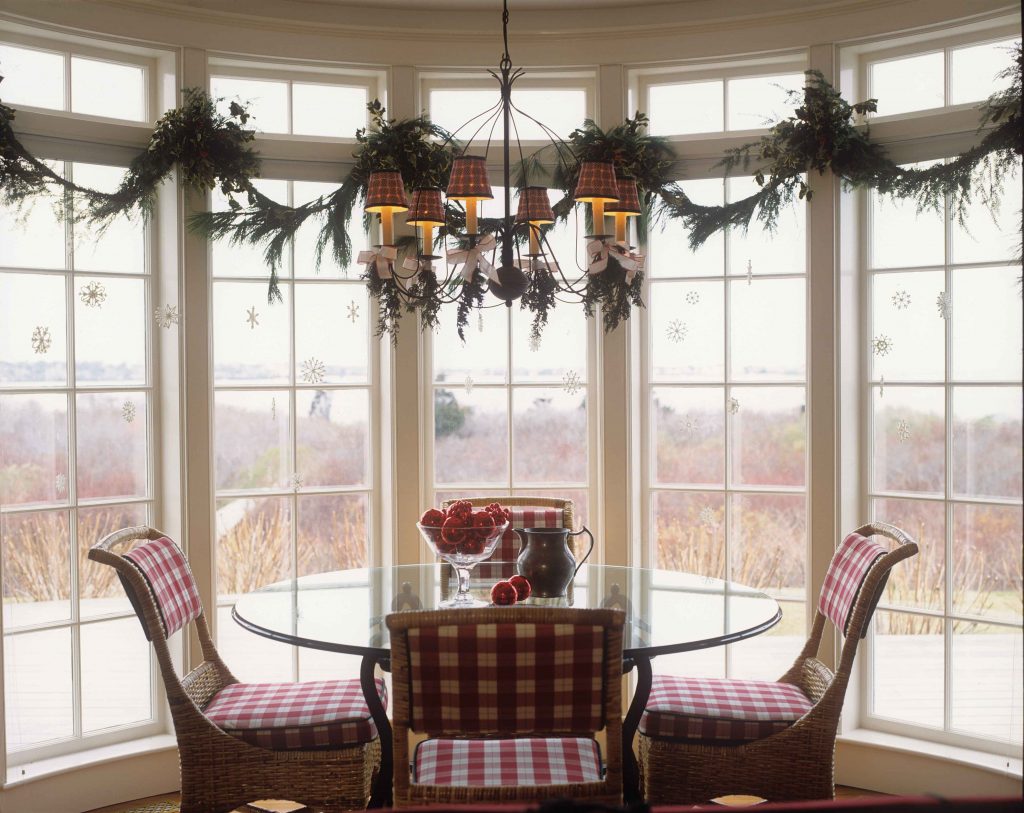 Trudy has spent a lifetime building her skills and credentials. A Fine Arts major in college who became an artist and an art teacher, she brings her eye for beauty and balance to her work as an interior designer. She is a LEED Accredited Professional with a specialty in Interior Design and Construction, and has been recognized as a Fellow with the American Society of Interior Designers, an honor extended to only one percent of its members.
REVIEW Nantucket, Holiday, 2016.